Pools are common in homes, schools, hotels, fitness centers, and other commercial establishments. Most of them require cleaning, maintenance, or complete pool servicing. As a pool service business, your services will always be in demand, meaning there's a high potential for a steady income and decent profits.

Growing your pool service offering into a successful business takes a lot of effort. Like any other business, you need to be flexible with good organization and planning skills. To be sure of business success, take your time and plan out the necessary steps you need to take.
With that in mind, here are five tips to help you build a successful pool service business:
01. Use modern technology
Currently, all successful businesses have implemented technology in their services. With technology, you can be sure to deliver a faster, more efficient service that meets your customers' expectations. For example, you can use technology like the management software developed by Jobber to schedule your technicians, organize job details, and prepare contract estimates. Other benefits modern technology contributes to your business include the following:
Minimal errors when filing job details, unlike manual paper forms.
Easy appointment scheduling by your customers.
You have efficient stock ordering and management.
With a database, you have easy access to customer data.
Using a pool service estimate template, you can prepare accurate and professional looking estimates that you can easily convert to invoices to request payments from clients.
Overall, technology leads to the success of your pool service by impressing the clients, and you can win more contracts.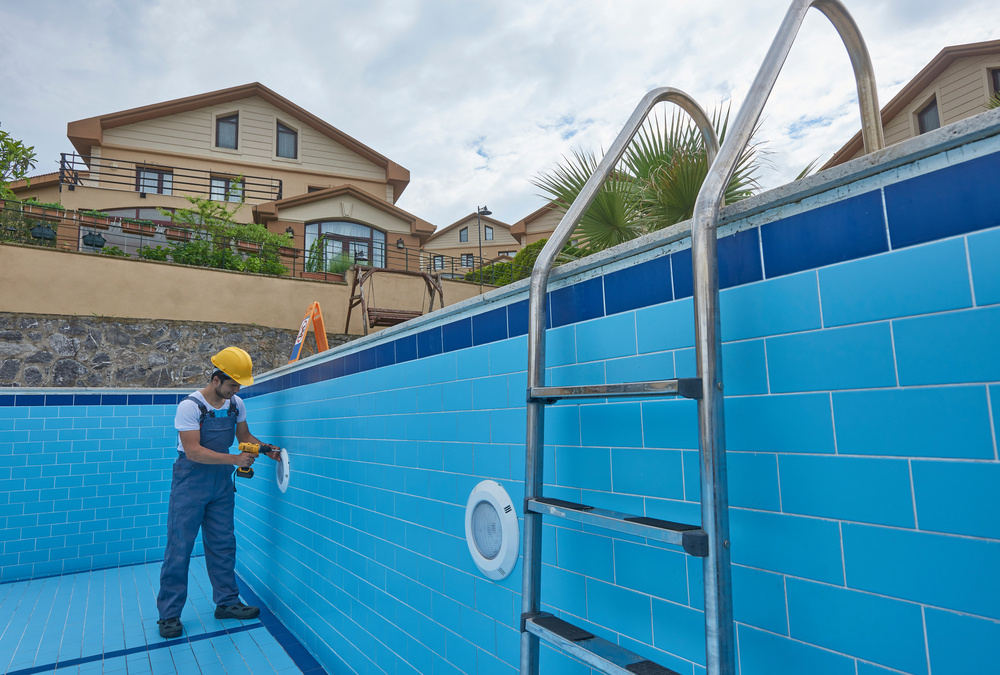 02. Market wisely
Good marketing is when you focus on a specific target. So before you start your marketing campaign, you must develop a laser-focused strategy based on your targets' demographics. These demographics often include the customer's age, gender, and credit score. It helps you craft highly effective marketing messages in a tone that perfectly resonates with your prospects. For example, you can use the following marketing ideas:
Door-to-door pool service flyer distribution
Leave business cards at local pool supply stores
Use targeted email marketing
Make your technicians look professional, have uniforms, and ensure they respect customer residence
Have a beautifully designed website with all the necessary service pages and contact information
Brand your company trucks to act as mobile billboards for your pool services
Set up a Google Business Profile so you appear in local search results on the locator map
Another marketing strategy you can use is social media. The internet is a powerful marketing tool that reaches a broader population who may need your service. Building a social media page for your pool service business gives you a platform to display your work and get more clients.
03. Draft a business plan
A business plan sets the roadmap that your pool service business will follow into the future. It gives you a foundation on how you want to run your business and acts as a reference point. Having a clear plan ensures you have a sense of direction and your business doesn't deviate from its goal, ensuring your success.
Do the following to complete your business plan:
Define your area of service
Outline your target clients
Analyze the competitors and market trends
Set your pool service prices
Define the labor rates
Develop marketing ideas
Make financial projections
A pool service business plan guarantees success by defining your business's scope. For example, you can determine the salary limits of employees, the marketing cap, or a designated area of specialization like pool repairs in your business plan.
04. Build a strong company foundation
A strong business foundation ensures your pool service business withstands tough times. A strong company foundation starts with hiring qualified employees and having clear job expectations and specifications.
Alternatively, you must train and retain your technicians to meet company and client efficiency. Involve them in the planning process and ensure they know their role in growing the company. Don't forget that they're your number one asset and carry the business banner. So, treat them well.
05. Budget
To set up your pool service business for success, you must have a comprehensive budget and stick to it. With a budget, you can concentrate on the business cash flow, reduce unnecessary costs, increase profits, and improve the return on investment. In addition, it helps you to plan and control the business finances.
Remember, your business success depends on the effectiveness of your planning process. A good plan benefits your business when you need to attract investors, prepare your taxes, obtain debt financing, and make critical business decisions.
Conclusion 
As an entrepreneur, nothing satisfies you more than seeing your pool service business prosper. But, of course, it takes time and effort before you can realize a profit. Still, with the tips in this blog post, you can reduce the period significantly. So take time to study your business, keep customer service at the forefront, and cultivate a trustworthy and credible reputation. With these, you can be sure of success.
---
References 
Carlson, Rosemary. "Why Business Budget Planning Is So Important." The Balance, March 9, 2021. https://www.thebalancesmb.com/business-budget-planning-reasons-393029. 
Gross, Rachel Leigh. "What Is a Business Plan?" reviewed by Khadija Khartit. The Balance, May 31, 2022. https://www.thebalance.com/what-is-a-business-plan-5188291. 
Seabury, Chris. "How to Grow a Successful Business" reviewed by Charles Potters. Investopedia, July 3, 2022. https://www.investopedia.com/articles/pf/08/make-money-in-business.asp.
---
Our humans need coffee too! Your support is highly appreciated, thank you!