One of the most widely used indicators of economic prosperity is gross domestic product (GDP). It measures the monetary value of all goods and services produced in a country. Since the early 1980s, the world's population has nearly doubled (from 4.6 billion to 8 billion), while the volume of global GDP has increased nearly fourfold. But beyond this global average, how has economic output evolved in the different regions of the world? Where has the strongest growth been observed?
With an average GDP increase of more than 5% per year for the last four decades, according to World Bank data, South Asia is undoubtedly the region that has experienced the strongest economic growth, driven by countries such as India, Vietnam, Laos and the Philippines. The East Asia/Pacific region, represented by China, Japan and South Korea, among others, ranks just behind, with an average increase of 4.9 percent over the entire study period.
Besides Asia, since the 1980s, only Africa has exceeded the 4 percent average annual growth threshold once in a decade: that was between 2002 and 2011. Since 2012, the rate of GDP growth on the continent has fallen back to between 2 percent and 3 percent per year, but was still higher than that measured in North America and the Europe/Central Asia region (2.0 percent and 1.4 percent, respectively, over the past decade).
As this infographic also shows, the 2012-2021 period, hampered by the effects of the 2008 financial crisis and then by the Covid-19 pandemic in 2020, has one of the lowest growth rates measured over the period studied in most regions of the world.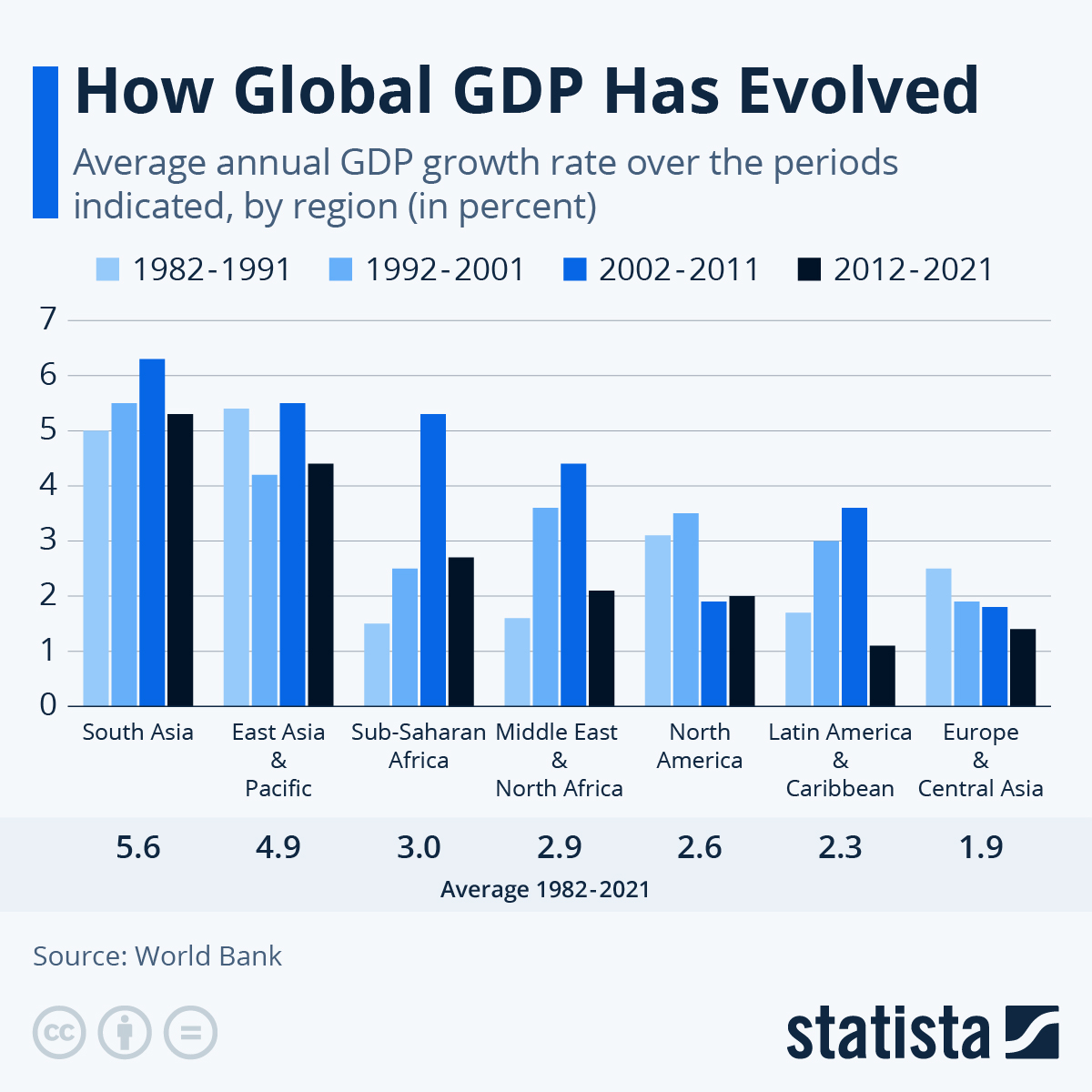 Source: Statista
---
For enquiries, product placements, sponsorships, and collaborations, connect with us at

[email protected]

. We'd love to hear from you!
---
Our humans need coffee too! Your support is highly appreciated, thank you!