We would like to thank our generous sponsors for making this article possible.
The adoption of electric vehicles is rising sharply as the global push for net-zero carbon emissions accelerates. EVs will make up about half of new car sales worldwide by 2035, according to Goldman Sachs Research.
While the EV sector is beset by some major crosscurrents — rising prices for electrical power, inflation for the materials that make up battery components and government policies like the Inflation Reduction Act in the U.S. and Europe's response to the IRA  — our strategists expect technology innovation to supersede these forces in the coming years.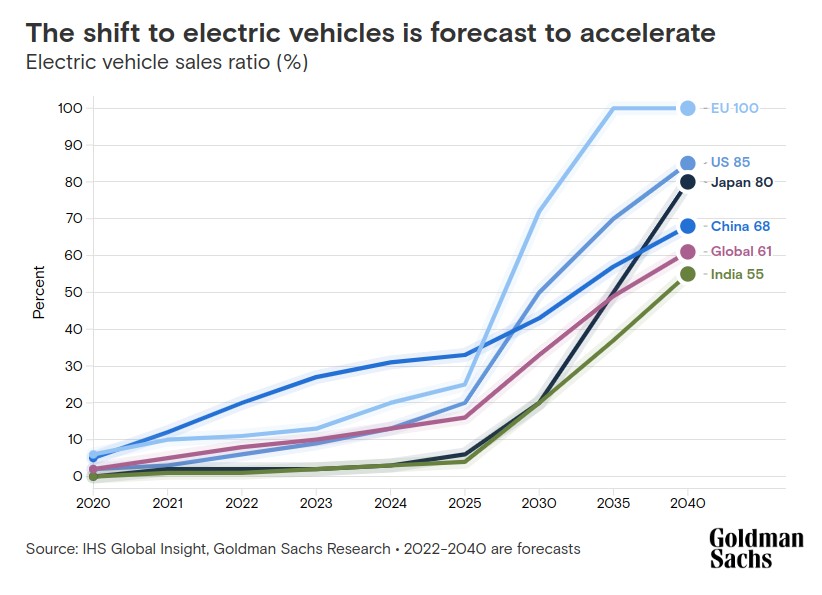 EV sales will soar to about 73 million units in 2040, up from around 2 million in 2020, according to forecasts by Goldman Sachs Research. The percentage of EVs in worldwide car sales, meanwhile, is expected to rise to 61% from 2% during that span. The share of EV sales is anticipated to be well over 80% in many developed countries.
"We expect the automobile industry to undergo a major transformation between 2020 and 2030, driven by the increasing adoption of vehicle electrification and autonomous driving," Goldman Sachs equity research strategist Kota Yuzawa wrote in the team's report. There will be no let-up in the EV industry's expansion as environmental rules tighten and electrification technologies become more sophisticated. But the sector's sources of profits will change dramatically.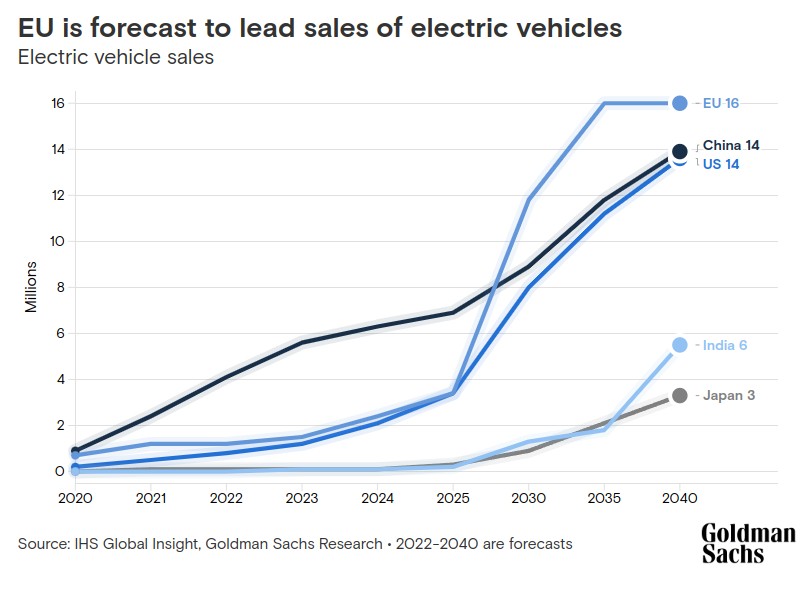 As the ecosystem grows, Goldman Sachs Research expects the way the industry makes money will be transformed. Our strategists forecast sales of EVs to grow by 32% annually this decade, even as sales of products related to gasoline engines slump. The global car industry's operating profits are expected to rise to $418 billion in 2030, up from $315 billion in 2020, while the pool of profits for EVs is forecast to increase to $110 billion from $1 billion. 
In the meantime, the market for EV batteries, which account for as much as 40% of the car's cost, is becoming concentrated. The top five battery makers had more than 80% of the global market share in 2020, according to Goldman Sachs Research estimates. By comparison, the top five automakers had about 40% of the worldwide market. Pricing power has shifted to the battery makers, giving them an edge in generating higher earnings. In an attempt to rebalance their pricing power with battery makers, finished-vehicle assemblers are rushing to develop vertically integrated production and joint-venture plants.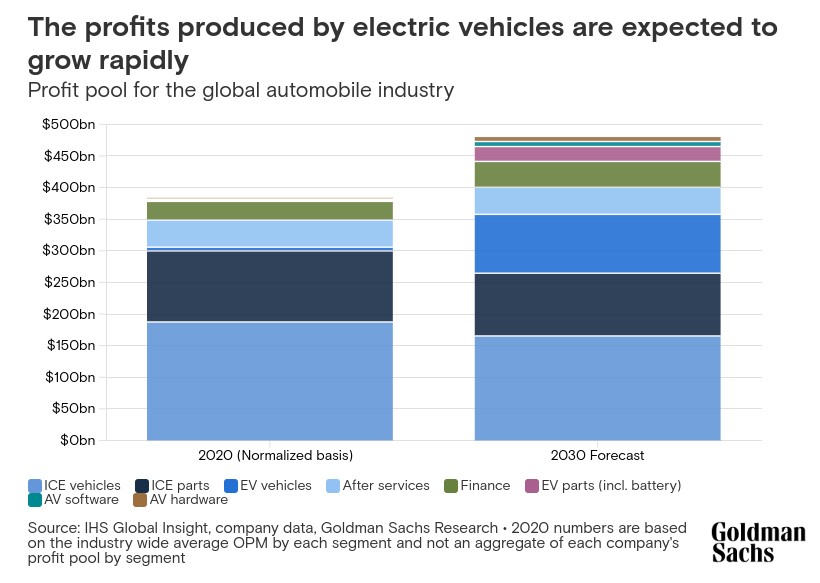 At the same time, government policy is poised to change supply chains. While the battery supply chain for four key components is focused in China, the U.S.'s Inflation Reduction Act (IRA) aims to promote domestic assembly of EVs as well as the location of battery assembly and material production, according to Goldman Sachs Research. Under this framework, companies will not be able to use the battery supply chain that has been built up in China to export to the U.S. 
Our strategists see strong signs that the IRA official announcement in March 2023 will give a relative advantage to manufacturers that are pushing ahead with local production in the U.S. of EVs, battery-related products, and EV components.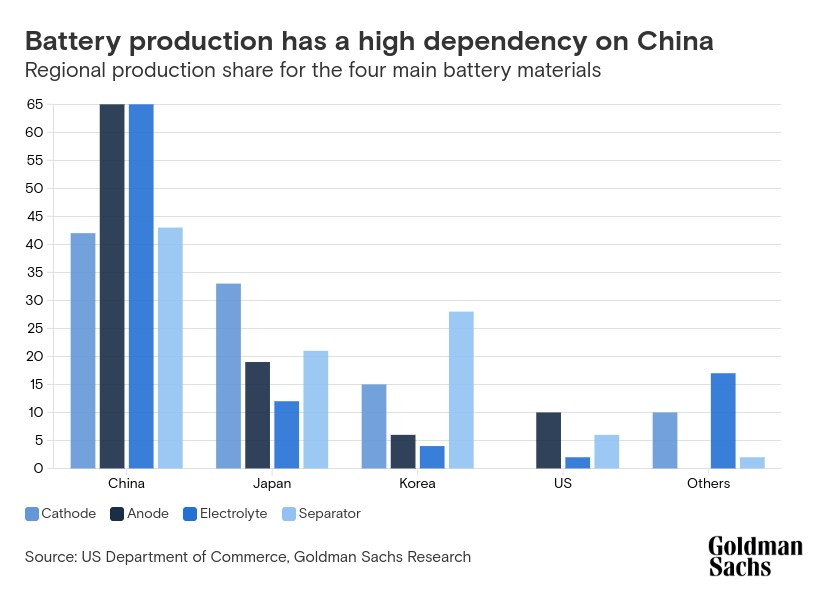 The EV sector has some challenges in the near term. EV prices are declining, which could depress margins for the industry. And the scramble for energy transformation has sparked "greenflation," as demand for batteries pushes up prices for key materials involved in making them, according to strategists in Goldman Sachs Research. They expect battery costs to increase 6% in 2023 from the year before: "Given that initial costs for an EV are higher than an internal combustion engine (ICE) vehicle, lowering the costs via technological innovation (in areas such as batteries and semiconductors) is a major premise to more widespread uptake of EVs," they wrote.
For now, EVs have less of an advantage when it comes to energy prices. Crude oil prices have settled at around $80 per barrel recently, while electricity costs are on an uptrend, giving EVs less of an advantage when it comes to costs. Based on the experience of hybrid vehicles, EVs need to a reach a payback period (the time it takes for the cost of owning and operating an EV to break even versus an ICE vehicle) of about three years, according to Goldman Sachs Research. Our analysts expect electric cars to reach that threshold in 2027.
It's also unclear how consumers will be affected by government policies. The U.S.'s IRA , for example, sets new limits on the purchaser's annual income and the retail price for the vehicle to be eligible for tax incentives.
Given those challenges, Goldman Sachs Research says tech innovation is going to be critical for the industry. Our strategists expect the EV battery market to grow substantially this decade, driven in part by the development of new materials and the introduction of new battery designs. They also think powertrain units and thermal management will become more efficient, reducing power consumption, while engineers find ways to reduce the weight of electric cars. "Technological innovations will be essential to overcome this sort of near-term noise," they wrote.
Originally published at: Goldman Sachs
---
For enquiries, product placements, sponsorships, and collaborations, connect with us at

[email protected]

. We'd love to hear from you!
---
Our humans need coffee too! Your support is highly appreciated, thank you!