We would like to thank our generous sponsors for making this article possible.
The contraction of the German economy, which has made it a laggard among developed nations this year, has many causes. Growth has been hurt by the uneven post-pandemic recovery in China, by energy shortages, by inflationary pressures and more. Now, Europe's largest economy faces multiple transitions necessary to address these challenges, according to Wolfgang Fink, CEO of Goldman Sachs for Germany and Austria.
Take Germany's evolving relationship with China: Increased trade with the Asian economic powerhouse has made it the second most important destination for German exports and a key supplier for its manufacturing sector. "It has been frankly one of the success stories over the last 30 years," Fink says on the Goldman Sachs Exchanges podcast.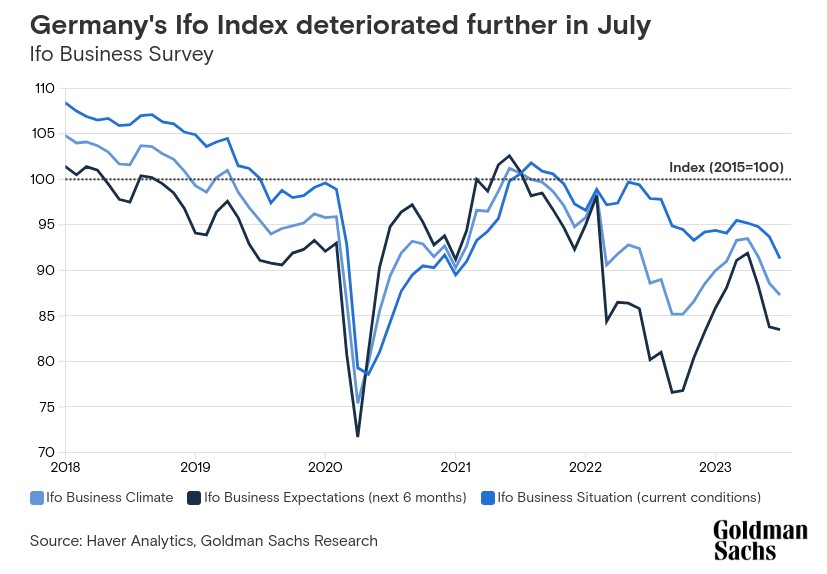 This year, however, the "bumpy reopening" of the Chinese economy after Covid restrictions were lifted has shown the downside of the relationship, Fink said. German companies are beginning to rethink how they rely on China, both as a market for their goods and as a supplier for their factories. The government is asking companies to address this dependence.
"That's all easier said than done," Fink said. How to manage or reduce dependence on China is a topic in every boardroom of every company in Germany. But changing this relationship is going to take time — years not months — so the impact of this transition will be seen several years in the future.
The transition to low-carbon energy sources is another trend that will be vital to Germany's economic success in coming years. Fossil fuel use plunged in 2022, with natural gas consumption by German industry falling by approximately 30%. This was mostly because of the war in Ukraine and the disruption of Russian supplies, though, and came about in part by factories simply cutting output.
Cutting consumption and taking the hit to economic output was, in a way, the easy part. "The most complex part is coming," Fink said. Building the power generation and transmission infrastructure to meet the government's climate goals will be a huge challenge, requiring significant investment. Germany is aiming to reduce carbon emissions by 65% below 1990 levels by 2030 and 88% below 1990 by 2040.
The government is providing support to get this done, Fink said, but the funds need to actually flow. At present, red tape is slowing the build-out of renewable energy sources. The permitting process in Germany stems from a time when the country didn't feel the urgency on this issue that is present today, he said, and the process needs to be overhauled and streamlined.
German companies, meanwhile, are actively examining how they will come up with the needed investment, whether that's something as simple as buying a stake in an offshore wind farm or something more innovative. "Clearly there's a lot of awareness that this needs to happen, and that government and industry will have to work together to achieve the next steps," Fink said.
Climate goals are also forcing dramatic change on Germany's all-important auto manufacturing sector, where the shift to electric vehicles will define the future. "I would say the auto industry has had a slow start in adapting," Fink said.
Tesla in the U.S. and certain Chinese companies have been the first movers. Germany's big automakers will need to catch up, but the consumer trust and brand strength they have built over many years should help them through this transition. These companies still generate their biggest profits from vehicles with internal combustion engines, and those pools of earnings will help pay for EV technology investments, Fink said.
Inflation, meanwhile, is clearly a risk to the German economy, as it is in developed markets across the world. There is a fear that it may contribute to softening of consumer demand, as shoppers react to higher prices. Evidence of this concern could be seen in the latest release of Germany's Ifo Index, which showed further deterioration in business sentiment in July.
Germany may have something of a cushion in this respect, though, given that country's consumers still have significant savings that were accumulated during the pandemic. "We feel quite positive about consumer momentum going forward despite the softening we see now," Fink said.
Wage growth in Germany is also helping to keep the consumer healthy, Fink said, although it could hinder the fight against inflation. Another round of wage negotiations are coming in many industries in the second half of the year, and workers' demands are high.
The strength of the labor market in Germany right now is an interesting phenomenon, Fink added. There has been a shortfall in the labor market post-Covid, though the gap has been narrowing of late. Job and wage growth has shifted toward the services sector from the traditional strength in German manufacturing. There are signs of a weakening in labor productivity, and that could add to inflationary pressures, Fink said.
Here is yet another place where Germany will need a transition in coming years to help keep its economy nimble and growing, Fink said. Regulation creates inflexibility in the labor market, stalling the development of the low-wage sector. This may force companies to pursue more automation or manufacture more goods outside of Germany. "Something has to give there, and clearly a more flexible labor sector is a key point on the reform agenda," Fink said.
---
This article is being provided for educational purposes only. The information contained in this article does not constitute a recommendation from any Goldman Sachs entity to the recipient, and Goldman Sachs is not providing any financial, economic, legal, investment, accounting, or tax advice through this article or to its recipient. Neither Goldman Sachs nor any of its affiliates makes any representation or warranty, express or implied, as to the accuracy or completeness of the statements or any information contained in this article and any liability therefore (including in respect of direct, indirect, or consequential loss or damage) is expressly disclaimed.
Originally published at: Goldman Sachs
---
For enquiries, product placements, sponsorships, and collaborations, connect with us at

[email protected]

. We'd love to hear from you!
---
Our humans need coffee too! Your support is highly appreciated, thank you!