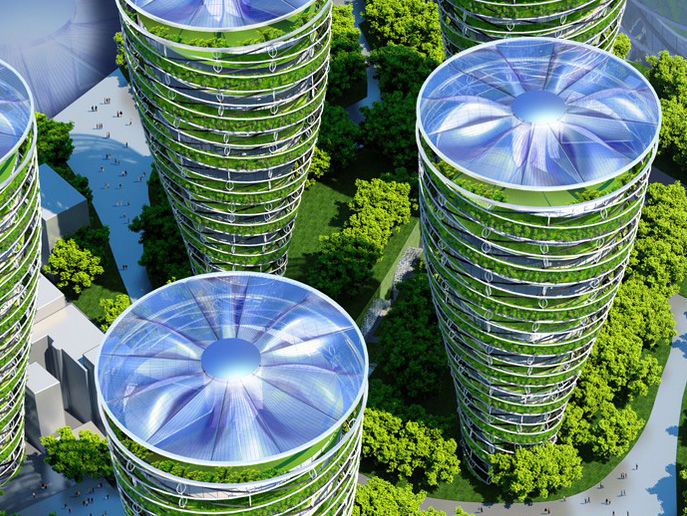 Inhabitat favorite Vincent Callebaut just unveiled plans to transform Paris into a futuristic "smart" city that looks more like a macrostudy of a rainforest than an urban jungle. Vincent Callebaut's Smart City was commissioned as part of the Climate Energy Plan of Paris, and it shows how the Paris of 2050 could embrace sustainability to create a healthier future while retaining its historical aesthetic and meeting its long-term energy goals.
Paris Smart City plan includes a Mountain Tower and other green skyscrapers inspired by nature that fit within the existing structures of the city.
The buildings take advantage of a range of green building strategies including passive heating and cooling, rainwater recycling, and living green walls that infuse fresh air into the bustling metropolis.
The plan also integrates community gardens and green spaces, encouraging residents to bring aspects of rural life to the urban realm.
"Phylolights" produce both light and energy using wind turbines.
The project uses space and materials in the most efficient way possible.
The skins of the honeycomb-like towers also serve as solar energy generators that harvest sunlight and produce biofuel.
The towers are all mixed-use, encouraging the integration of business, residential and commercial enterprise.
The buildings reduce the need for transportation, cutting the city's fuel costs and emissions.
Vincent Callebaut presents a vision for Paris making it a smart city with a style of its own.
This feature is adopted from Inhabitat.


---
Our humans need coffee too! Your support is highly appreciated, thank you!