There's a quiet, green revolution growing in the middle of Microsoft's Café 34. Under plasma lights, lettuce thrives in hydroponic towers. Microgreens are cultivated in a cooler behind the "Forage" organic salad bar.
Welcome to Dining Microsoft's urban farming experiment, where microgreens are used as a topping on pizzas and other dishes served at the café. They're also often the finishing touch on entrees served in the adjacent "in.gredients," a space created for local restaurateur John Howie and is currently home to guest chef Maria Hines of Tilth fame.
The greens, available in the café's "Gather" salad bar, are often the first to go, says Jessica Schilke, urban farming specialist for Microsoft's Dining and Beverage Services. "We get lots of great feedback about how they taste," she adds.
In fact, the plants are quickly approaching celebrity status in the remodeled café, which reopened six months ago. Schilke says it's not uncommon for visitors to take "selfies" in front of the cheery growing towers, and adds that there's one man who visits nearly every day. "He says he likes to sit next to the plants," she says. "He feels energized by the lights."
The greens are started from seed at another campus location and are transplanted into these units after about 8 days. Here, the plants sit in nutrient rich water and take about two more weeks until they are ready to be harvested for the first time.
The goal is sustainability, says Mark Freeman, senior program manager of Microsoft's Dining and Beverage Services.
The idea is rooted in an effort to be more thoughtful about where food served on Microsoft's Redmond headquarters — nearly a city in itself — comes from.
"I think about sustainability a lot," Freeman says, adding that he came up with the idea for bringing hydroponic vegetables to campus when he saw the towers while attending a restaurant show in Chicago.
[infobox title='Mark Freeman explains:']
"People are concerned about what's in their food and where it comes from. We make buying choices based on that notion and work with farmers who are taking care of the Earth." "We see Microsoft as a city, and as we look at that city, we want to meet the needs of our citizens by offering a variety of healthy foods that help make our employees happy and productive."
[/infobox]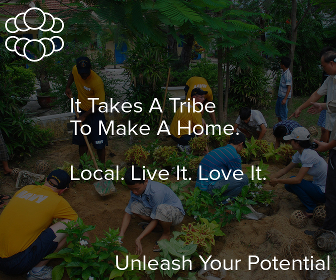 "The opportunity to develop a locally based food system for a city is usually a thought exercise, but here we can actually make these changes, and experiment, and people are excited to see where this can go," adds Schilke, whose background before coming to Microsoft was a career creating holistic systems.
Schilke says she's also excited about the opportunity to mix their sustainability efforts with the technological innovation that occurs organically on campus. They've already received a valuable tip from Xbox employees who suggested incorporating plasma lights instead of halogen or LED lighting originally used for the towers.
Because the plasma units provide a complete light spectrum, the plants are able to develop natural coloration not seen with the halogen or LEDs. They taste better too, Schilke says.
She's also met folks interested in developing apps for the project — everything from remotely measuring the progress of the plants to displaying where to find campus-grown produce. Schilke says she's inspired by the interest so far. "I'd love to hear more ideas," she adds.
The pair hopes to grow 100 percent of the company's microgreens in house, or about 270 trays per week, by the beginning of the next fiscal year in July. They're also expanding the operation to include tower gardens in the remodeled Building 83 cafeteria later this summer.
While they plan to keep the focus on microgreens and lettuce for now, there's always room for more experimentation. Perhaps they'll grow some culinary herbs, too, says Schilke.
"Our ultimate goal is 100 percent sustainability," Freeman says. "This is a first step."
This feature originally appeared in Microsoft.

---
For enquiries, product placements, sponsorships, and collaborations, connect with us at

[email protected]

. We'd love to hear from you!
---
Our humans need coffee too! Your support is highly appreciated, thank you!