Airport technology keeps getting increasingly advanced to make things more personalised, more automated, and hopefully more of a breeze. Here's what's in store.
Perhaps you've bumped into Mildred, Carla or Oscar on your recent travels. They're not real people but avatars of chatbots – concocted by Lufthansa, Avianca and Air New Zealand respectively – or artificial intelligence (AI) powered computer programs accessed on your smartphone that enable you to have a simulated conversation of sorts. Now airports are getting in on the act, and it's all part of a paradigm shift towards self-service and interactions with technologies that offer "personal" information to help us on our way through the terminal.
It's a shift confirmed in the findings of the Passenger IT Trends Survey released by Sita, the provider of much of the digital infrastructure that underpins airport and airline communications and operations worldwide. The survey found that face-to-face check-in is now down to 46 per cent of passengers, and since last year's survey, self-service bag-tagging has risen from 31 per cent to 47 per cent. Almost a fifth of passengers now use self-service bag drop, and when it comes to ID control, 57 per cent of passengers would definitely use biometrics instead of a passport or boarding pass across the journey. Biometrics is just one of a handful of newish technologies that have matured to the point that they're ripe for deployment, signifying a new era in airport experience.
AI, chatbots and messenger bots
With 98 per cent of passengers now flying with digital mobile devices, there's never been a better time for airports to "get personal". The uptake of Messenger, Facebook's instant messaging app, has been so dramatic – Facebook announced in April that it has 1.2 billion users – that airlines and now airports want to reach their customers using this platform. Athens International Airport claimed, last September, to be the first airport in the world to implement a bot app through Facebook Messenger.
"The ATH Messenger is an application that reflects the zeitgeist seeking convenience, interaction and direct information," said George Demetriades, the airport's director of information systems and telecommunications business unit. "Passengers can easily chat with the bot program, receiving updates around the clock regarding the flight of their interest, special retail offers, timetables and airport parking services."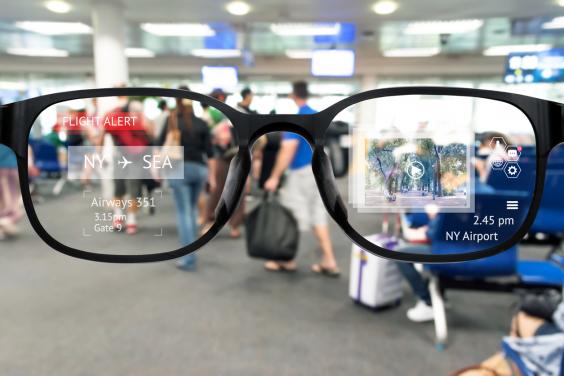 At Frankfurt Airport, you can converse with FRAnky, also a Messenger-based chatbot, which the airport describes as "artificial intelligence with charm". FRAnky can search for flights, send flight status updates and, if requested, give information about restaurants, shops and service facilities. It will even explain how passengers can use the airport's free wifi.
Augmented Reality
AR – the technology where you look at the real world through your smartphone or special glasses, and data, such as wayfinding information, is superimposed onto what you can see – has been around in the airport space since 2011. Copenhagen Airport launched the first airport app to use AR to enable passengers to find their way around the terminal and obtain information on restaurants and other facilities. But perhaps in 2011 walking around with a phone at the end of your outstretched arm wasn't the norm and few other airports followed suit. A lack of consistent GSM or wifi signals might also explain why AR has been slow to catch on. But no such barriers seem to exist today: Gatwick Airport has installed 2,000 battery-powered beacons across the airport's two terminals enabling AI-powered indoor navigation, integrated with Gatwick's smartphone apps.
"We're opening the door for a wide range of tech savvy airport providers, including our airlines and retailers, to launch new real-time services that can help passengers find their way around the airport, avoid missing flights or receive timely offers that might save them money," said Abhi Chacko, Gatwick Airport's head of IT, commercial and innovation.
The robots are coming
Conversing with robots, as we'll increasingly do with airport chatbots, is not the only interaction we'll see at terminals; robots of the more physical variety have been undergoing early stage trials in this space too. Meet Kate (yes, another personable avatar). The invention of Sita Labs, Kate is an intelligent check-in robotic kiosk that autonomously moves to busy or congested areas of the terminal as needed. It uses data related to passenger flow at the airport to reposition itself, thereby reducing passenger wait times.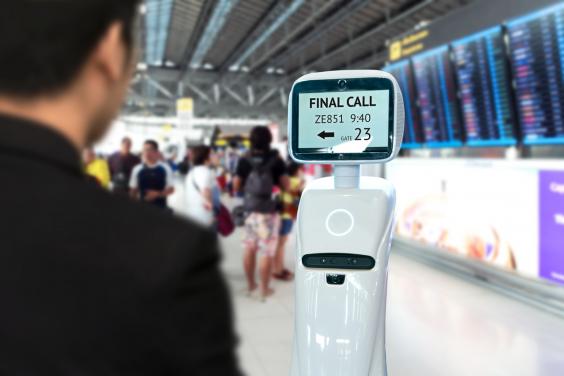 If you've been to Geneva Airport recently, you might have bumped into Leo outside the terminal. Leo is a bag-drop robot that hangs around at the drop-off point as you step out of your taxi. You can place your suitcase onto Leo's belt and scan your boarding pass with a handheld scanner – Leo prints a bag tag that you attach to the suitcase handle, a door closes with your suitcase secured inside, then the robot prints you a baggage receipt. Hey presto, Leo has removed the hassle of trekking your luggage through the terminal.
This feature originally appeared in Independent.