There is no doubt that AI is the topic that is going to dominate 2018 – I think we can all agree on that. According to IDC, the adoption of cognitive systems and AI will drive worldwide revenues from nearly $8 billion in 2016 to more than $47 billion in 2020.
However, much of what I see in the news is hype and predictions about the future of AI. While that is great to see, little is said about the reality that AI is already here — it is all around us, and early adopters are already winning the race to integrate AI technologies into their marketing technology stacks.
In this article, I will share some insights into how and where AI technology is making the biggest impact and why I expect AI to take center stage as marketers look for smarter and deeper insights to power the personalization of the customer experience.
AI disruption: It is all around us
AI now impacts nearly all aspects of customers' lives. Technologies — such as smart devices kept in homes and worn on bodies, chatbots participating in conversational commerce and driverless cars — synthesize customers' wants, needs and preferences into customized consumer experiences.
This why so many exciting statistics about AI's potential light up on the marketing technologist's radar.
AI solutions and robots markets will grow to $153 billion by the end of 2020 (Bank of America).
75 percent of executives say AI will be "actively implemented" in companies within the next three years (The Economist Intelligence Unit).
AI now: Early adopters are set to gain the competitive edge
The reality is that we are at the beginning of the next wave of an industrial revolution driven by AI. Last year, the Boston Consulting Group found that 85 percent of executives believed AI will allow their companies to obtain or sustain competitive advantage. AI disruption presents marketers with opportunities to better understand customers and connect with them in more meaningful ways.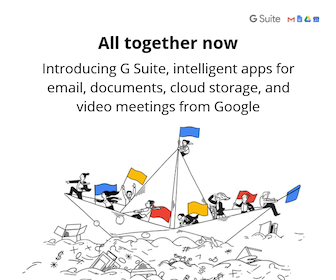 As reporter Tristan Green wrote in The Next Web: "Showing up in 2018 without an AI chip in your flagship device is going to get your product dismissed by the general public."
Below are a few statistics related to the here and now of AI.
A Forrester survey found that business executives expected to spend 300 percent more on cognitive computing, as compared with 2016.
In 2015, 80 percent of executives surveyed by Narrative Science already believed that AI boosts productivity.
Back in 2016, Google said that 20 percent of mobile searches were voice searches.
34 percent of enterprise business executives surveyed by Narrative Science in 2016 said they were already using artificial intelligence within their organizations.
AI early adopters are the ones who are gaining the most competitive advantage from AI. These early adopters are already leveraging AI, machine learning and automation to provide customers with highly personalized web experiences (at scale) to steal a lead in the martech space.
Technology giants and forward-thinking martech companies invested heavily in AI early on. Between $26 billion and $39 billion was spent on AI in 2016, according to McKinsey. This included R&D investment from Baidu, Google and Amazon. Salesforce, an early adopter, working with MetaMind, saw a share price hike that has been attributed to investments in AI solutions.
What and who is driving adoption
Voice search is one of the most widely used AI applications, with machine learning being the second most widely used technology among enterprise organizations. In 2018, adoption rates are much higher. At my company, for example, over 85 percent of customers have adopted AI-powered solutions.
Gartner also found that voice-based search queries are the fastest-growing mobile search type and expects that by 2021, early adopter brands that redesign their websites to support visual and voice search will grow their digital commerce revenue by 30 percent. Back in April of 2017, I wrote about how data and voice search will be two key trends to watch in 2018.
It is business decision-makers who are driving adoption, and over the next few years, high tech, communications and financial services will be the leading industries to adopt AI. Characteristics of an early adopter organization, McKinsey finds, are those that are larger, digitally mature and have support for AI at the C-level.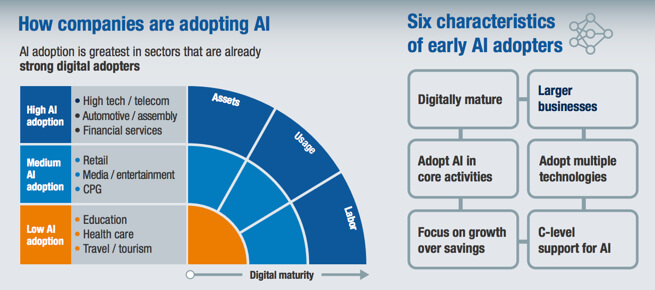 What's next
Artificial intelligence is now a must-have for modern-day marketers; consumers expect marketers to communicate with them on a 1-on-1 level, in a personalized way. Incorporating AI technology into the martech stack is going to be the key way for marketers to continue creating value, delighting customers and outsmarting the competition.
As data sets grow and become more complex, deep learning will become the key way to make sense of all the possible and relevant data and provide the most intelligent insights. Unlike simple machine learning, deep learning requires both powerful computing power and massive amounts of relevant data.
Early adopters will leverage this for key martech activities such as intent modeling and information retrieval, audience targeting, sentiment analysis and personalization (they key to customer experience marketing). As the AI revolution picks up pace this year, organizations must think about:
The assembly and accumulation of data and insights.
Relevant business applications of machine learning and deep learning.
The activation of AI applications across the customer base.
Closing comments
AI is here and now, and martech executives should commit to staying on top of AI trends and adoption statistics. The opportunity is here, but there are still some marketing and sales challenges that CMOs should start to think about, such as self-learning attribution modeling, self-learning website content development and gaining multiple decision-makers' buy-in.
This feature is written by Jim Yu and originally appeared in Martech Today.


---
For enquiries, product placements, sponsorships, and collaborations, connect with us at

[email protected]

. We'd love to hear from you!
---
Our humans need coffee too! Your support is highly appreciated, thank you!