SINGAPORE – The world watched as United States President Donald Trump and North Korean leader Kim Jong Un walked towards each other at the courtyard of the Capella Singapore on Tuesday morning (June 12).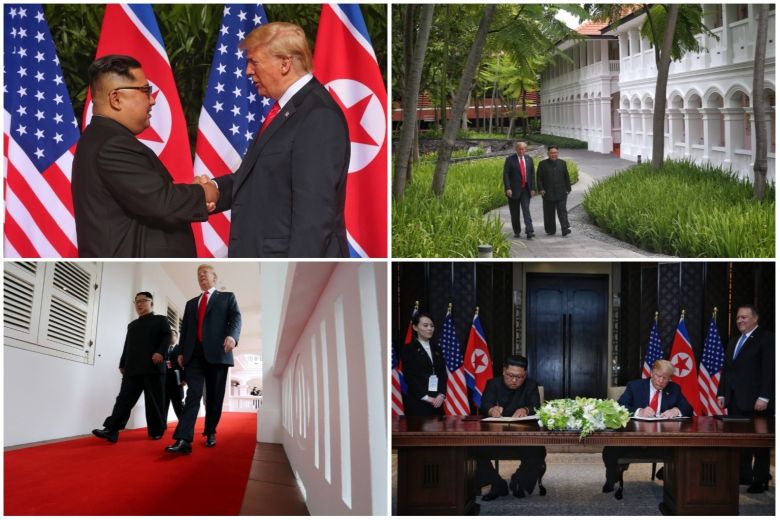 At 9.04am, the two leaders met in the middle and shook hands for 12 seconds, marking their first meeting and the start of a historic summit. They held one-on-one talks for about 45 minutes, before proceeding to an expanded bilateral meeting including key aides from both sides. Their discussions continued into a working lunch.
Here's a look at the key moments so far.
1. WARM GREETINGS, THEN PATS ON THE ARM
"Nice to meet you, Mr President," Mr Kim, speaking in Korean, told Mr Trump as they shook hands and posed for the media in front US and North Korea flags.
As the two leaders turned to leave the courtyard for their one-on-one meeting, Mr Trump gave Mr Kim several pats on his arm. Mr Kim gave a broad smile, while Mr Trump was cordial.
2. 'A FORM OF FANTASY, A SCIENCE FICTION MOVIE'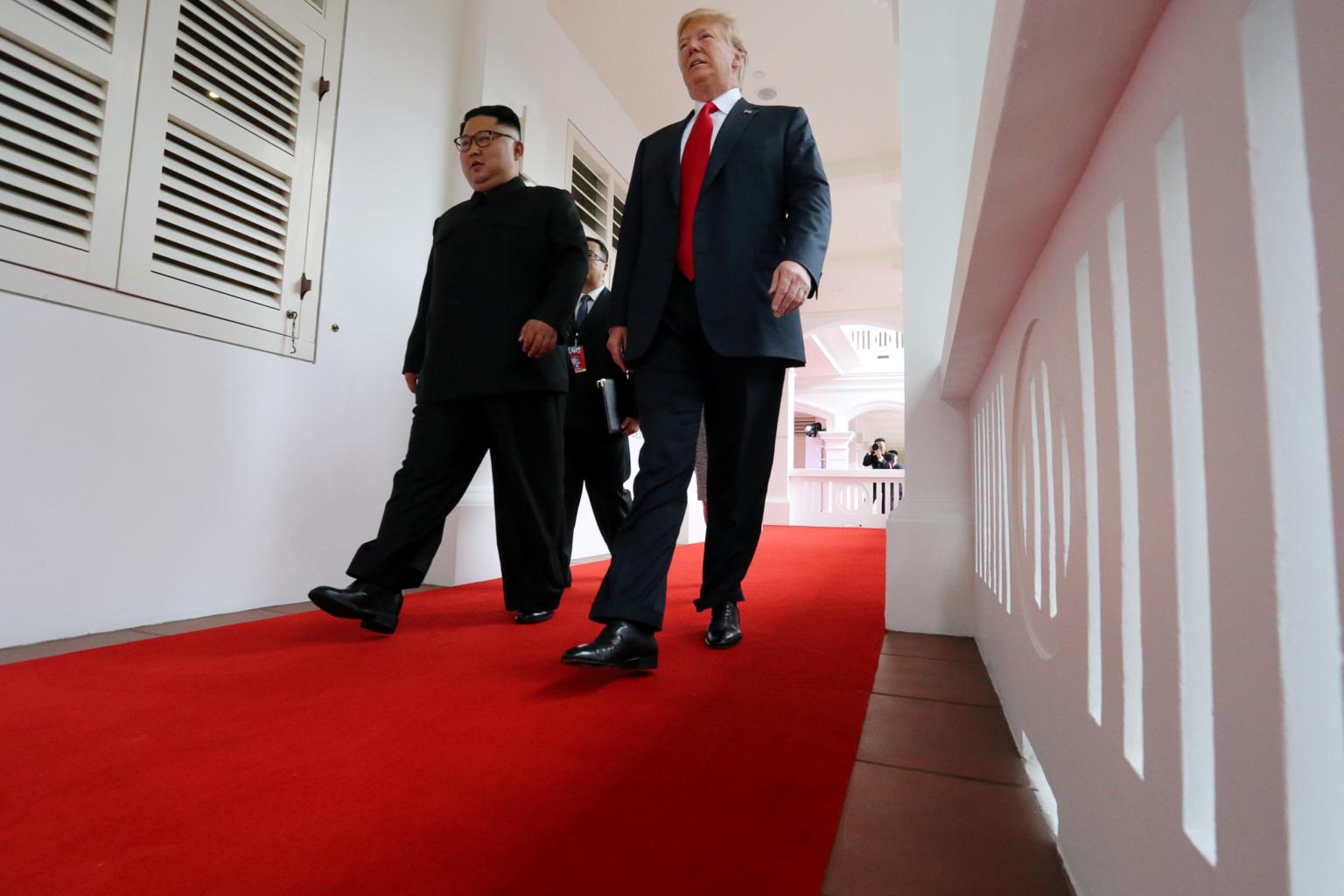 On the short walk to their meeting after the historic handshake, Mr Kim told Mr Trump, via a translator, that people around the world would not believe what was taking place in Singapore, CNN reported.
"Many people in the world will think of this as a form of fantasy… from a science fiction movie," he said.
3. TRUMP FLASHES KIM A THUMBS-UP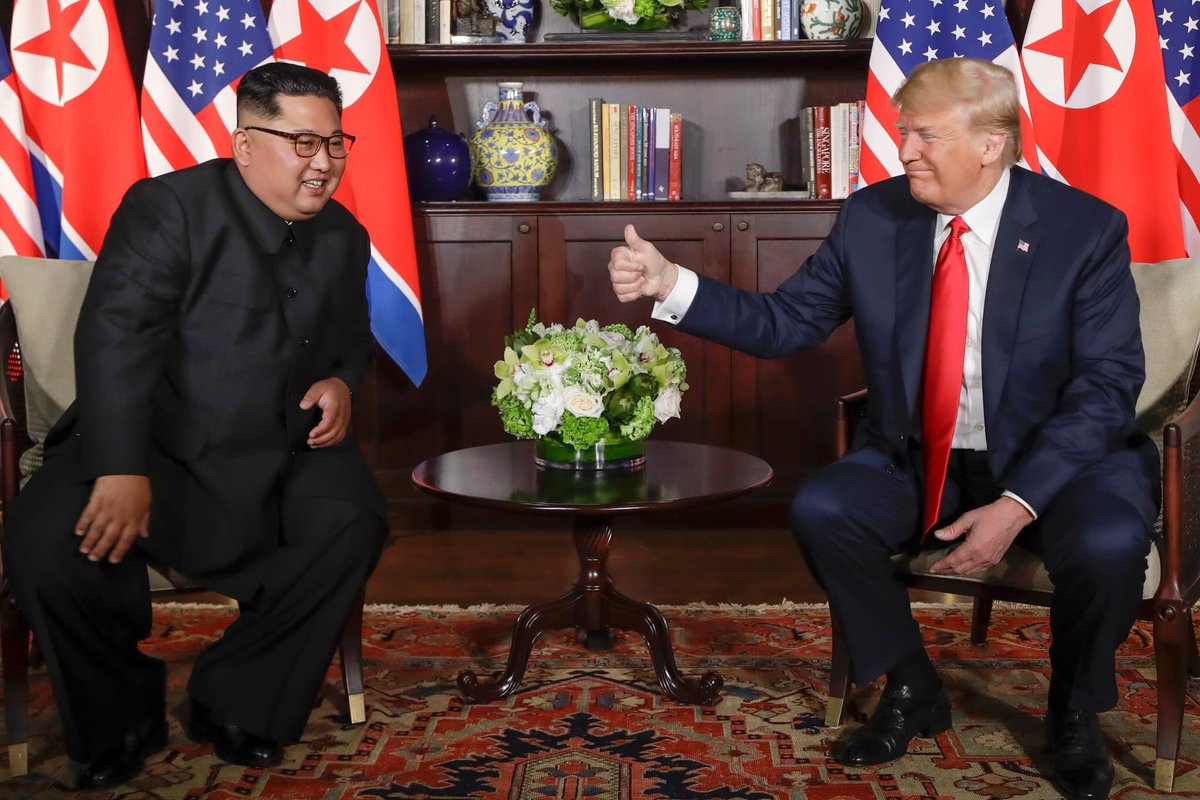 In brief comments to reporters before their one-on-one talks, Mr Trump expressed his confidence that the meeting would produce good results,  saying: "We're gonna have a great discussion, and I think tremendous success."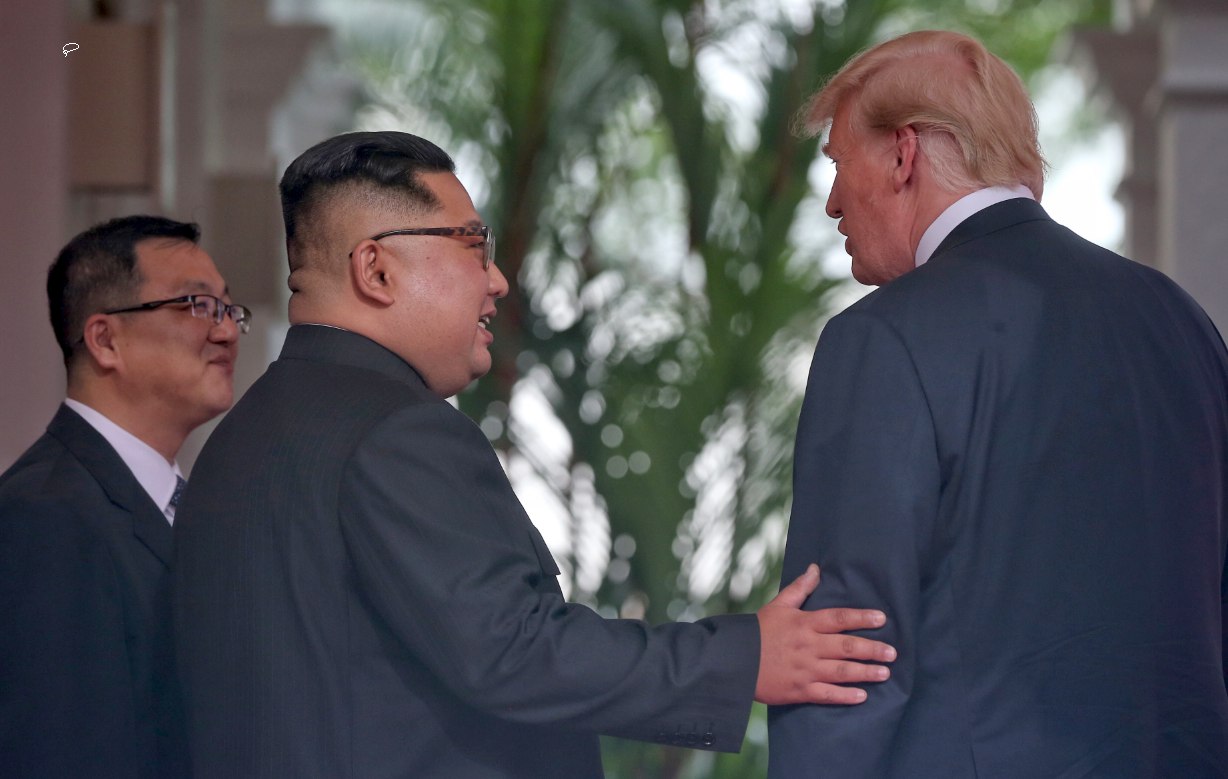 He added that he believes they will have a "terrific relationship".
Mr Kim, who spoke after Mr Trump, said: "I'm very happy to meet you in Singapore."
"Well, it was not easy to get here. The past worked as fetters on our limbs, and the old prejudices and practices worked as obstacles on our way forward," he said. "But we overcame all of them, and we are here today."
Mr Trump responded with a thumbs-up.
4. SMILES FROM BOTH SIDES AFTER TALKS, EVEN A WAVE FROM THE BALCONY
The leaders met for about 45 minutes, with only their interpreters present.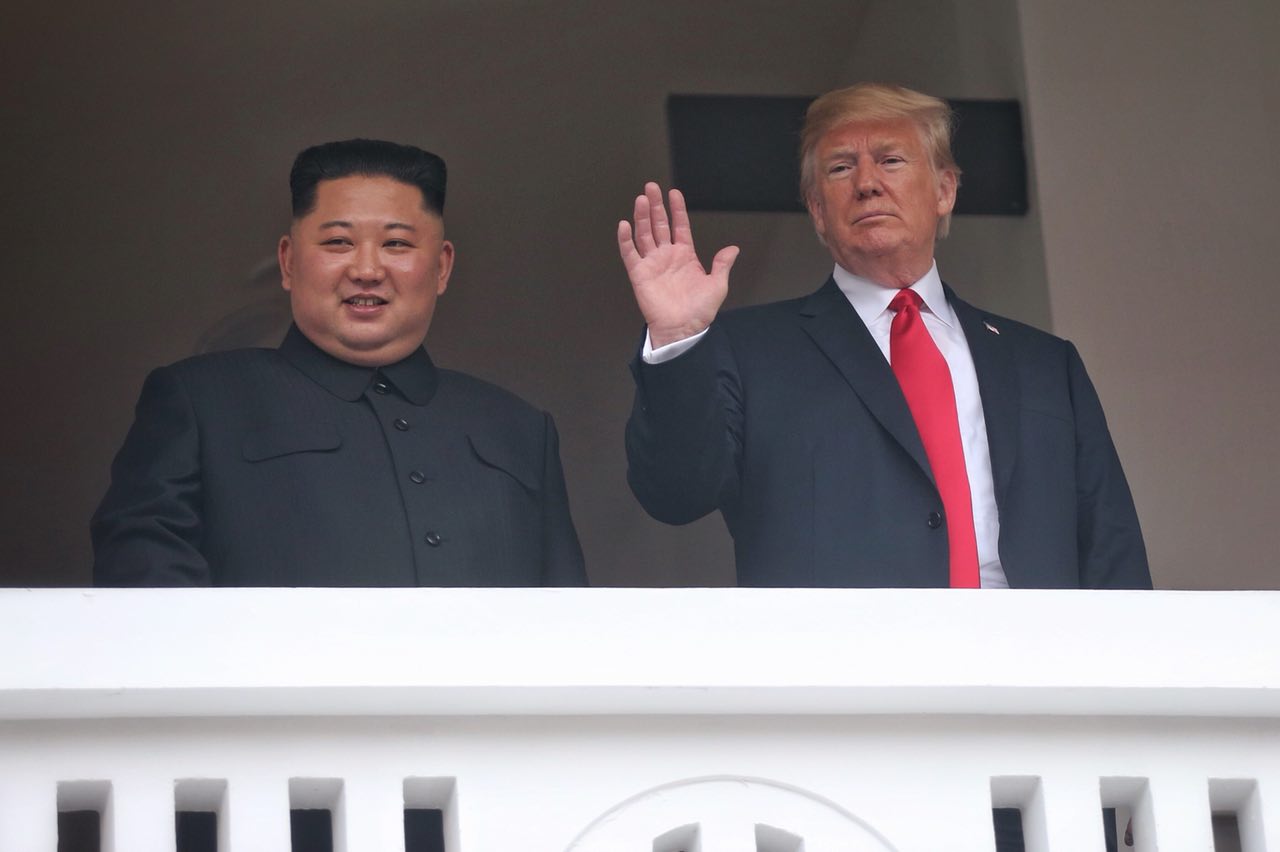 When asked how discussions went, Mr Trump told reporters: "Very good. Very, very good."
The pair were seen smiling and chatting, after emerging from one-on-one talks and waved to reporters from the hotel balcony.
5. MORE HANDSHAKES BEFORE IT'S DOWN TO BUSINESS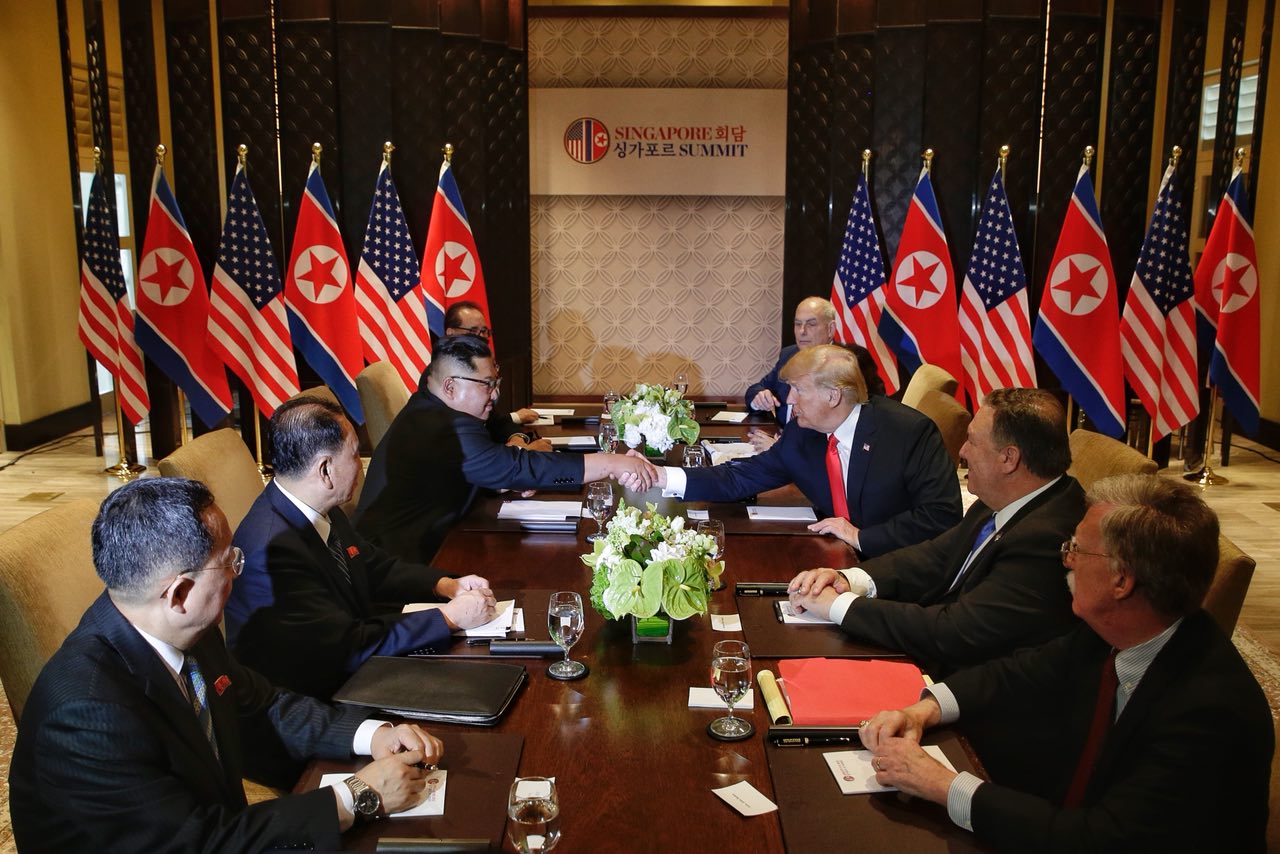 It is a day of handshakes between Mr Trump and Mr Kim. The leaders shook hands again across the table and exchanged greetings before the expanded bilateral meeting, following the one-on-one talks, kicked off.
Mr Trump said he and Mr Kim will try to solve "a big problem, a big dilemma", and that by working together, "we will get it taken care of".
6. A PHOTO OF GUESTS LOOKING 'NICE, HANDSOME AND THIN' PLEASE?
After the hour-long bilateral meeting, the two leaders and their delegations sat down for a working lunch.
Mr Trump made a cheeky remark to the photographers. "Getting a good picture everybody? So we look nice and handsome and thin? Perfect," he said.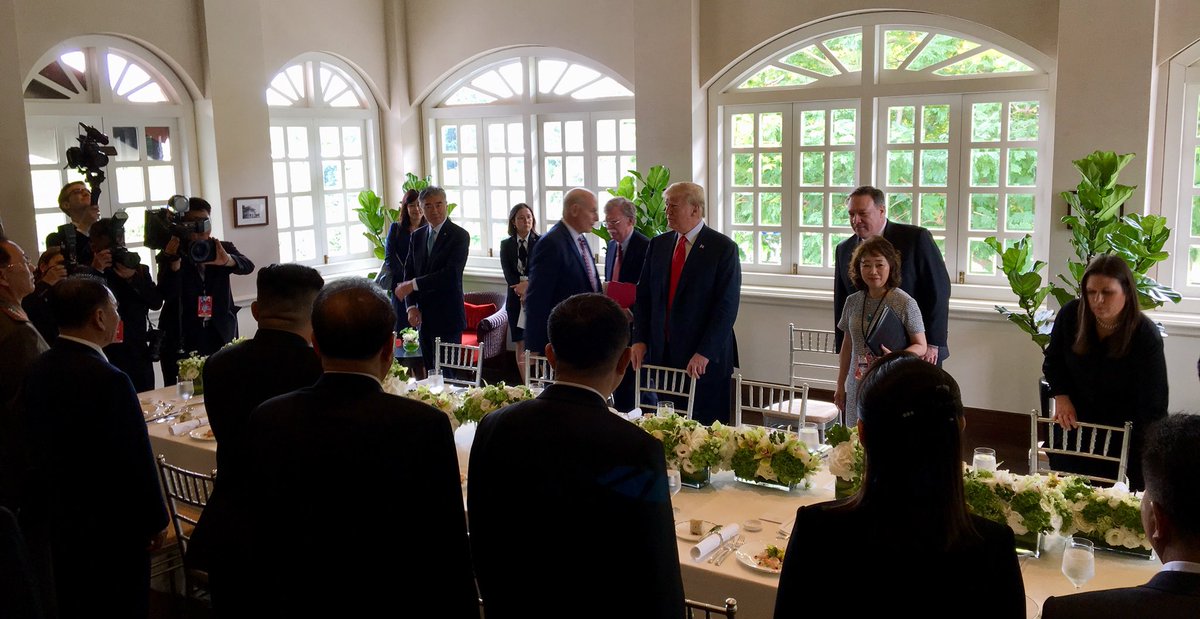 An East-West nine-course meal was served during lunch. For starters, both sides were presented with a prawn cocktail, mango kerabu – a Malay salad – and oiseon, or Korean stuffed cucumbers. The main course featured beef short-rib confit, sweet and sour pork with fried rice, as well as a popular Korean dish daegu jorim, or soya-braised codfish. For dessert, a dark chocolate tartlet ganache, Haagen-Dazs vanilla ice cream with cherry coulis and tropezienne (brioche pastry with cream in the middle) were served.
7. TRUMP AND KIM TAKE A POST-LUNCH STROLL AROUND CAPELLA
The pair took a stroll after lunch around Capella's courtyard, with both appearing at ease.
Mr Trump then invited Mr Kim to take a look at his presidential limousine, known as The Beast, and seemed to ask him if he wanted to go in for a look. Mr Kim smiled and laughed.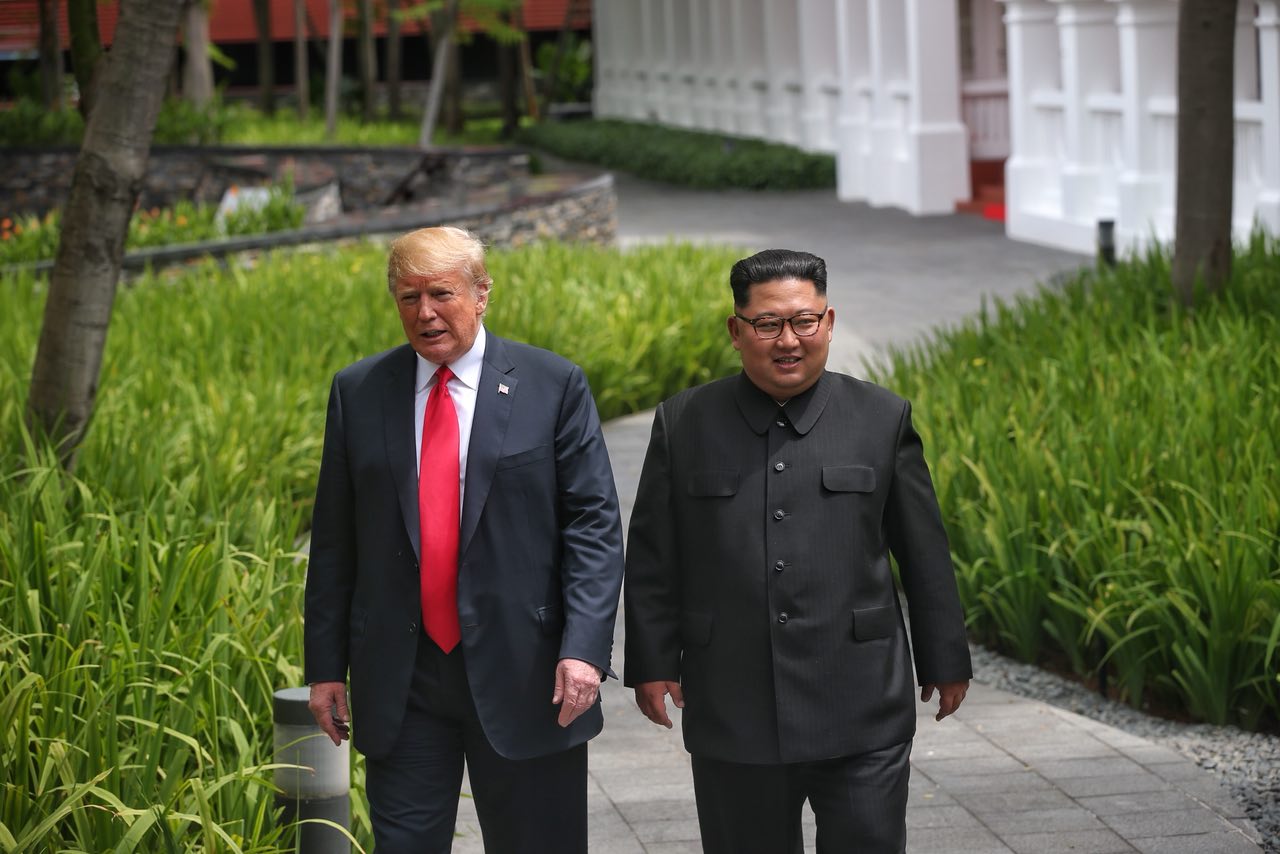 At the end of the brief walk, Mr Trump surprised reporters by announcing that there would be "a signing" in the afternoon.
He also said talks had gone "better than anybody could have expected".
8. THEY SIGN A 'VERY IMPORTANT, PRETTY COMPREHENSIVE DOCUMENT'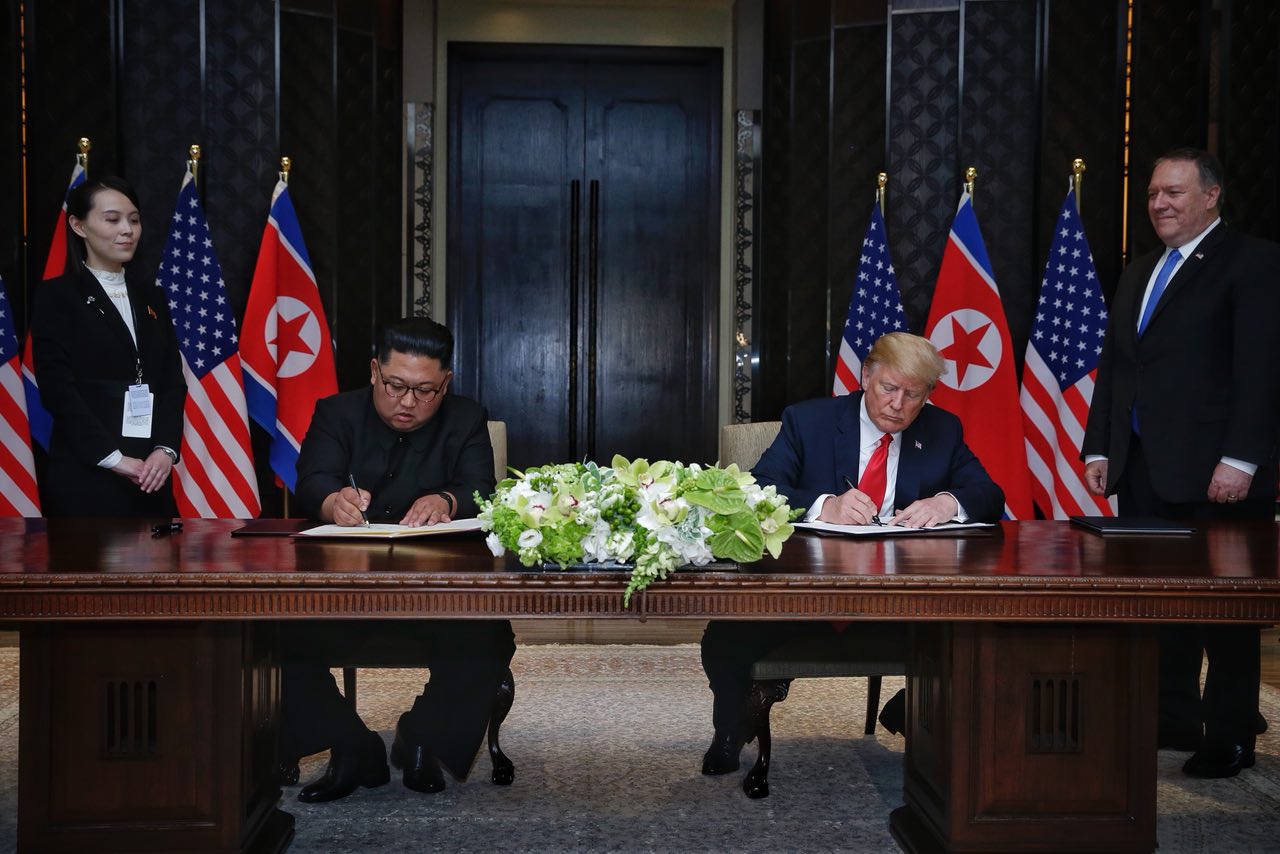 Mr Trump and Mr Kim signed three joint documents shortly after 2.30pm in a room packed with journalists, who were kept in the dark over the contents.
"We're signing a very important document, pretty comprehensive document, and we've had a really great time together, a great relationship," said Mr Trump.
Mr Kim added: "Today we had a very historic meeting, overcoming our past history and embarking on a new beginning. We're about to sign a historic agreement, and the world will see a major change.
"I'd like to express my gratitude to Mr Trump in making this happen."
The pair took questions but did not reveal what the documents said.
9. TRUMP DESCRIBES KIM AS A TALENTED MAN WHO LOVES HIS COUNTRY VERY MUCH
"We have developed a special bond," Mr Trump said during the signing.
He added: "Mr Kim, would you like to come to Washington?"
Later, when asked if the two leaders will meet again, he said: "We'll meet again, we'll meet many many times."
"We've learned a lot about each other. He's a very talented man, I also learned that he loves his country very much," he added.
Mr Trump also described Mr Kim as a "very worthy, very smart negotiator".
This feature is written by Ng Huiwen & originally appeared in Straits Times.



---
For enquiries, product placements, sponsorships, and collaborations, connect with us at

[email protected]

. We'd love to hear from you!
---
Our humans need coffee too! Your support is highly appreciated, thank you!