Which countries are the most peaceful? The Global Peace Index 2019 is here to answer you.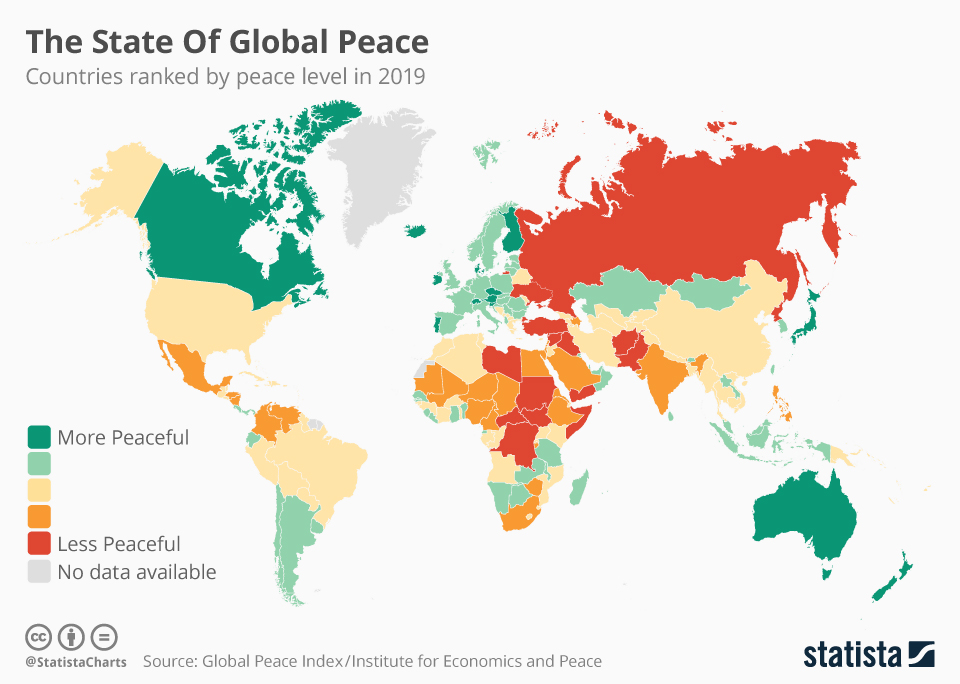 The Global Peace Index (GPI) is an annual data released by Vision of Humanity, a platform created by the Institute of Economics and Peace to provide data-driven world insights on peace, security, and development.
Highlights
The following countries made it to the top ten of the list: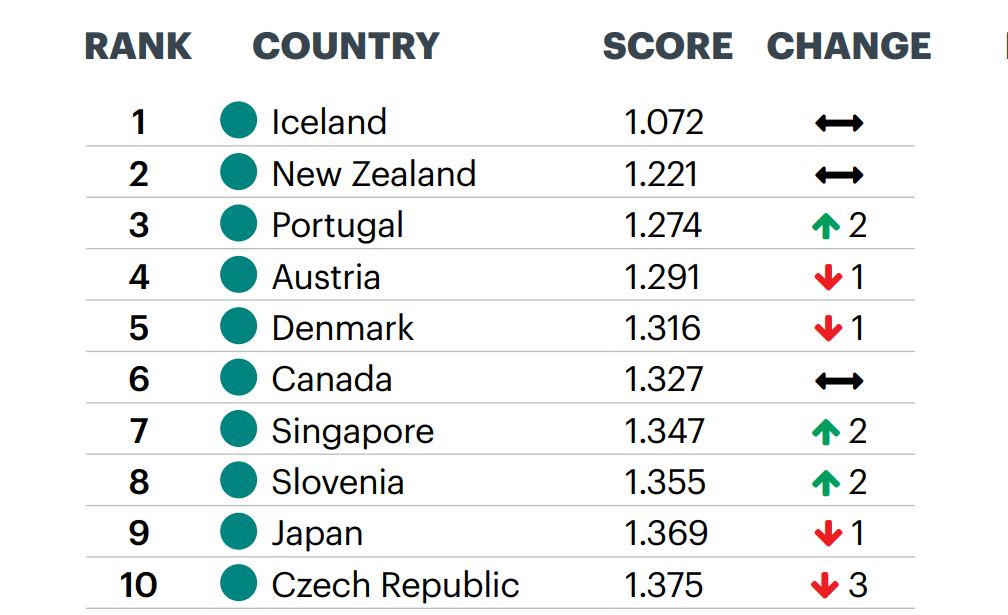 Iceland tops the list followed by New Zealand. This is consistent with their ranking last year. Most countries in the top 10 list are from Europe, with Canada coming from North America and New Zealand, Singapore, and Japan coming from the Asia Pacific region.
Lowest Scores
On the flip side, Afghanistan is recorded to be the least peaceful at the 163rd place, replacing Syria from last year. Yemen for the first time also enters the top five least peaceful countries since the creation of the GPI. The five countries getting the lowest scores are Iraq, Yemen, South Sudan, Syria, and Afganistan. We can see that a common denominator of these countries is that they are undergoing civil wars or major political unrest.
How is GPI computed?
The GPI is computed using 23 peace indicators of varying weights. The weights range from 1 to 5, with 1 being the lowest and 5 being the highest. Being the highest weighted indicator means that the indicator contributes greatly to the resulting GPI score.
Furthermore, the indicators are divided into external and internal conflicts. Intuitively, the internal conflict indicators are weighted higher, contributing to 60% of the score. The remaining 40% of the GPI is computed using the external conflict score.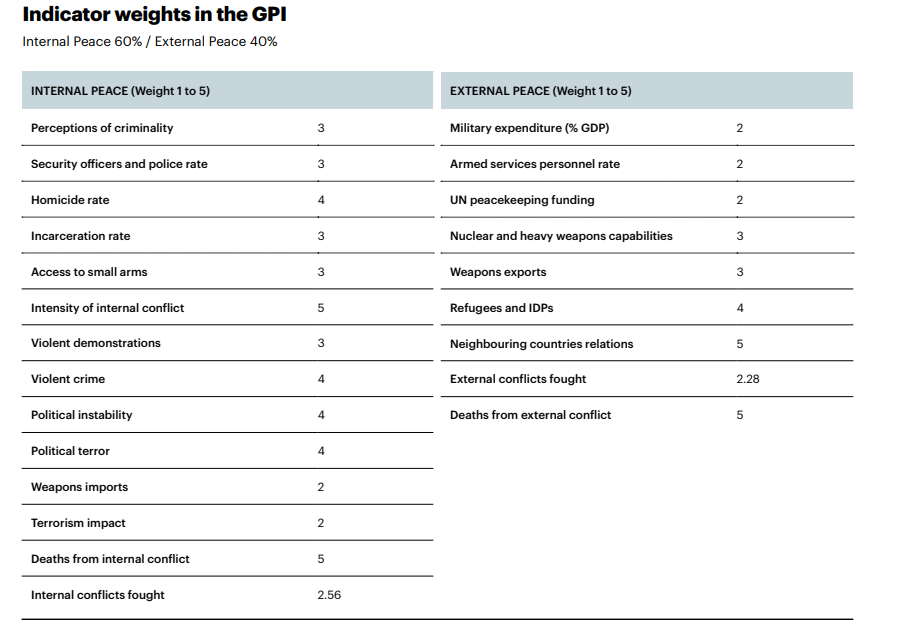 The process of scoring based on these indicators follow a six-step process:
Individual Scoring: Individual Country Analysts score based on the prescribed methodology.
Regional Validation: Regional directors monitor the score over their assigned region. They also evaluate proposed scoring revisions.
Research Team Validation: Indicator scores are checked by the Economic Intelligence Unit's (EIU) Custom Research Team. The custom research team has the responsibility for GPI.
Score revisions: For questionable scores, the Custom Research Team and the corresponding Regional Director discuss the validity of the score.
 External Validation: Scores are assessed by the external advisory panel before finalising the GPI
Succeeding Score Revisions: If the panel finds the scores questionable, the Custom Research Team, Regional Director, and Country Analyst discuss the score and bring it back to the panel until the scores are finalized.
We see that the methods used aim to maximize the robustness of the index, making it a reliable measure for the state of global peace.
Another insight we can get from this methodology is the number of indicators needed to come up with the GPI. We see that attaining peace is a serious business that doesn't lend room for complacency. This should be a wake-up call for countries to become more aggressive and strategic in maintaining peace.