These are the top 12 cities which recorded the most number of books loaned in public libraries for the year 2018: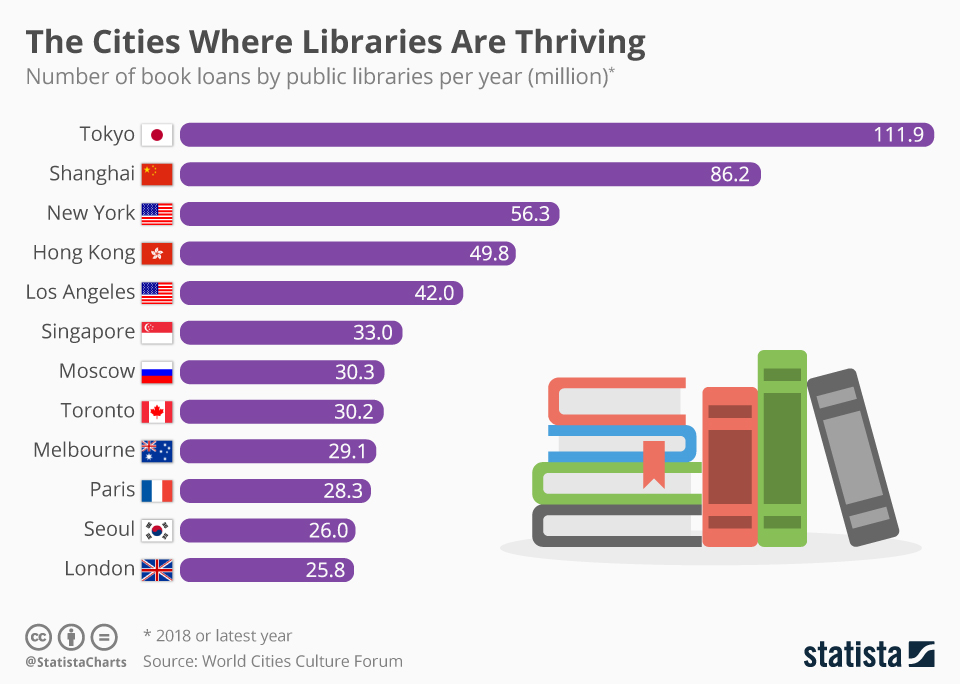 This is according to the World Cities Culture Forum's (WCCF) data compilation.  Wondering why people flock in these libraries? Let's see what kind of libraries the cities which made it to the top five has to offer.
Los Angeles
Fifth in the list is Los Angeles, accumulating an annual total of 42 billion book loans. LA boasts its Central Library which is the third largest central library in the US. It has a collection of 2.8 million books, 5,000 magazine subscriptions, more than 3 million photographs, 10 million digital access U.S. patents, plus language learning and multi-media materials.
This towering structure has more than just books. It has a 235-seat auditorium, food service, and the stunning Maguire Gardens, a 1.5-acre park just next to the library building. This encourages its visitors to not just borrow books but to enjoy nature as well.
Hong Kong
At fourth place, we have Hong Kong. The Hong Kong Central Library is the largest in the city and being the largest in Hong Kong, it's no wonder that it also lists a high number of book loans yearly.  The library boasts a huge collection of English and Chinese books as well as extensive multimedia resources.
This library with a modern architectural design has a lot of facilities catered towards kids. Some services include the children's library, children's activity room, and toy library. There is even a babycare room. With these facilities, kids are exposed to stimulating learning environments. At the same time, parents can have quality time with their children.
For young adults, there are discussion rooms and electronic resources apart from the massive volume of Chinese and English books — amounting to around 80,000. The library's interior is gorgeous and functional. You would want to stay for long periods and borrow some nice titles.
New York
New York is home to some of the most stunning libraries in the world. One of the best is the New York Public Library Main Branch. In a megacity that is as diverse as New York, people from all walks of life would definitely enjoy going to the library to borrow books, participate in events or join in various workshops.
Even if you don't like reading books, visiting this library will still be a delight. The interior will amaze almost anyone.  It is hard not to look at some books though. The library has a large volume of books and archives, you will easily find a perfect match.
Shanghai
Shanghai Library stands tall at 106 meters, making it one of the world's tallest libraries. It also houses the Shanghai Institute of Scientific and Technological Information. The Shanghai Library is not just one of the world's tallest libraries but also the biggest public library in China and it's no wonder they land at number 2 spot for the most number of book loans per year totalling to around 86 million.
This library is the place to be for those who want a peaceful studying environment. They also house priceless collections, books, and manuscripts from ancient China. Decorated with plants and beautiful furniture, the library feels open and relaxing. As a bonus, there is free Wi-Fi in the entire library. It also has a cafe where you can grab some coffee and cakes.
Tokyo
Topping the list is Tokyo. It recorded a whopping 111.9 million book loans last year, way ahead of the second-place Shanghai's 86.2 million. One excellent library in the city is the Hibiya Library.
This library isn't like the architectural wonders that are featured in this list. True to the Japanese culture, the library is an elegant and simple area where you can spend your afternoons. Apart from the library, there is also a museum housing some stunning permanent exhibitions.
We can see that these libraries have transformed into more than just structures to preserve our books and archives. These libraries turned into a space where people can relax, bond, and learn and provide us with a quiet place in the midst of busy city life.
---
For enquiries, product placements, sponsorships, and collaborations, connect with us at

[email protected]

. We'd love to hear from you!
---
Our humans need coffee too! Your support is highly appreciated, thank you!