Thinking of where to take your undergraduate or graduate studies? These are the top ten universities for the year 2020: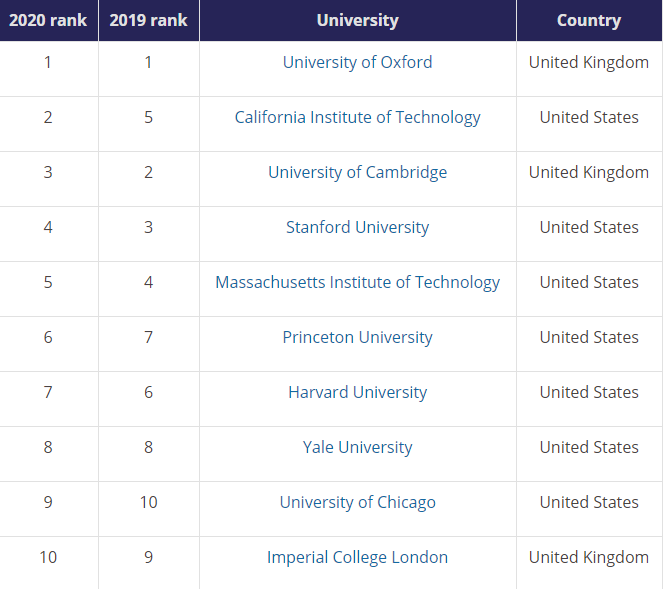 This is according to the Times Higher Education (THE)'s annual World University Rankings. The rankings for 2020 includes 1,400 universities across 92 countries making it the most diverse university rankings to date.
How the rankings are created
In order to come up with the rankings, THE considered 13 performance indicators grouped into five areas:
Teaching (30%)
01. Reputation survey: 15%

02. Staff-to-student ratio: 4.5%
03. Doctorate-to-bachelor's ratio: 2.25%
04. Doctorates-awarded-to-academic-staff ratio: 6%
05. Institutional income: 2.25%
Research (30%)
06. Reputation survey: 18%
07. Research income: 6%
08. Research productivity: 6%
Citations (30%) 
09. Citation volume
International Outlook (7.5%)
10. Proportion of international students: 2.5%
11. Proportion of international staff: 2.5%
12. International collaboration: 2.5%
Industry Income (2.5%)
13. Research income earned by a university from the industry
Universities are excluded from the World University Rankings if:
They do not teach undergraduates
Their research output (2014-2018) is fewer than 1,000 relevant publications
Their research output did not reach the minimum of 150 per year
80% or more of their research output is exclusively in just one of the 11 specified subject areas of THE.
All in all, THE included nearly 1,400 universities for the 2020 rankings, the biggest figure to date.
Highlights
In its consecutive fourth year now, University of Oxford tops the list with an overall score of 95.4. 
This university is followed by the California Institute of Technology (94.5), University of Cambridge (94.4), Stanford University (94.3), and the Massachusetts Institute of Technology (93.6). 
The United States nearly sweeps the entire top 10, occupying seven of the top positions. The United Kingdom, on the other hand, filled the other three spots, including the top 1 spot.
In terms of the five performance areas, here are the front-runners:
01. Teaching: Stanford University (92.8)
02. Research: University of Oxford (99.6)
03. Citations: The following universities garnered a perfect score of 100 in citations:
Aswan University (Egypt)
Brandeis University (US)
Brighton and Sussex Medical School  (UK)
Indian Institute of Technology Ropar (India)
Jordan University of Science and Technology (Jordan)
University of Peradeniya (Sri Lanka)
04. Industry income: The following universities garnered a perfect score of 100 in industry income:
Anadolu University (Turkey)
Asia University, Taiwan
University of Freiburg (Germany)
Istanbul Technical University (Turkey)
Khalifa University (United Arab Emirates)
LMU Zurich (Germany)
National Research Nuclear University MEPhI (Russian Federation)
Technical University of Munich (Germany)
Tsinghua University (China)
Wageningen University & Research (Netherlands)
University of the Witwatersrand (South Africa)
Zhejiang University (China)
05. International Outlook: University of Luxembourg (99.7)
More than a place to learn
We can see in the ranking metrics that universities are not just places to get a degree. They are also platforms to share knowledge to other learning bodies, to improve the industries they are involved in, and to collaborate with others.
Knowledge is power, but the extent of this power is only limited by how willing we are to impart this knowledge so that it can grow and be refined further.
Also, it can be related to writing a paper when we use credible sources. So, if you are going to study at the University or you study in the college now US Essays Writers are ready to provide you with help.
---
To view the complete university rankings click here: https://www.timeshighereducation.com/world-university-rankings/2020/world-ranking#!/page/0/length/25/sort_by/rank/sort_order/asc/cols/stats
---
Our humans need coffee too! Your support is highly appreciated, thank you!