Being stuck in a traffic gridlock could easily ruin a good day. While there are some small things you can do while you are in your car, there's a lot of tasks that are also delayed because you have to deal with congested traffic.
On top of this, going home from a long day of work, the thought of having to deal with traffic before you can enjoy the comfort of your bed is simply a nightmare.
In Asia, we often hear it in the news — frustrating stories of being stuck in traffic, causing the delay of important operations, and in some cases even death.
Which cities have the worst traffic congestion in Asia? Here's the top ten list: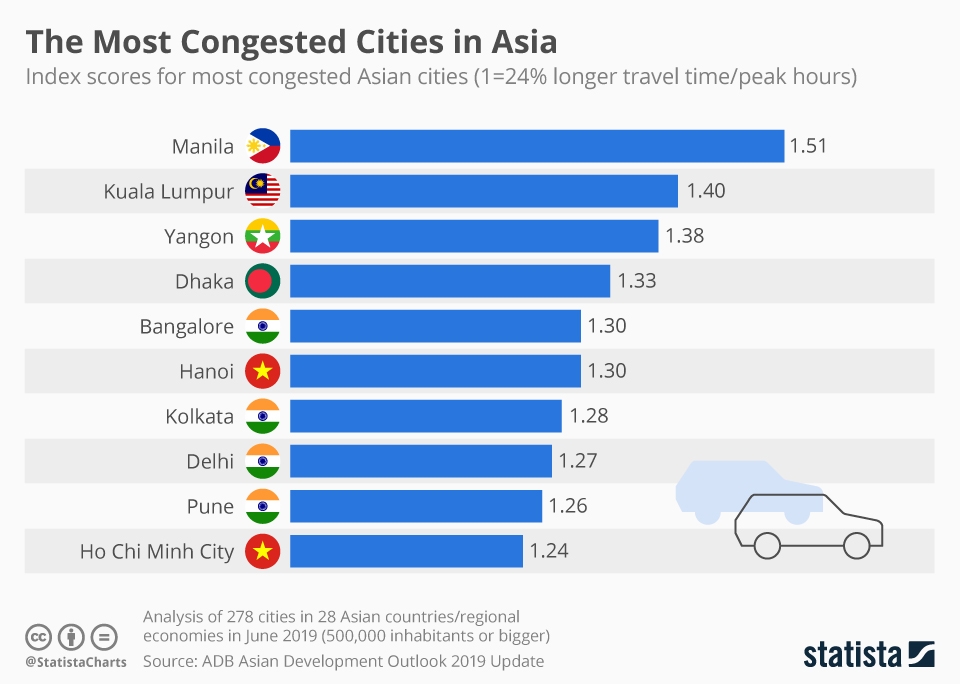 This list is based on the report recently released by the Asian Development Bank (ADB): Asian Development Outlook 2019 Update.
Methodology
For the study, ADB used satellite imagery in conjunction with Google Maps data in order to assess 278 cities across 28 Asian countries included in the study.
Using this collected information, ADB identified the busiest roads. They also measured the length of trips during peak and off-peak hours. As a metric for the intensity of congestion in a city, ADB computed for the ratio of the trip length during peak hours to the trip length during off-peak hours.
Overall traffic condition in Asian cities
Overall, the average ratio for the cities included in the study is 1.24. This means that on average, 24% more time is needed to travel during peak hours in contrast to off-peak hours.
To put this in a clearer perspective, a one-hour trip in an average Asian city during off-peak hours will take around one hour and 15 minutes during peak hours. The average length of delay doesn't sound too bad. But during times you are in a rush not wanting to be late for work or school, the extra 15 minutes means a lot. And those extra 15 minutes every day can mean a lot if you total it over a year.
City Highlights
Let's zoom in to the city scale. The country revealed to be most congested is Manila, with a relative index of 1.51. This is followed by Kuala Lumpur (1.40), Yangon (1.38), Dhaka (1.33), and Bangalore (1.30) in the top five places.
While the Philippines' Manila was deemed the worst in traffic, four Indian cities namely Bangalore, Kolkata, Delhi, and Pune made it to the top ten list, making India the country with the most cities deemed to be the worst in traffic congestion. This is followed by Vietnam, with two cities — Hanoi and Ho Chi Minh City — making it into the list.
Manila gained a relative index score of 1.51. This means that traffic congestion in Manila is 51% worse than the overall average. To make it easier to grasp, a one-hour trip in Manila during off-peak hours will be nearly two hours during peak hours. If your workplace or university is around an hour-long trip from home, you will have to spend a total of around four hours in Manila each day just stuck in traffic; travelling in the morning and evening.
Now, that sounds really bad and if you consider the dilapidated state of public transportation in Manila, that makes it worse.
Waking up from the nightmare
Traffic congestion is a sign of rapid urbanization. From the 375 million inhabitants back in 1970, there are now 1.84 billion urban inhabitants in the urban regions of Asia, according to ADB. Rapid development is supposed to be a good thing. However, it could easily backfire if there is a lack of infrastructure and the necessary services to support this growth.
In the context of traffic, cities can alleviate the issue of congestion by backing up the increasing urban population with an efficient and multimodal system of transportation. This way, cars are dethroned as the primary means of mobility. At the same time, transportation will become sustainable and accessible for all.
While all this is easier said than done, officials can at least start with small steps.
---
For enquiries, product placements, sponsorships, and collaborations, connect with us at

[email protected]

. We'd love to hear from you!
---
Our humans need coffee too! Your support is highly appreciated, thank you!