We would like to thank our generous sponsors for making this article possible.
"We're on the eve of a clean energy revolution in Europe," says Alberto Gandolfi, head of the European Utilities Research team. While the region has long had an agenda for green energy, he says the energy crisis and policy in the U.S. have helped galvanize those efforts.
What's more, he says executives at our Electrify Europe utilities conference, held in late May in London, were "very much in agreement" that returns on clean energy projects are rising: Investments that used to generate returns of around 6.5% are now producing 8%.
We spoke with Gandolfi about Germany's leadership in the green energy transition, bottlenecks in supply chains for green energy and the need to upgrade Europe's electricity grid.
Has the U.S. Inflation Reduction Act (IRA) galvanized policymakers in Europe? If so, how?
First to take a step back, Europe has been committed to achieving a green agenda for more than 20 years — so what's happening is not merely a response to the U.S. Europe was already well ahead of most of the regions in the world.
The energy crisis last year accelerated Europe's commitment to energy transition, and everyone saw the need to reduce reliance on Russian gas imports, as well as gas and hydrocarbons in the medium- to long-term. The U.S.' IRA did have an impact and put a little positive peer pressure on Europe, as we're seeing some corporates consider redirecting investments from Europe to the United States, according to news reports. Overall, the IRA could mean a capital mobilization of $1.5 trillion over the next 10 years. We estimate an IRA for Europe could mobilize €4 trillion ($4.3 trillion) to the region over that timeframe.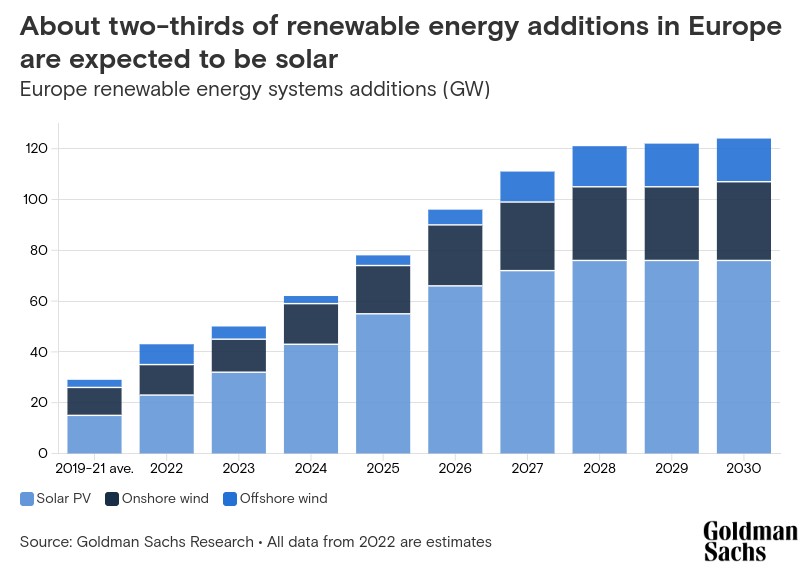 Which countries are leading the way in Europe? What are they doing?

By a long distance, Germany is leading Europe in this area. In part that's because Germany was the first country to suffer from the curtailment of gas supplies from Russia. Also Germany is the most industrialized country in Europe. So it's no surprise that Germany is acting very quickly, reducing approval times for renewable projects, developing a local supply chain, subsidizing less expensive electricity to energy-intensive users and rebuilding the power grid. Germany has a very ambitious renewable plan, about €250 billion over roughly 10 years.
Once the multiplier effects of this on GDP and job creation becomes apparent, we think it's only time before other countries will follow. Spain was already on a good path. There are positive statements by politicians in France and certain Nordic countries who seem to be very much aligned with these efforts. In sum, Germany likely will serve as a template for the rest of Europe.

What kind of returns are renewable energy systems generating? Have they changed?

At our conference we had about 40 CEOs and CFOs attend and speak — and they were very much in agreement that absolute returns of clean energy projects are going up. What used to be 6%, maybe 6.5% returns, are now 8%. And there's very good visibility on sustaining those returns for at least the next 18 months. So 'eight is the new six.' This is very important, first because we're talking about trillions of dollars and euros. And also because companies are facing a higher cost of capital. What it means is the higher cost of capital is being passed through. That's a very good return for a low-risk infrastructure investment in an industry which is secular, not cyclical.

Are there bottlenecks in the supply chain? And how does that impact the energy transition?

The Industrial Revolution was fueled by oil and then gas, and this energy revolution is being powered by electricity. We're watching the availability of certain raw materials such as copper and certain pieces of equipment. At our conference, the CEO of a power distribution company, for example, said if you order a high voltage transformer for the power grid today, the earliest delivery you'll have is 2026. So you need to plan well in advance, because otherwise you're going to hit a wall.

The silver lining here is that the pressure on the supply chain could indicate strong margins for manufacturers across the electricity value chain. In other words, there's an upside for those cleantech manufacturers able to plan and stay ahead of the demand.

What are you seeing in terms of power grids?

Power grids — which include distribution and transmission — remain a core technology to support energy transition. On the whole, the grid has been in very good shape, but it's not fit for the purpose of serving a truly electrified economy. When we look ahead just a few years we'll start having much higher penetration of renewables, millions of electric vehicles, millions of houses with electric heating consumption, and there will be a need for more and more electricity. This demand means the grid needs to go from analog to digital, in terms of new sensors, substations and transformers.

How is policy influencing clean energy manufacturing in Europe?

Self-sufficiency and re-localization of supply chains are political priorities in Europe. If you want to be self-sufficient, you need to locally manufacture most of your equipment. Today, 90% of the solar panels we use in Europe are imported. And as we learned from the excess concentration of gas imports, no one wants to rely on any single country for any important piece of equipment. So the idea here is to try to develop a local industry. That enables a country to increase its self-sufficiency, to support job creation and to boost its GDP. The European plan, via the Critical Raw Materials Act, is also an attempt to ensure the access to a secure and sustainable supply of critical raw materials, to support Europe's 2030 climate and digital objectives.
Originally published at: Goldman Sachs
---
For enquiries, product placements, sponsorships, and collaborations, connect with us at

[email protected]

. We'd love to hear from you!
---
Our humans need coffee too! Your support is highly appreciated, thank you!