Note: Data for 2019 available here: https://citi.io/2019/06/27/the-top-50-smart-cities-in-the-world-2019/

The IESE Business School in Barcelona has released the data for the world's smartest cities for 2018. The IESE Cities in Motion Index (CIMI), now on its fifth edition is prepared by the Center for Globalization and Strategy, under the directions of professors Pascual Berrone and Joan Enric Ricart. The index measured key metrics for 165 cities from 80 countries with 74 of these cities being the capital.

The rankings are based on nine dimensions which are deemed crucial to a city's progress :
Human Capital
Social Cohesion
Economy
Governance
Environment
Mobility & Transportation
Urban Planning
International Outreach
Technology
This year, the criteria are also expanded to include ISO 37120 or the Smart City Standard, number of terrorist attacks in a city, GDP per capita projections, and rising temperatures.
The top 10 is still dominated by the usual powerhouses such as New York, London, Paris, and Tokyo. London and New York are still the top cities contending for the first place with New York winning this year.
The list also has several newcomers included in the top 50 notably Reykjavik which placed 5th, Wellington (18th), Bern (29th), Gothenburg (33rd), Rotterdam (43rd), San Diego (47th), Riga (49th) and Tallin (50th).
Most of the newcomers in the top 50 are from Europe. Hong Kong has made a significant improvement in ranking, from 42nd last year to 9th this year while San Francisco received the greatest drop and was demoted from 5th last year to 27th this year.
Overall, Europe continues to be the best geographical area with European cities dominating the list followed by North America and Asia. Tokyo is the highest-ranked city in Asia, Melbourne in Oceania, Dubai in the Middle-East, and Buenos Aires in Latin America.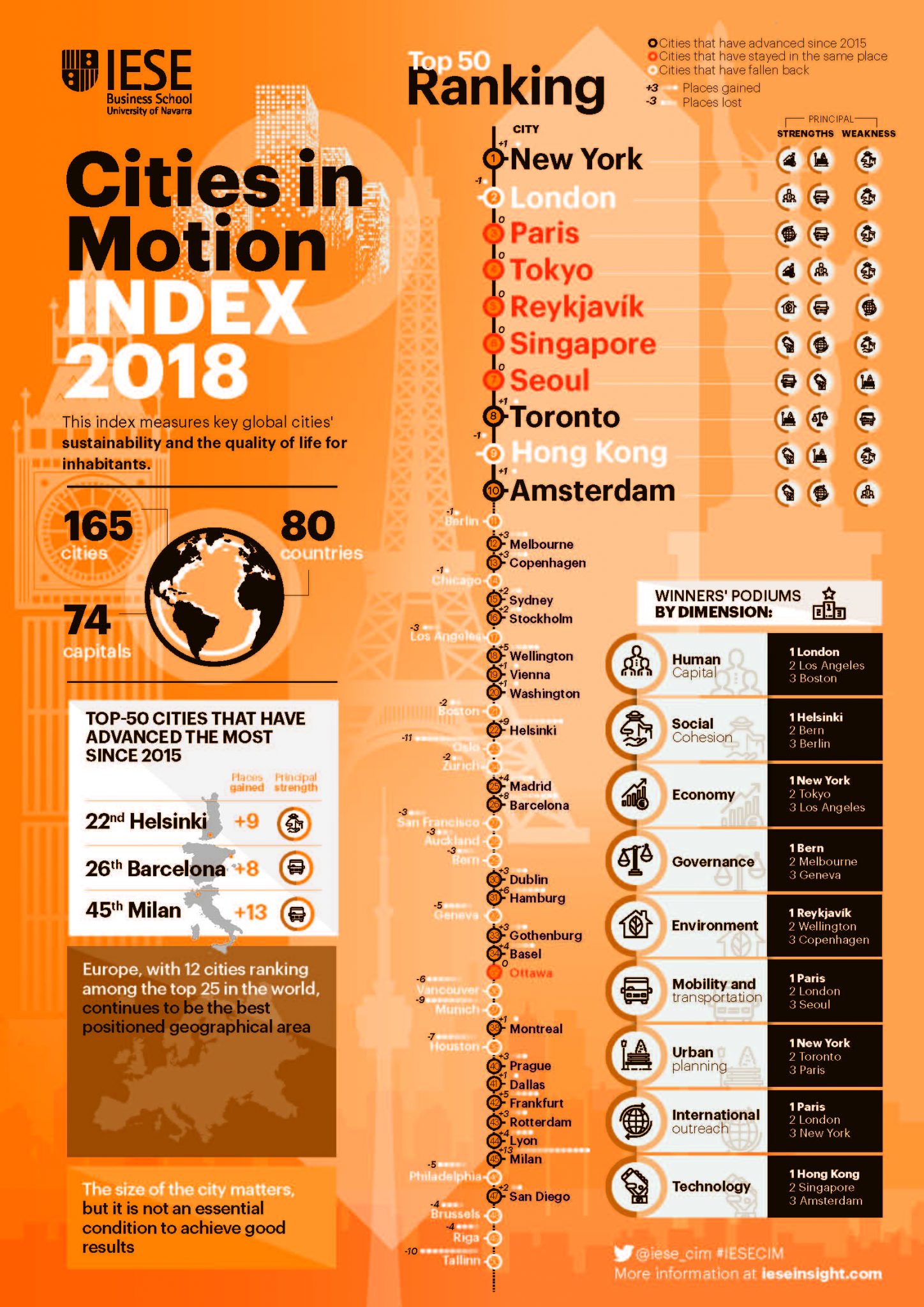 Download the full study here.