If your neighbor mentions that they're going on vacation, questions of "where have you decided on this year?" are often met with responses which make your eyeballs roll back so far into your head that you can see your own brain ticking over. While this may come across as a little melodramatic, it does appear that many holiday-goers insist picking on the same holiday destinations over and over again. Fair enough; people know what they like and prefer picking the safe option, but for those who want to wow their friends and family with their response, below is a quick look at some of the most beautiful holiday destinations that are still firmly under the radar.
Haiku Stairs – Oahu, Hawaii
The phrase "stairway to heaven" generally evokes feelings of a cheesy power ballad or at the very least a mushy pop song.  However, after traversing the 3,922 steps over at Haiku Stairs in Oahu, Hawaii, there's a good chance that you'd feel closer to the sky. The stairs were built back in 1942 by Haiku Radio station with the purpose of or transferring radio signals to ships all the way over in the Pacific Ocean. It takes a brave (or pretty fit) person to tackle the stairs. Do you think you're up to the challenge? 
Iguazu Falls – Argentina
Situated near the border of Argentina, Brazil and Paraguay, this UNESCO World Heritage Site is home to the world's largest waterfalls and yet, the mere mention of Iguazu Falls still somehow seems to fall on deaf ears. Outside of the site, there are numerous activities available including a whole host of eateries as well as full casino services which include craps, blackjack, and roulette. For those wanting to brush up on their casino skills, there are a number of live roulette services available online which will stand you in good stead after studying all of that unique South American wildlife.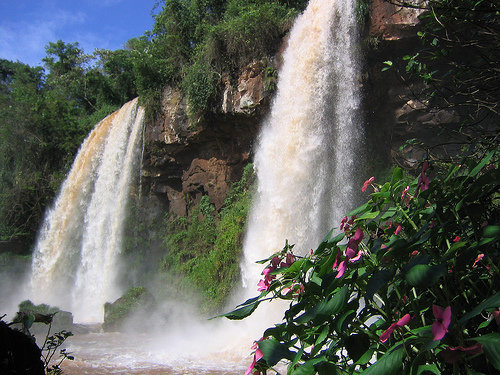 Thingvallavatn Lake – Iceland
Fancy being in two places at once? Well, you can kinda achieve this if you head on down to Thingvallavatn Lake and submerge yourself into the Atlantic Ocean. If you swim between the cracks of the rockery at the right point, you can experience what it's like to be between America and Europe (just don't get stuck). The lake is particularly popular with divers as the water is said to be some of the purest known to man and if the idea of going down that far doesn't appeal to you then there are a number of designated fishing spots to keep you occupied.
The Tip of the Iceberg
If you're looking for more of the best kept secret holiday destinations then there's enough information on the internet to sink a ship (ship, iceberg, see what we did there?). In any case, any of the aforementioned destinations trump Florida, Majorca or any other standard resort that your friends have been boring you with the details of – just be prepared to be met with a few raised eyebrows if you decide on any of these locations.
---
For enquiries, product placements, sponsorships, and collaborations, connect with us at

[email protected]

. We'd love to hear from you!
---
Our humans need coffee too! Your support is highly appreciated, thank you!