Singapore Airlines (SIA), the national carrier of Singapore, is set to launch the world's longest, non-stop commercial flight from Singapore to New York this coming October 11, 2018.
Last September 22, Airbus has delivered the first A350-900 Ultra Long Range (ULR) aircraft to Singapore Airlines where it will be prepped for flight. The A350-900ULR will be used during the longest commercial flights from Singapore to New York. The duration of the flight will last 18 hours and 45 minutes covering about 16,700 km.
The will have 67 Business Class seats and 94 Premium Economy Class seats. The new aircraft can travel for more than 20 hours without stopping. The cabin is also redesigned to have higher ceilings, larger windows, wider body, and quieter and with better lighting to reduce jet lag. The aircraft will also have improved air quality due to a carbon composite airframe that optimises cabin altitude and humidity levels. Following New York, Airbus is set to enter into two more non-stop transpacific routes to Los Angeles and San Francisco with SIA.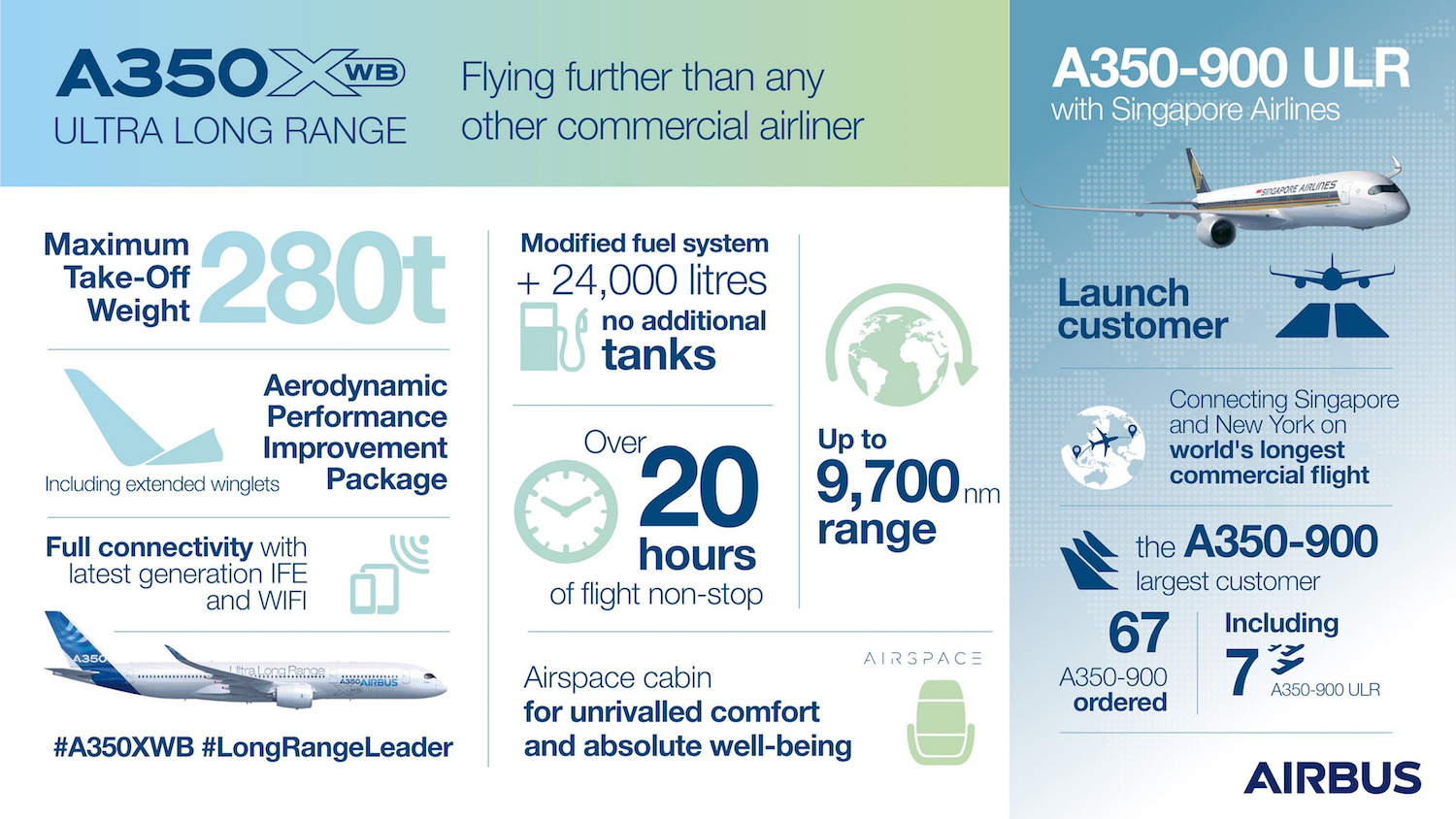 Singapore Airlines CEO, Mr Goh Choon Phong said that "This is a proud moment for both Singapore Airlines and Airbus, not only because we have again strengthened our partnership, but also because we have pushed the limits with this highly advanced new aircraft to extend long-range flying to new lengths." Mr Goh Choon Phong also added, "The A350-900ULR will bring more convenience and comfort to our customers and will enable us to operate ultra-long-range flights in a commercially viable manner. It will help us boost our network competitiveness and further grow the Singapore hub."
The Chief Executive Officer of Airbus, Tom Enders, remarked that the delivery "is a milestone for Airbus and Singapore Airlines, as together we open a new chapter in non-stop air travel." He also remarked that the "The combination of the A350's quiet, spacious cabin and SIA's world-renowned in-flight product will ensure the highest levels of passenger comfort on the world's very longest routes."
Singapore Airlines is one of the largest customers for the A350 XWB Family, having ordered a total of 67 A350-900s, including the seven Ultra Long Range models. Including today's delivery, the airline's A350 XWB fleet now stands at 22 aircraft.
Watch here to see how they prep the first Ultra Long Range A350 XWB before flight :