Military services and arms sales last year totalled to $420 billion, this was 4.6. percent higher than in 2017 and American companies accounted for $246 billion of that total.

Lockheed Martin tops in sales in arms and military services for the year 2018 according to the recently released data from Stockholm International Peace Research Institute (SIPRI).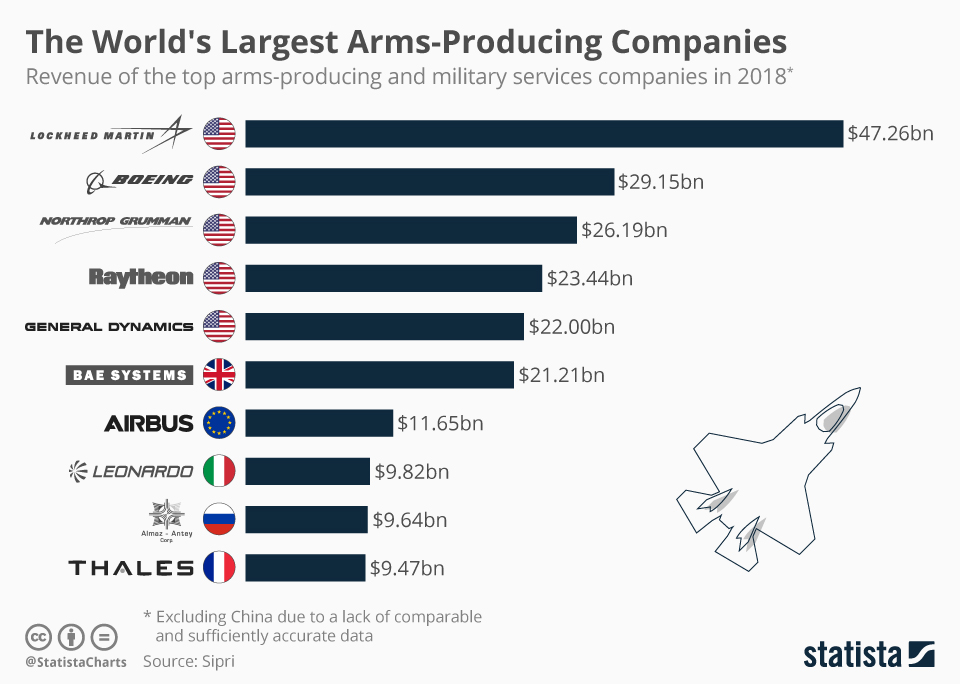 Highlights
Lockheed Martin is followed by Boeing, Northtrop Gumman, Raytheon, General Dynamics. The top five arms companies combined accounts for US$ 246 billion of the total sales, about 59% of the total revenue for the year 2018.
All in all, the top 100 arms companies sold a total of $420 billion in arms and military services.
80 out of the 100 top arms producers come from USA, Europe, and Russia combined.
United States occupied all of the top five spots, the first time this has happened since 2002. All in all, US companies account for 59% of the sales.
"This increase was due not only to strong domestic demand, but also to continued growth in sales to other countries, particularly of the S-400 air defense system," according to Alexandra Kuimova, Researcher for SIPRI's Arms and Military Expenditure Programme in an interview.
Silent dominance
As remarked by CNN, China is absent in the Top 100 database even though it boasts one of the most powerful military forces to this date, capable of rivalling and even possibly overcoming the US forces in across multiple dimensions.
According to Aude Fleurant, Director of SIPRI's Arms and Military Expenditure Programme, China tends to be secretive about matters concerning the global arms trade.
Fleurant said that the current share of China in the global market is small since they emerged a bit late though it is expected that the country will continue to develop export markets
Continuous growth
As for the United States, Fleurant expects continuous growth due to the arms modernization program announced by President Trump back in 2017.
With this, it is expected that the US will continue to reign in the global arms trade in the succeeding years.
---
Our humans need coffee too! Your support is highly appreciated, thank you!