The on-going COVID-19 pandemic substantially brought down the 2020 revenue forecasts of various electronic gadgets.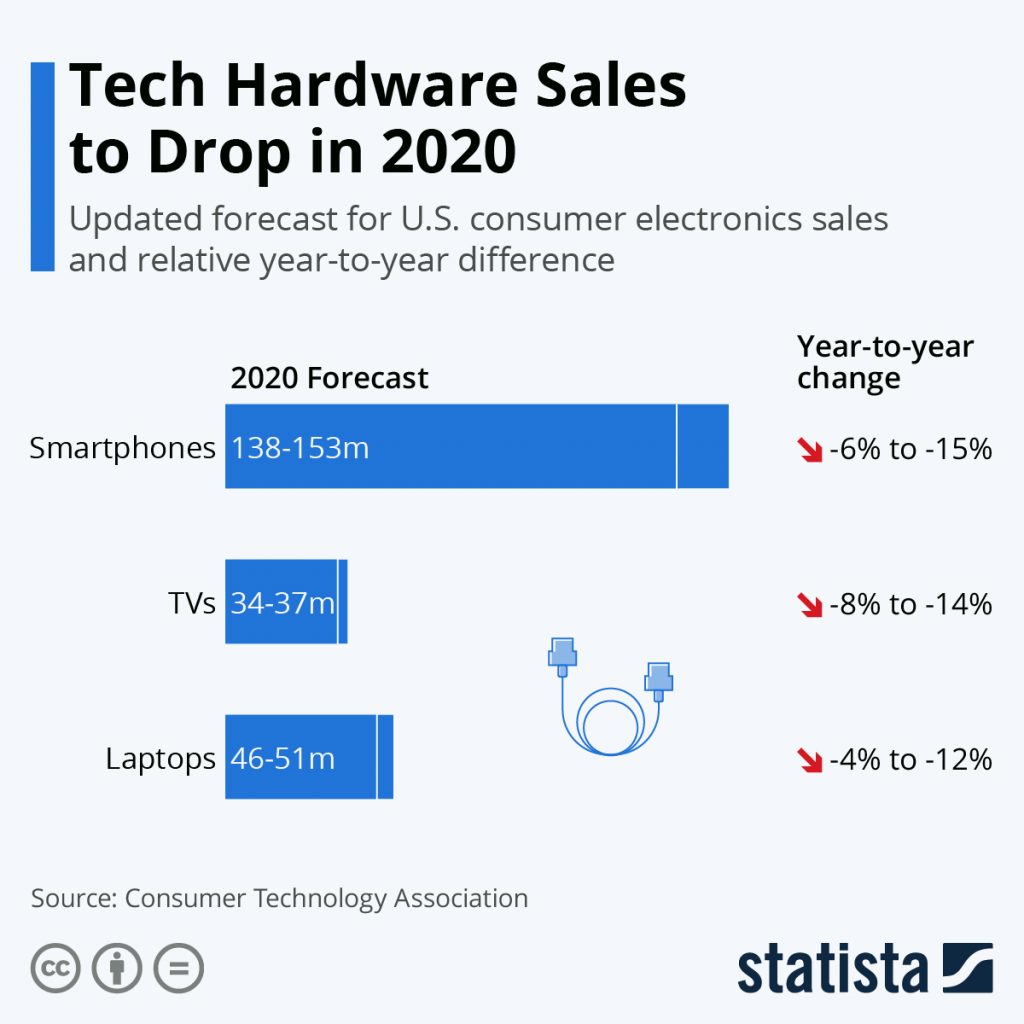 Tech gadget sales in the U.S. are expected to take a huge hit due to the COVID-19 pandemic, according to the data from the Special 2020 Industry Forecast Update of the Consumer Technology Association (CTA).
Smartphone sales are expected to decline by as low as 6 percentage points to as high as 15 percentage points in comparison to the 2019 sales. This amounts to about 138 to 153 million units sold by the end of 2020.
To cope with the situation, Apple launched the affordable iPhone SE, which is a pretty good move for the company since higher-end phones are likely to lose their appeal during this pandemic.
Meanwhile, televisions sales are projected to be between 34 and 37 million units, which will be a decrease of 8 to 14 percentage points from last year's sales.
Lastly, laptops are expected to suffer a 4 to 12 percentage point year-on-year decrease, with companies expected to sell 46 to 51 million units once 2020 closes. This is in spite of the increased value of the device due to more people needing laptops to work from home.
Drivers of decline
"Unemployment and downward pressure on consumer spending caused by this pandemic will bring significant headwinds to the tech industry outlook this year," according to CTA CEO Gary Shapiro.
Given the risks associated with the pandemic, CTA took into account the hesitation of the customers to make large purchases, which is often the case when buying new tech.
They also said that apart from the lower demand, operations are also paralysed among tech companies.
This, on top of the lowered consumer confidence, might prod manufacturers to hold off the release of new technologies as well as flagship models in order to soften the pandemic's blow on their revenue.
A surge in demand for mid-range devices might also be expected due to the pandemic, according to Carolina Milanesi, Principal Analyst at Creative Strategies, Inc.
Nonetheless, Motorola pushed through with the release of Edge Plus, the company's new powerful flagship device. Axios reports that both Apple and Google are expected to release new models this year as well. How these companies would handle the dampened demand will be interesting to observe in the months to come.
The future for the tech industry
While the tech sector may be taking quite the punch due to COVID-19, CTA is not worried about the future of the industry, given its continuously expanding role in the society, closely approaching indispensability. The Association even believes that the tech sector will be a key driver of the bouncing back of the U.S. once this pandemic crisis subsides.
As we know, a lot of industries have taken massive damages as a result of COVID-19. Yet, it is not a losing battle for everyone. There are some industries which CTA expects to grow because of it like video streaming, with a projected year-on-year revenue spike ranging from 29% to 39% due to the increase in demand for their services.
---
For enquiries, product placements, sponsorships, and collaborations, connect with us at

[email protected]

. We'd love to hear from you!
---
Our humans need coffee too! Your support is highly appreciated, thank you!