What would happen if instead the military budget was used to finance our healthcare system?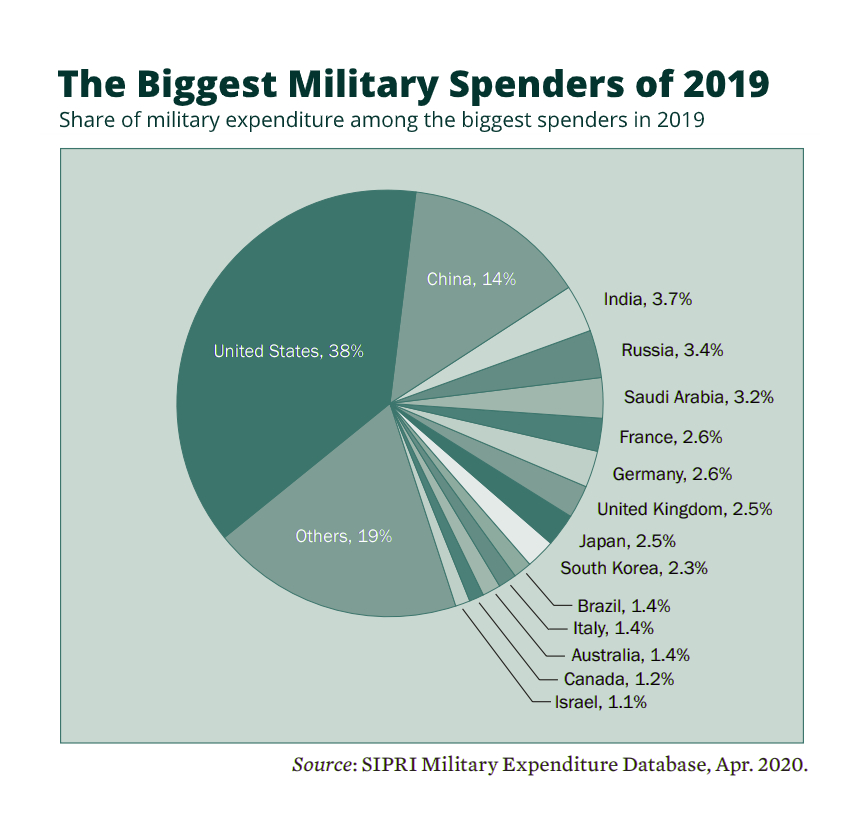 Economic rivals U.S. and China are the biggest military spenders of 2019, according to the data from Stockholm International Peace Research Institute (SIPRI) published in Trends in World Military Expenditure last April 27.
Accounting for 38% of the military expenditure in 2019, the United States remains the largest spender in the world. This amounts to a massive US$ 732 billion. This marks the second year of expenditure growth of the U.S., following a seven-year decline.
Meanwhile, second-place China accounts for 14%, which is worth $261 billion. Since 1994 — 25 consecutive years — the expenditure of the economic powerhouse only recorded increases, closely matching its GDP growth.
This implies that these two countries together account for more than half (52%) of all the global expenditure for 2019.
Succeeding China in the top five are India (3.7%), Russia (3.4%), and Saudi Arabia (3.2%), all of which have comparatively lower shares relative to the two largest.
Countries with the biggest military burden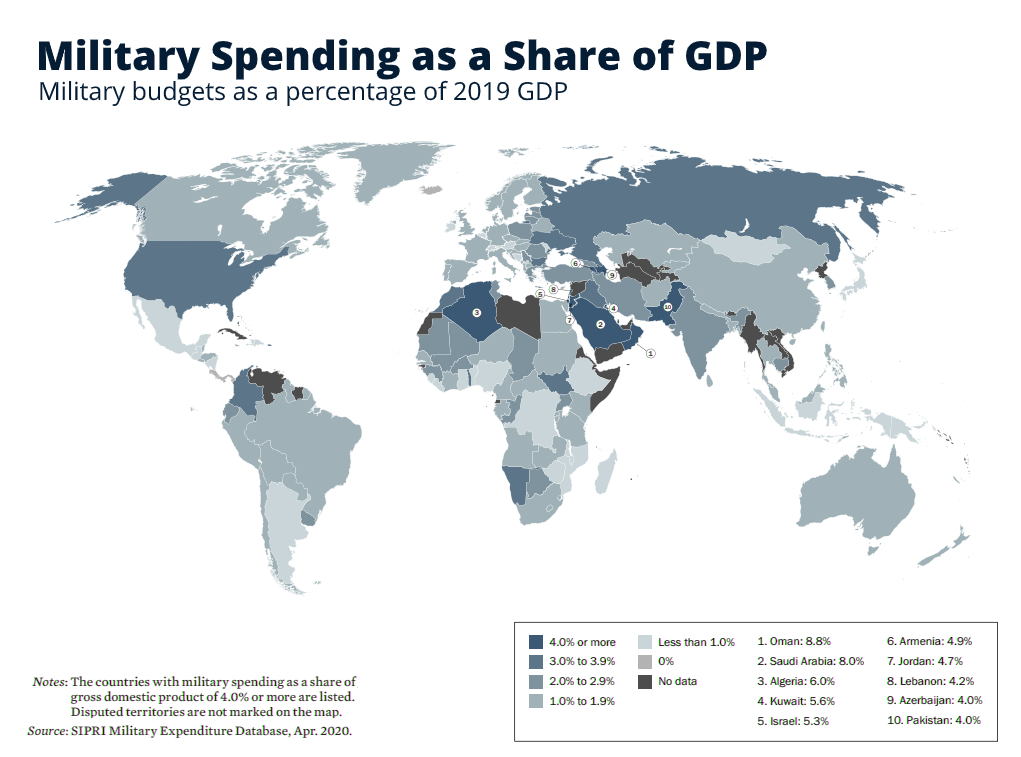 Often when we think of expenditure, we think of the raw value in dollar form. However, it is also important to consider how large the expense is relative to the economic output of a country.
The ratio of military expenditure relative to the annual gross domestic product is known as the military burden. It is the simplest metric that can be used to assess how military expenditure impacts the overall economy of a particular country.
In this case, we can see that both the U.S. and China fell off the rankings now that military burden is considered. While both of these countries are spending large sums of money for their military, they are big economies. With this, even such a large amount of allocation for the military remains a relatively small burden for these two countries.
In this case, it is Oman which is the most burdened by military expense, accounting for 8.8% of the annual GDP. Other countries with huge military burdens are Saudia Arabia (8.0 %), Algeria (6.0%), Kuwait (5.6%), and Israel (5.3%).
When we look at the military burden, we can see that four out of the top five are Middle East countries. SIPRI also noted that it is the Middle East which has the highest average military burden (4.5%). Given the on-going conflicts in the region, we can see that these countries have placed greater funding towards their military.
What if we spent military budgets on health care?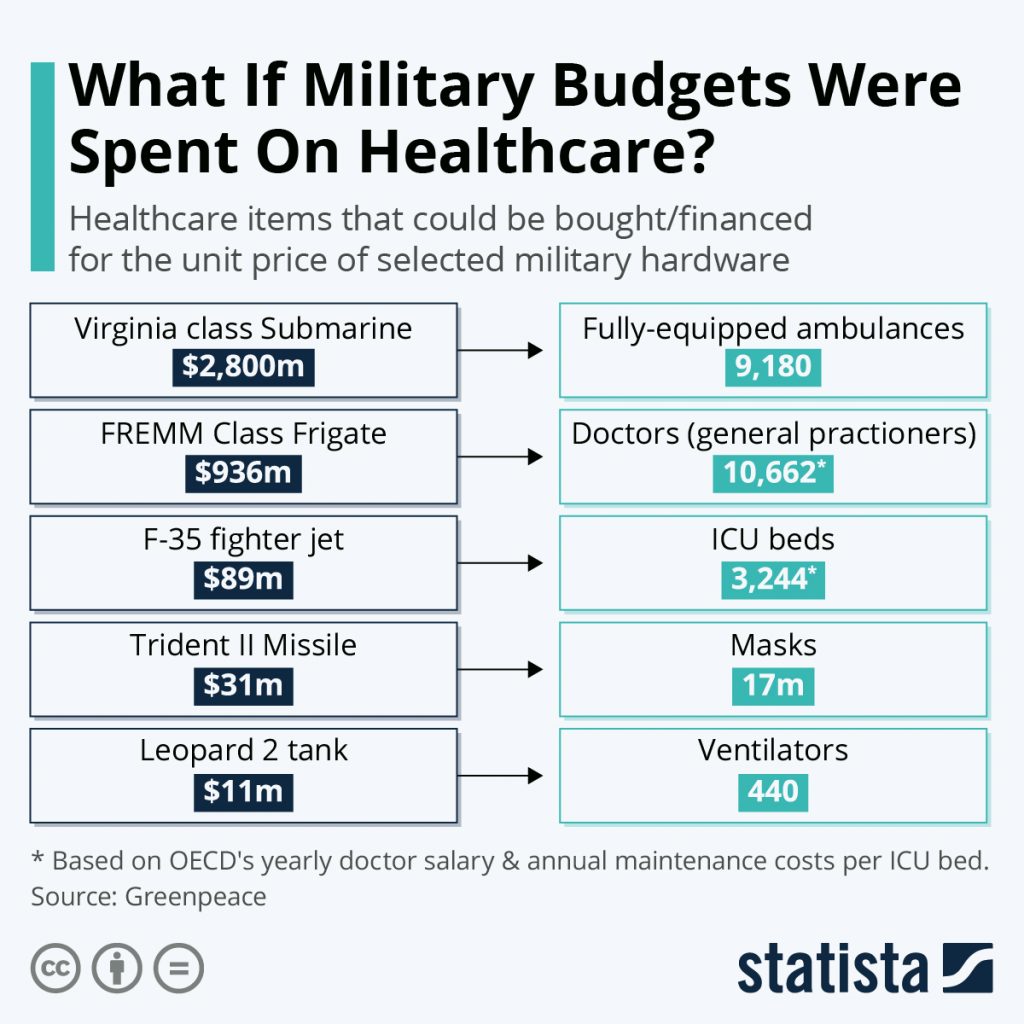 Right now, the war that we are facing is against the invisible army of the coronavirus. In a hypothetical situation, what if instead these large military expenses were spent on healthcare? Greenpeace answered this question in their analysis.
A single Virginia Class Submarine (worth $2.8 billion), for instance, will be able to buy about 9,180 ambulances. Meanwhile, a single FREMM class frigate (worth $936 million) will be able to pay 10,662 general practitioners. Some other equivalencies between military hardware and healthcare items are shown in the Statista chart above.
Of course, both military and healthcare expenses are important. However, as much as we are spending billions to procure a piece of military equipment to prepare for a war, we should also rethink how we allocate funds to our healthcare systems, ensuring that we are prepared for a war that battle tanks and aircraft cannot defeat.
---
For enquiries, product placements, sponsorships, and collaborations, connect with us at

[email protected]

. We'd love to hear from you!
---
Our humans need coffee too! Your support is highly appreciated, thank you!