Powered by data, the Internet of Things (IoT) is reshaping our society for the better.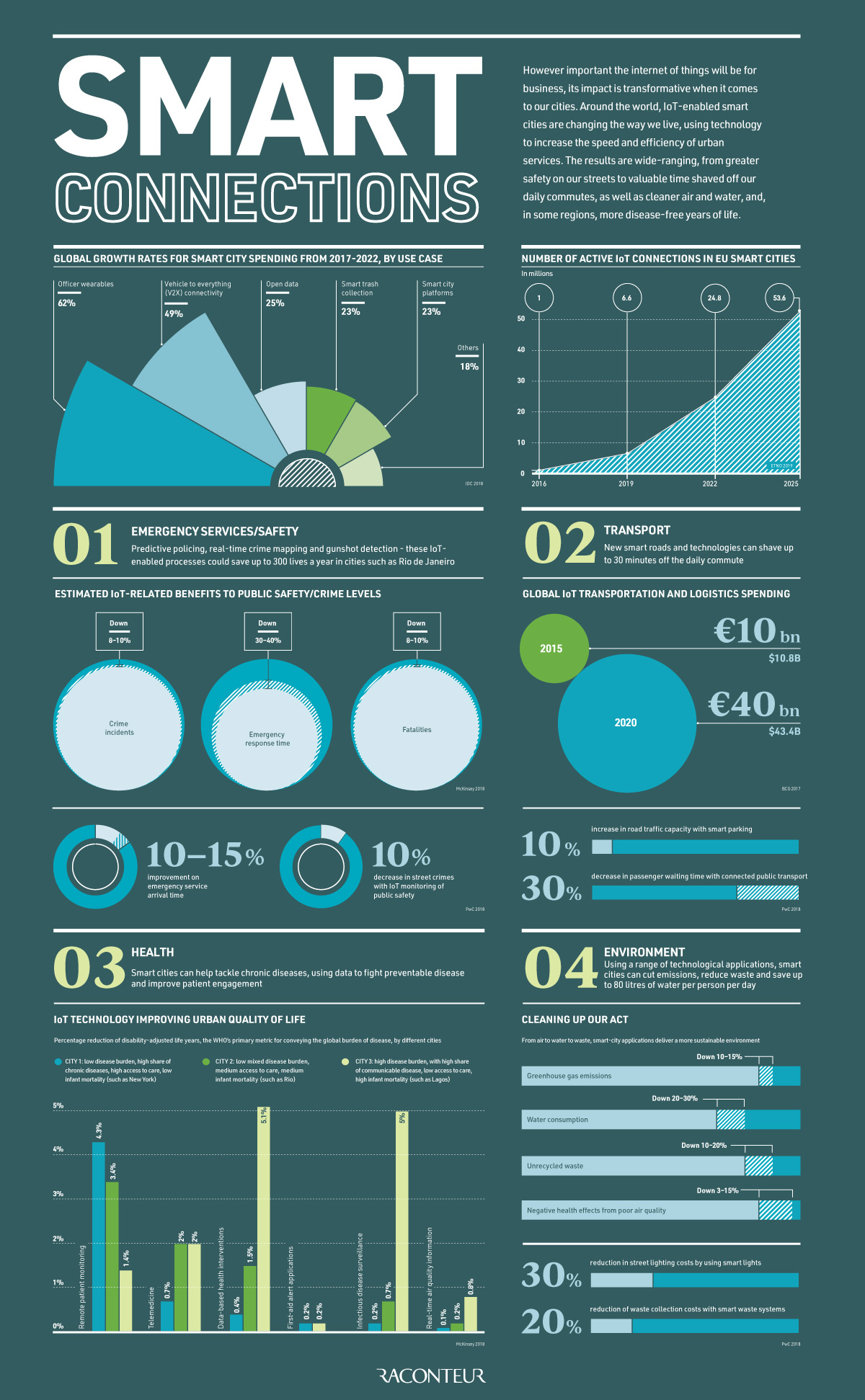 Internet of Things (IoT) is accelerating the growth of smart cities. The integration of IoT in cities is improving safety, lowering commute times, strengthening health systems, and tackling up environmental issues. How is IoT performing these massive changes?
What is IoT? 
IoT refers to a network of devices and sensors used to collect and transfer data, perform analysis, and use the results to autonomously perform 'smart' actions. IoT uses the Internet as the anchor, utilising its speed to make lightning-fast communication and response possible.
With IoT applications, the awareness of designers and policymakers on the city environment can attain unprecedented levels. This awareness makes it easier to transform cities so that they are more productive, efficient, and inclusive.
Data-driven innovations
IoT in infrastructure greatly enhances the services that can be offered by building managers. In the realm of commercial real estate (CRE),  the use of IoT increases value and competitiveness.
Imagine going into your room after a long day of work. The temperature adjusts based on your personal preferences. You are provided reminders for the day. You check your electricity bill and it went down thanks to energy monitoring devices which adjust the usage of your appliances based on factors like energy costs and weather.
Going in the mall, sensors may be set in place to detect your presence, analyse your shopping history and provide personalised recommendations. While shopping for products, you may access an app and see reviews and prices before deciding to make a purchase. This is already a reality with Apple's implementation of iBeacon.
IoT can also help improve mobility, as we can see in the Singapore model. Through their electronic road pricing (ERP), Automatic Number Plate Recognition (ANPR) camera systems, and traffic light control systems, roads are smoother, safer, and more sustainable.
The list goes on. IoT brings out data that can help the city know how it can serve you better.
Limitless
The International Data Corporation (IDC) projects that the spending on smart city innovations will rise to $158 billion by the year 2022. Along with the rise of 5G and the continuous improvement of our existing technologies, we can expect our cities to become only smarter.
During this pandemic, IoT is taking up an important role in mitigation. IoT's network of devices and sensors allow the execution of tasks like disease tracking, autonomous delivery, remote surveillance, and thermal detection. This is a clear exhibition of the flexibility and power of this technology.
For the years to come, we can expect IoT to take on even bigger roles in the improvement and protection of our cities.
The application of IoT is nearly limitless. It is no exaggeration to say that our imagination is the limit when it comes to coming up with ways to use IoT to the fullest.
In this era, data has become the currency of growth. It is IoT which possesses the capabilities required to use it as leverage.
---
For enquiries, product placements, sponsorships, and collaborations, connect with us at

[email protected]

. We'd love to hear from you!
---
Our humans need coffee too! Your support is highly appreciated, thank you!