While the past decades have seen rapid urbanization in India and China, cities in Africa are growing fastest in the current one. In the first half of the 2020s, the U.N. Population Division expects 28 cities to grow at an average annual rate of more than 5 percent. Out of these, 22 are located in Africa. Another 32 cities are expected to grow at a rate of 4.5 to 5 percent in the same time period. 19 are located in Africa and 11 in Asia and the Middle East. The fastest growing city on the U.N.'s list was Gwagwalada, a satellite of Nigeria's capital Abuja, followed by Kabinda in the Democratic Republic of the Congo. Both countries are home to several of the world's fastest growing cities, as are Angola, Tanzania and Madagascar.
Increasing urbanization goes hand in hand with economic progress in the developing world. But rapid urbanization in Africa has brought about challenges like an increase of slums and overcrowded living, road congestion as well as pollution as urban development fails to keep up with urban growth. In 2018, around 55 percent of urban populations in Africa lived in slums, compared with around 30 percent in Asia and around 20 percent in Latin America.
All-too-fast growth rates of cities can also hint at disruptions due to armed conflict, hunger or flight from the countryside, as shown by the presence of two Yemenese cities and one Crimean one as well as Mazar-e Sharif in Afghanistan and Aleppo in Syria among the world's fastest growing cities.
Half of the increase in urban populations until 2030 will come from just eight countries. Continuously urbanizing India and China, quickly urbanizing Nigeria and the DRC as well as Pakistan, Indonesia, the U.S. and Bangladesh. According to the U.N., living in a megacity of 10 million inhabitants or more was currently most common in Latin America (18 percent of urban population), followed by Asia (15 percent), North America (10 percent) and Africa (9 percent). In 2018, there were 33 megacities in the world, compared with 48 that had populations between 5 and 10 million and 467 that had populations between 1 and 5 million.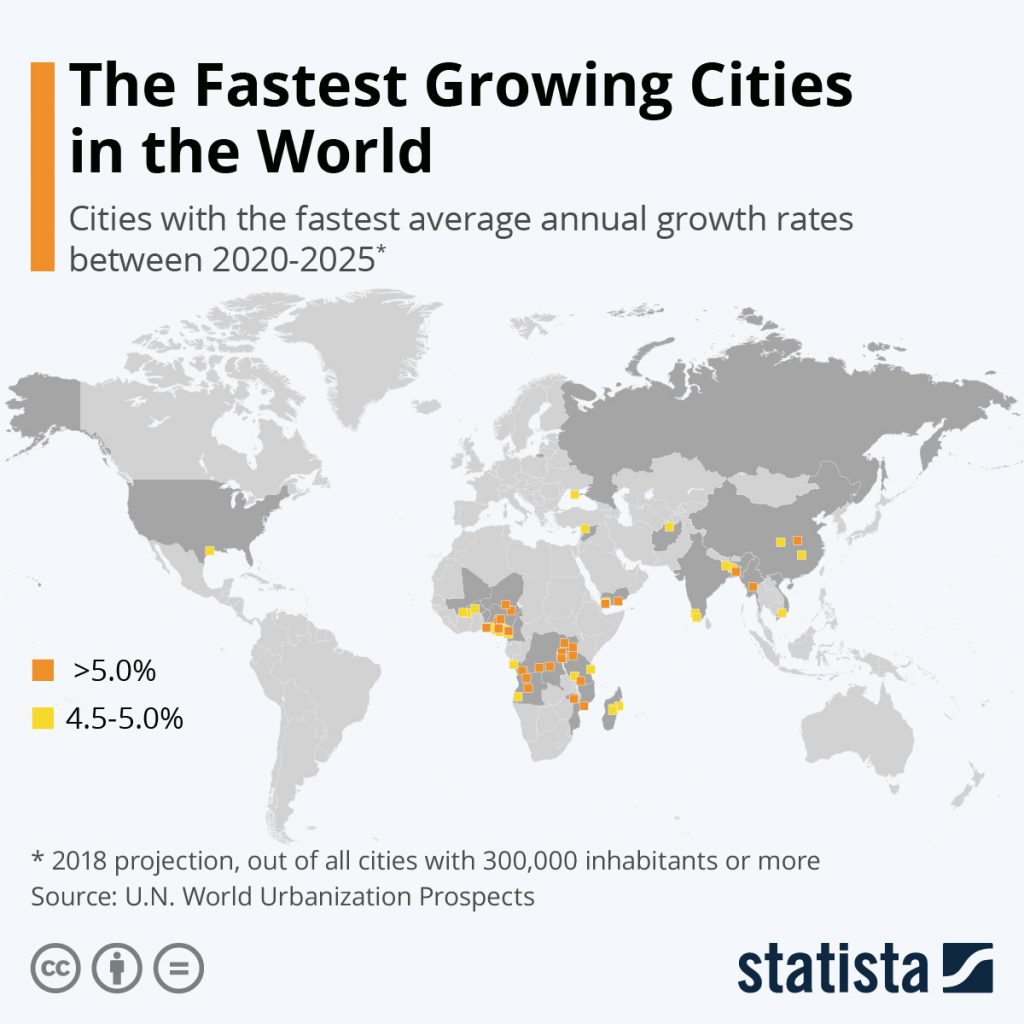 Source: Statista
---
Our humans need coffee too! Your support is highly appreciated, thank you!