As a business owner, it's your responsibility to ensure that your business is environmentally friendly. The world's governments are becoming increasingly concerned with cutting down on carbon emissions, with many outlawing the use of petrol and diesel-powered vehicles in the next two decades. It is important that you do your part, so that future generations don't have to worry about global warming and the mistakes of their forebears.
This article will explain all of the ways that you can make your business more environmentally friendly, so you can reduce its carbon footprint:
Sustainable Packaging
If your business sells physical products, then it's a good idea to invest in sustainable packaging. Investing in compostable packaging won't just be good for the environment, it will also save you a lot of money. You do need to specify on your product packaging that the parcel used is biodegradable so that customers know what to do with it once they are done using it. If you don't make it clear that your product packaging is biodegradable, they will likely discard it in the rubbish bin with everything else rather than composting it.
Energy Saving
If your business has a physical location like a store, then you should go out of your way to save as much energy as possible. One thing that you might want to consider is installing solar panels so that you can use as much energy as you want without worrying about negatively impacting the environment. Solar panels can be expensive, but they are an investment that's well worth making. Solar panels will also increase the price of your property, which is something that's worth considering if you intend on selling in the future.
Green Couriers
Using a green courier can help you to reduce your business's carbon footprint. Green couriers are couriers who are concerned with reducing environmental impact, which they do by using vehicles that don't emit lots of carbon to deliver items. Some of the vehicles used by green couriers include electric vans, low-emission vehicles, and bicycles. Green couriers don't cost any more than ordinary couriers do to work with. In fact, it's often the case that they are cheaper to work with because they don't have to pay for a lot of fuel, which can drive the cost of delivery up.
Save Water
It's a good idea to save as much water as you can at work. One of the worst things that people do is leave the water running and waste it. A lot of people (because of the rising cost of water bills) won't do this at home but will do it at work. In order to prevent your staff from misusing water at work, put up signs warning your staff against wasting water. You can monitor your business's water usage by checking your water bill at the end of each month because it should include a full calculation of all of your location's water usage.
Recycling Items
Recycling is a very good habit to get into. In addition to recycling personally at home, you should also instruct your staff to recycle items too. In order to ensure that recycling is carried out, leave signs around, and monitor your business's recycling bins at the end of each week. Some people are just lazy and won't recycle even if you ask them too nicely. If you identify staff members that aren't recycling, then you should reach out to them and explain recycling's importance to your brand's mission and ask them to in the future.
Encourage Walking
Rather than encouraging driving, encourage walking or cycling. Tell your staff that you would prefer if they could walk or cycle in. If your staff all live in the same town or city that your business is based in, then one way of encouraging them to walk or cycle to work is by giving them an extra half hour in the morning to get to work or buying them bicycles. You can't expect staff to wake up earlier or invest in their own bicycles simply for your passion. If you do these things for them though, then they have no excuse not to.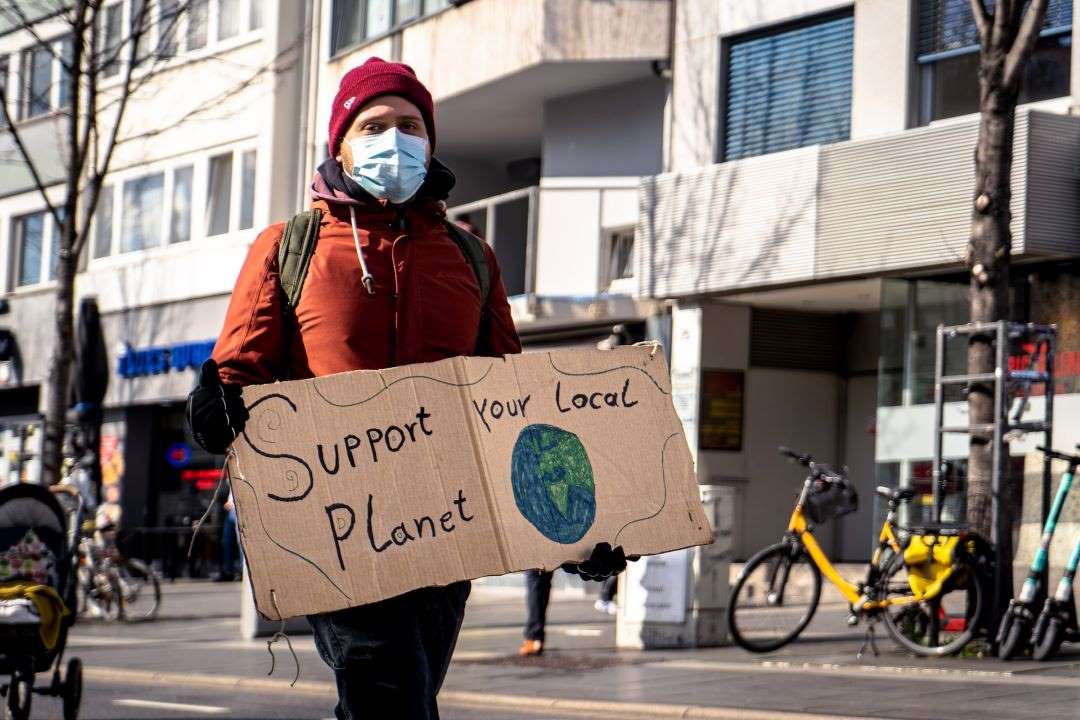 Green Space
Every business needs green space. If you have a large business, then your green space could be in the business's backyard (if it has one). In this space, you can encourage your staff to take their breaks, cut down on their carbon footprint by traveling elsewhere for lunch, and put their phones away so that they can appreciate nature. The introduction of green space will also give your staff somewhere to go and relax, which can help with their performance at work and motivate them to work harder.
Unnecessary Travel
You should try to encourage your staff to cut down on unnecessary travel. One way that you can do this is by asking your staff to work from home. Many companies realized during the COVID-19 pandemic that working from home was actually one of the best ways of saving money, for them and their staff. In terms of your staff, they can save money because they won't have to commute, which means that they won't have to pay for petrol and they won't have to take the train. Reducing unnecessary travel will also help you and your business to reduce your carbon footprints.
Go Paperless
When it comes to paperwork, go paperless. Instead of printing out forms and other documents, save them on your computer. Saving documents on one's computer is much better for the environment than using paper. Even though the paper is a natural substance, a lot of trees have to be cut down to get it. Lots of businesses are going paperless, not just for the environment but also because it's a lot easier than filing paper is. Going paperless can make it less likely for your staff and business to lose important documents and files. Storing paperwork online is also a lot more secure.
If you care about the environment, then you should show this by reducing your business's carbon footprint. If you do work toward reducing your carbon footprint, then you will attract more customers. A lot of people are interested in shopping exclusively with eco-friendly companies, at the moment.
---
For enquiries, product placements, sponsorships, and collaborations, connect with us at

[email protected]

. We'd love to hear from you!
---
Our humans need coffee too! Your support is highly appreciated, thank you!