We would like to thank our generous sponsors for making this article possible.
The public cloud model is more energy-efficient than banks running their own data centres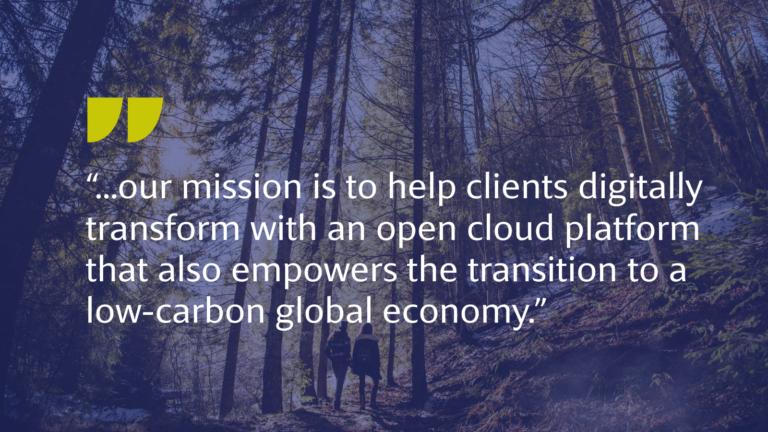 The tone of COP27 could not have been clearer. This is a moment for urgency, to turn pledges and commitments into action. One of the great opportunities to do this is the migration to cloud technology. According to data from IDC, cloud computing can reduce over 1 billion tonnes of carbon dioxide over the next few years when compared with legacy IT systems.
The banking sector has set bold and ambitious targets to reach net zero. Even the largest banks are recognizing that reducing carbon must sit at the very top of their agendas. For example, the UK's Bankers for Net Zero was prominent at COP27; it features global players among its membership, including our customers Santander and HSBC.

But as heavy users of data, there is little chance of getting there in time if banks don't make the shift to using cloud technology. That is why Temenos attended COP27, alongside our technology partner Microsoft. We were there to show the opportunity cloud technology presents in banking, both as a means to digitally transform and make measurable progress on climate action.
The cloud's carbon savings
Microsoft estimates that businesses using their cloud infrastructure generate up to 98% lower carbon emissions than operating their own data centres.
Migrating infrastructure to public cloud hyperscalers means less hardware and floor space, less IT staff leaving behind their own carbon footprints, and less electricity to run it all. Public cloud centres are increasingly built with energy efficiency as a priority, be it lighting, cooling, computer consumption or equipment degeneration. And the more banks lean on cloud infrastructure, the more the sector generates green economies of scale.
In this way, cloud removes the need for an unhelpful "either or" conversation when it comes to business vs. environmental choices. In a fiercely competitive market, cloud, and the SaaS platforms that run on it, offer unprecedented innovation, agility and speed, all with maximum financial and carbon efficiency.
Showing the evidence
Alongside mitigation, measurement is becoming an ever more vital concern for banks. This is not just a moral argument. Regulations are reaching a point where publishing data on ESG targets will be legally mandated. In Europe, the European Central Bank and the Bank of England have already launched supervisory climate risk stress tests to assess how prepared banks are for dealing with climate shocks. Meanwhile, initiatives like the UN-convened Net-Zero Banking Alliance (representing over 40% of global banking assets), the Glasgow Financial Alliance for Net Zero and ​​the Principles for Responsible Banking add to the clamour for banks to provide evidence of their progress.
The next phase of this scrutiny concerns the value chain, known as Scope 3 emissions. This includes all indirect emissions that are not owned or controlled by the bank. US and EU regulators have already proposed requiring mandatory disclosure from listed companies. Some central banks now include Scope 3 emissions in climate stress tests. And some of the world's largest banks, such as HSBC, expect to see more regulations and policies in the coming years.
Recognizing this, Temenos has developed a carbon emissions calculator. Using externally verified methodology, it provides banks using our cloud with an actual record of their CO2 emissions. It is a comprehensive measurement, starting with consumption data from Microsoft Azure and including every aspect of a bank's operations carried out via our platform. This includes emissions from energy, commute, travelling and purchased goods and services.
One bank that has seized on the opportunities of cloud is Flowe, an Italian bank built on green principles. Flowe is the first bank in Italy to be certified as a B-Corp (a certification for social and environmental performance) and is also carbon-neutral. Using our tools, it has been able to measure emissions that are between 95-98% less than the on-premise alternative. Since launching in 2020, it is closing in on 1 million environmentally conscious customers.
Similarly, EQ bank has set the standard for responsible, low-carbon banking in Canada. It maintains emissions between 93.5-97% lower than on premise alternatives, and uses the reporting elements offered on cloud to understand and further reduce its carbon footprint.
Round-table collaboration
In the spirit of measurement, it is a source of huge pride that Temenos leads our industry in ESG indexes. But our focus on ESG is also a key part of our business strategy. We believe ESG and business belong together, and so our mission is to help clients digitally transform with an open cloud platform that also empowers the transition to a low-carbon global economy.
And progressing the ESG agenda cannot be a lone pursuit for any company or government; our attendance at COP27 was symbolic of this. The climate challenge is massive and time is short, but by harnessing the forces of technology, banking and collaboration, there is the potential for real and measurable change.

First published in World Economic Forum: https://www.weforum.org/agenda/2022/11/banking-cloud-technology
Source: Temenos
---
For enquiries, product placements, sponsorships, and collaborations, connect with us at

[email protected]

. We'd love to hear from you!
---
Our humans need coffee too! Your support is highly appreciated, thank you!