We would like to thank our generous sponsors for making this article possible.
With the use of obesity medicines accelerating, millions of people could be eating less food overall and shunning unhealthy fare. This could have long-term impacts across food-related industries.
---
The latest hunger-suppressing weight-loss drugs are transforming the way obesity is treated in the U.S. The category has achieved blockbuster status over the course of a year, with more growth to come—Morgan Stanley Research analysts estimate that 24 million people, or 7% of the U.S. population, will be taking these drugs by 2035. This may be welcome news for the biopharma industry, but the drugs' prevalence could have long-term implications for food-related sectors as consumers eat less and make more nutritious choices.
"The food, beverage and restaurant industries could see softer demand, particularly for unhealthier foods and high-fat, sweet and salty options," says Morgan Stanley's tobacco and packaged food analyst Pamela Kaufman.
That's because the new class of obesity medicines works by decreasing appetite and in turn can reduce calorie intake by 20% to 30% daily, according to findings from a Morgan Stanley research survey of 300 patients taking the drugs. Significantly, survey participants cut back the most on foods high in sugar and fat, reducing their consumption of confections, sugary drinks and baked goods by as much as two-thirds. As more people in the U.S. use obesity drugs, overall consumption of carbonated soft drinks, baked goods and salty snacks may fall up to 3% by 2035.
That said, the expected 1% to 2% calorie reduction among U.S. consumers should be manageable across most industries. "Companies will likely adapt to changes in consumer behavior through innovation and by reshaping their product portfolios. Brands already offering healthier options will be in the best position to respond to the change," Kaufman says.
Here's how the rise of obesity drugs could have an impact across food-related sectors:
Repackaging Packaged Food: Confectionery, baked goods and salty snacks appear to be most at risk from increased usage of obesity drugs, with analysts forecasting a drop in consumption of as much as 3% through 2035.
"Two-thirds of patients reported eating three or more snacks per day before starting the drugs, while 74% reported eating two snacks or less after starting the drugs," says Kaufman.
On the other hand, demand should continue to grow for "weight-loss management foods" such as protein shakes and bars as a substitute for snacks and meals perceived as unhealthy (see Figure 1).
Exhibit 10: Healthier categories see a boost in consumption by patients after starting on AOM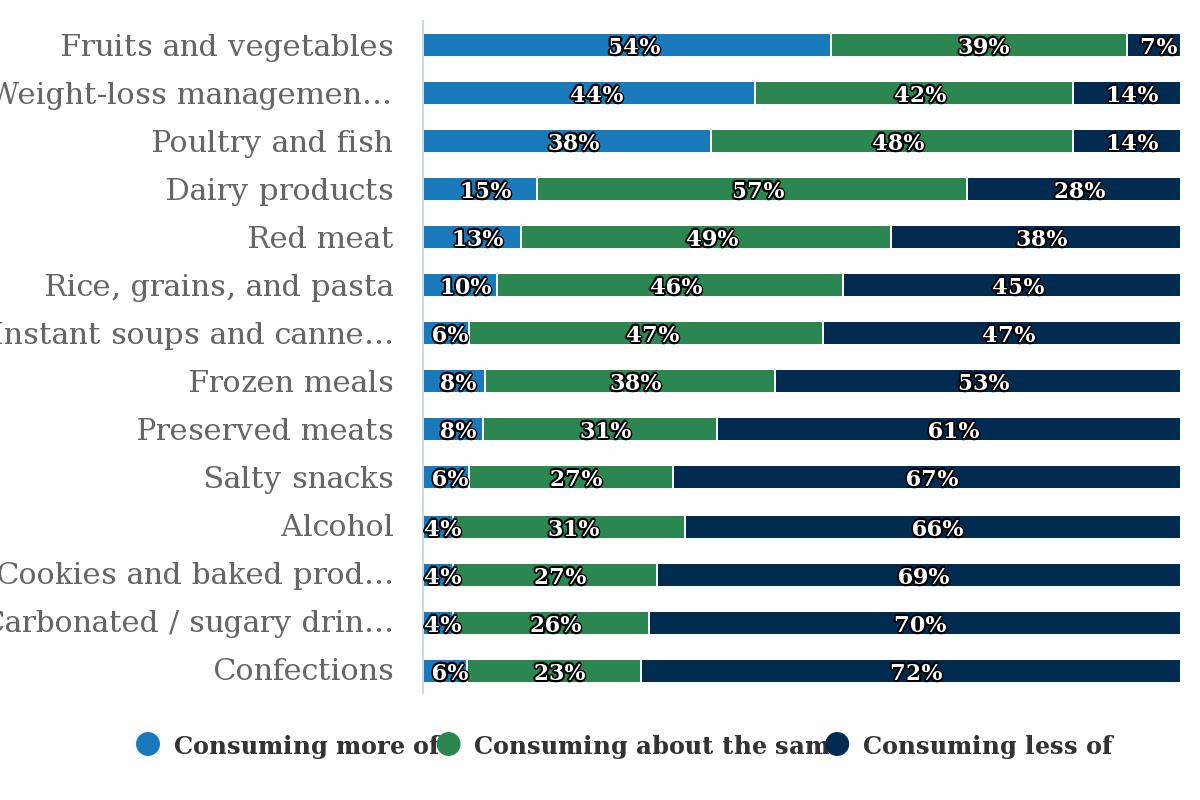 Beverages Lose Their Sparkle: Obesity drug patients reported cutting back considerably on both nonalcoholic and alcoholic beverages, with 65% consuming fewer sugary carbonated drinks and 62% drinking less alcohol. Nearly a quarter stopped drinking alcohol entirely and nearly 20% gave up sugary drinks. Analysts see U.S. focused alcohol companies facing the most exposure from increased obesity medicine usage and expect a roughly 2% drop in consumption by 2035.
"While the drop in beverage consumption is meaningful, companies should be able to manage the risk over time by shifting, for example, to low- or no-calorie offerings," says beverages and household products analyst Dara Mohsenian.
Restaurant Rethink: Chains that mainly sell foods regarded as unhealthy face a longer-term risk, with same-store sales growth forecast to fall between 1% to 2%. But some fast casual chains are already adapting by offering healthier menus, while others, such as pizza, doughnut or fried-chicken chains, have less flexibility and could be more exposed (see Figure 2).
Exhibit 11: Patients report the most significant changes to fast food and pizza restaurant trips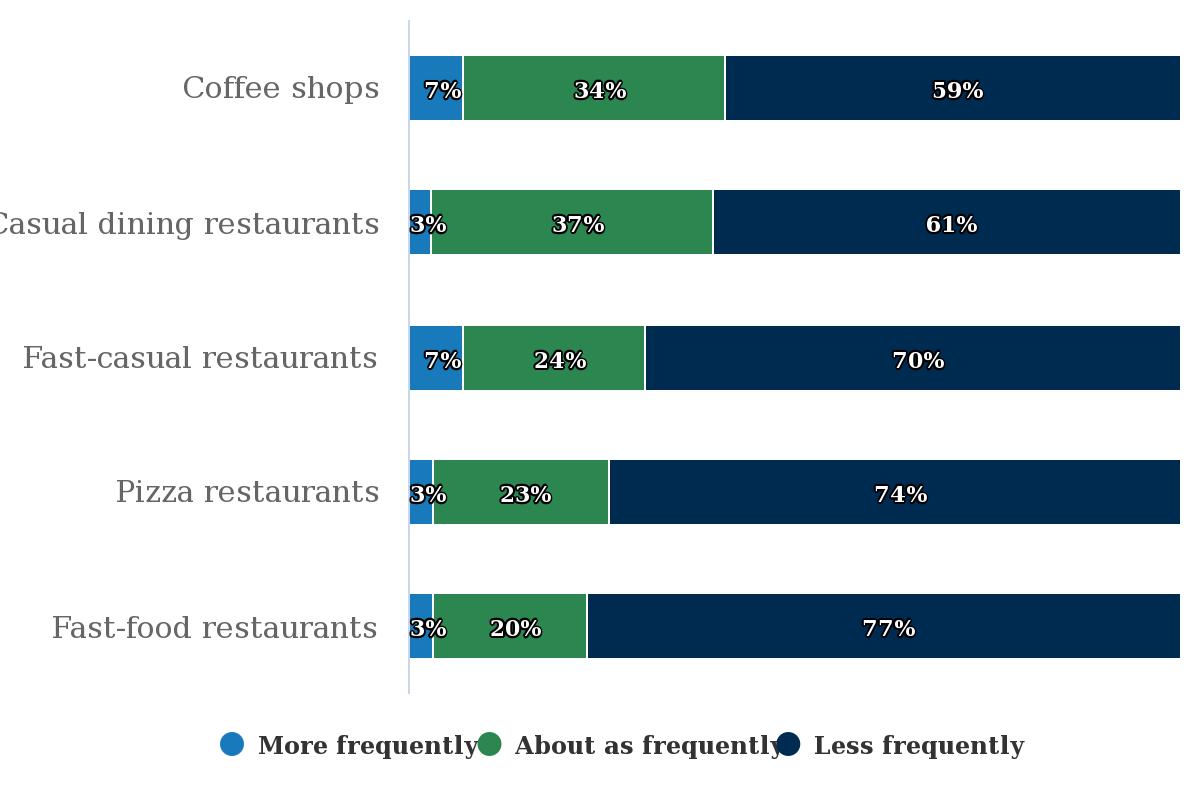 "Many chains will evolve over time to respond to consumer tastes. Some have invested billions of dollars in stores and concepts to serve these changing preferences," says Brian Harbour, who leads coverage of U.S. restaurants and food distributors. Harbour says he doesn't view the rise of obesity drugs as an existential risk, for the most part: "Restaurants are never just about the food. They sell convenience, in the case of limited service, or an experience, in the case of full service. But they could face declining sales in the medium term."
Retail Resilience: The short-term impact on grocery stores should be modest, though that could change over time as more people start taking weight-loss drugs. Conventional grocers and other food-focused retailers will face greater challenges from the shift, while mass retailers that sell many product categories along with food will be better insulated. Retailers with pharmacy departments could see stronger sales growth as demand for weight-management medicines increases.
"Retailers need to monitor the obesity drugs trend. They should be prepared to make changes to their assortment and how they market to their core customers to maintain market share, " says Simeon Gutman, Morgan Stanley Research's equity analyst covering hardline, broadline and food retail.
Reprogramming Weight Loss: Morgan Stanley data show the proportion of people subscribing to a weight-loss program fell from 29% to 20% once they began taking the drug. The uptake of appetite-suppressing medicines is already forcing weight-loss companies to shift their business models away from promoting diet and exercise as the best ways to lose pounds. One of the best-known digital-based dieting players has seen use fall by a third once people start taking obesity drugs and is moving into the drug space with the acquisition of a telehealth platform that lets members connect with doctors who can prescribe the medications.
Over time, telehealth could gain further share, especially as awareness around the offerings grows.
For deeper analysis and insights, ask your Morgan Stanley Representative or Financial Advisor for the full note, "Downsizing Demand: Obesity Medications' Impact on the Food Ecosystem" (Aug. 7, 2023)
Originally published at: Morgan Stanley
---
For enquiries, product placements, sponsorships, and collaborations, connect with us at

[email protected]

. We'd love to hear from you!
---
Our humans need coffee too! Your support is highly appreciated, thank you!