The city of Saint Petersburg at the head of the Gulf of Finland on the Baltic Sea, was once protected by a string of forts across the gulf. Most of these forts were constructed in and around the island of Kotlin which is situated in the middle of the narrow neck of the Gulf at a distance of 30 km from Saint Petersburg proper. Some forts were also built on the shores of the Gulf across the island. Together they offered a formidable defense against enemy attacks from the sea.
Construction of these forts commenced soon after Saint Petersburg was founded, urged by the Great Northern War of 1700–1721. Over the next two centuries, Russia continued to fortify the area building over forty forts between the southern and northern shores of the Gulf of Finland. Almost half of these were built on artificial islands.
One of the most famous forts in the gulf is Fort Alexander commissioned by Emperor Nikolay I and named after his brother, Emperor Alexander I. It was built between 1838 and 1845.
Like many forts in the gulf, Fort Alexander was built on an artificial island. The foundation consists of more than five thousand five hundred, 12-meters long piles driven into the sea bed to reinforce the ground. This was then covered by a layer of sand, a layer of concrete blocks, and a layer of granite slabs. Over this, an oval-shaped building with a yard in its center was built. The fort measures 90 meters by 60 meters, with three floors, and room enough to hold a garrison of up to 1,000 men. There are 103 cannon ports with additional space on the roof for 34 guns.
Although the fort never actually participated in any military action, it did play a vital role in the Crimean War when it protected the Russian naval base in Kronstadt against attempts by the Royal Navy and French fleets. Its presence was enough to deter enemies attempting to invade St. Petersburg. However, by the turn of the 20th century, the fort lost its significance in terms of defense against modern artillery and high explosive shells.
In 1897, the fort was converted into a laboratory for research on deadly diseases such as cholera, tetanus, typhus, scarlatina, Staph and Streptococcus infections. But it was particular famous for experiments with Yersenia bacteria that causes bubonic plague. This gave Fort Alexander its second name of Plague Fort. After the Communist takeover in 1917, the laboratory was closed and the fort was handed over to the Russian Navy. The Navy maintained storage facilities in the fort until it was abandoned in 1983. In the late 1990s and early 2000s, Fort Alexander became a place for private parties, raves and discos.
It's a popular tourist attraction today.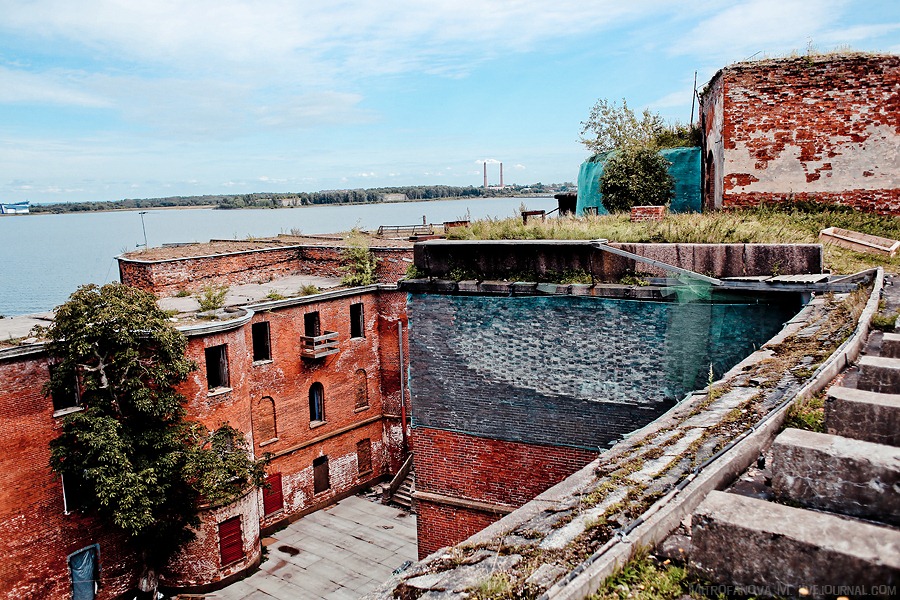 This feature originally appeared in Amusing Planet.




---
Our humans need coffee too! Your support is highly appreciated, thank you!