In 2017, we saw the consolidation of China's power and influence globally, and of Communist Party leader Xi Jinping's power nationally. This year, the party will try to use this to tackle some of its biggest economic hurdles such as financial risk, environmental pollution and maintaining social cohesion.
A first and overriding priority will be managing and preventing major financial risks within the Chinese economy. China will continue to clean up and tighten controls over its financial sector.
Beijing has already banned risk-laden Bitcoin from its financial system, and the government says it will maintain a "proactive fiscal policy and prudent monetary policy" for 2018.
This is in line with moves earlier in 2017 to curb credit growth and consolidate the country's 100 trillion yuan (US$15 trillion) financial services asset-management industry under a single regulatory umbrella.
Regulators have also issued a 36-point code of conduct for the country's private enterprises to follow when investing overseas. This is part of a move to clip the wings of China's most aggressive global deal makers, firms like HNA Group and Fosun International. These businesses responded enthusiastically to the government's "going out" policy to link China to the rest of the global economy, launched at the beginning of the century.
On the one hand, China has banned investments in gambling and "sensitive" industries and restricted investments in property, hotel, film and sports. But projects linked to China's ambitious Belt and Road initiative are actively encouraged. So 2018 should see a continuation of China's expanding economic influence globally through infrastructure and other major projects.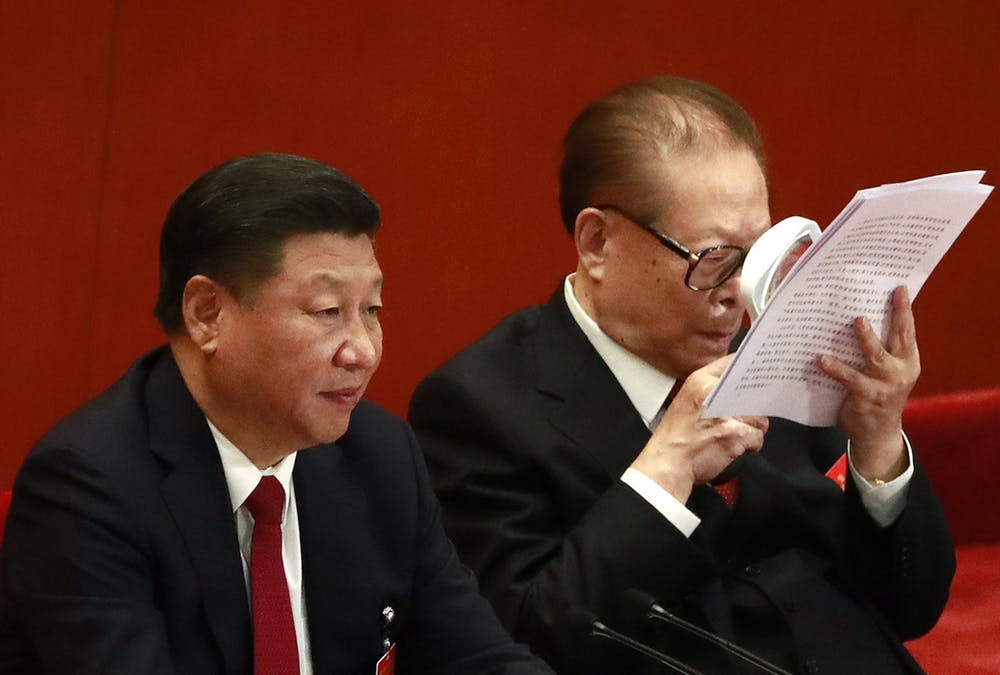 Tackling pollution, of all kinds
In line with the party's focus on stability and risk minimisation is a clear determination to move away from high-speed growth to high-quality growth. "Quality" here means an economy that is cleaner and more user friendly.
The government is trying to reduce pollution. Measures to close down polluting factories and make local officials more accountable for environmental damage are starting to make a difference.
A major component of the shift to a cleaner economy is China's determination to free itself from any reliance upon carbon imports. This has potentially major implications for the Australian economy, which has done so well over the past few decades largely because of its commodity exports to China.
China is also no longer willing to accept imports of Australian waste, leaving Australia with the question of how else to deal with its accumulating stockpiles.
Social stability for economic and political stability
In an unusual move during last year's annual end-of-year economic convention, the government detailed concerns from the wider public on issues such as online scams, sex discrimination in the workplace and a lack of kindergarten services in certain regions. This reflects the party's concern with social cohesion.
Maintaining a harmonious society has long been a concern of China's leaders. In 2018, the anti-poverty campaign – one of Xi Jinping's pet projects – will accelerate, with millions of rural poor being relocated to new housing with water and power. This will not only boost GDP and economic growth figures, it's also aimed at promoting support for the party and its leaders.
Chinese leadership's emphasis on social harmony extends to supporting the party in its policy endeavours. A series of recent measures have been aimed at strengthening party organisations in business and civil society organisations.
In line with existing provisions in China's Company Law, these measures seek to ensure that all organisations in China (local and foreign, commercial and non-profit) make room within the organisation for the operations of a Communist Party cell. This allows the party to monitor and influence the operations of any organisation.
The rolling out of a social credit system is also aimed at monitoring and influencing the behaviour of both organisations and individuals. It operates by awarding social credit points for good social behaviour, whether it be corporate philanthropy or an individual picking up rubbish on the kerbside. It also deducts points for bad behaviour, such as traffic law violations, failing to pay bills on time or domestic violence. There are even "blacklists" for the worst offenders.
Beijing's agenda is clear and the message from the centre is tightly controlled. But the messiness and the unknowns will lie in its local implementation.
China has always struggled, and always will struggle, with the question of how to balance direction from a central government with local implementation for local circumstances.
For example, a recent decree requiring all local areas to move away from coal fired heating, towards natural gas, hit a snag when thousands of houses and schools were left without heating in freezing conditions in northern China. It forced authorities to back-track on implementing the policy.
The key for the government will be to strike a balance between reform and preserving stability. Aggressive reforms will be duly countered by other policies if they are seen as posing risks to economic stability.
If successful, China's reforms will allow its economy to take the lead in adapting to a dynamic world. But the sheer size of its ambitions (both global and local) also contains the risk that failures, if they occur, could have devastating impacts.
This feature originally appeared in The Conversation.

---
For enquiries, product placements, sponsorships, and collaborations, connect with us at

[email protected]

. We'd love to hear from you!
---
Our humans need coffee too! Your support is highly appreciated, thank you!