If you're living in these ten countries, then your life expectancy is computed to be cut short by the current air pollution levels.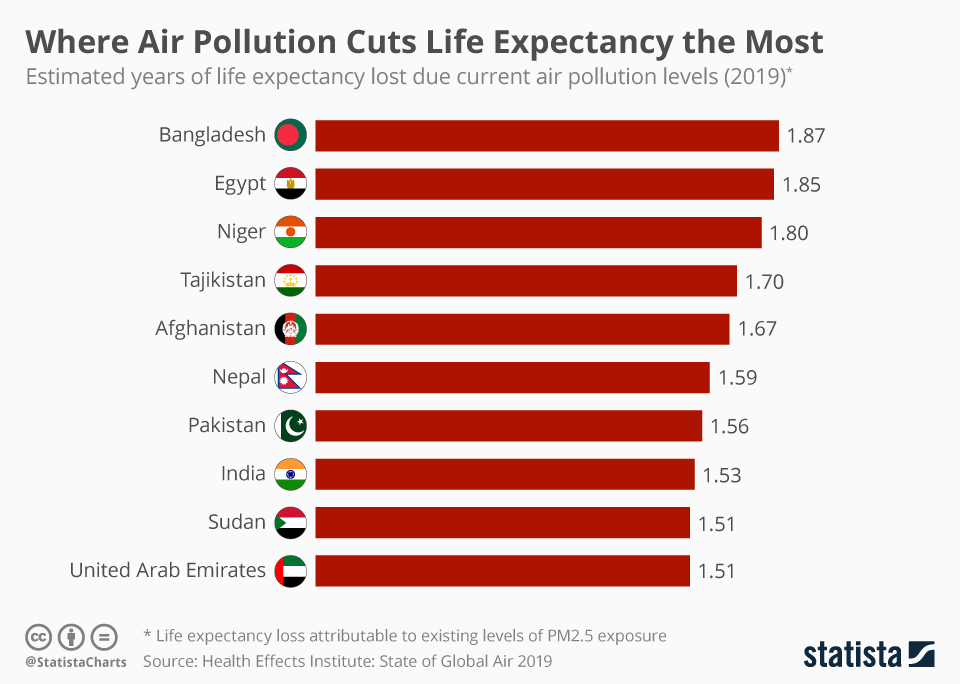 This is according to State of Global Air 2019, an annual report by the Health Effects Institute and the Institute for Health Metrics and Evaluation's Global Burden of Disease. This report aims to assess the quality of air and to observe health trends connected to the condition of the air for each country.
Methodology
The study used life expectancy at birth as the reference to estimate the number of years lost due to air pollution. Life expectancy at birth itself is an estimate — it provides a statistical guess of a person's life span provided their year of birth, sex, and location.
Now, the researchers computed how the life expectancy of a person into account given their exposure to PM 2.5, a class of air pollutants which, according to the report is the major contributor to the life expectancy loss.
Getting the difference between these two figures calculates the average reduction in life expectancy that can be linked to air pollution.
Highlights
Bangladesh recorded the maximum number of years lost due to the existing air pollution level at 1.87 years. This is followed by Egypt (1.85), Niger (1.80), Tajikistan (1.70) and Afghanistan (1.67)
South Asia dominates as the region with most countries who made it to the top ten: Bangladesh, Afghanistan, Nepal, Pakistan, and India.
In addition to ambient air pollution, countries in South Asia also use solid fuels for cooking, further increasing the life expectancy loss. To put things into perspective, ambient air pollution causes an average life expectancy loss of 1 year and 3 months.
However, household air pollution causes an average life expectancy loss of another 1 year and 3 months, bringing the total average life expectancy loss to 2 years and six months. In a global perspective, air pollution currently reduces life expectancy by an average of 1 year and 8 months.
A growing burden
The impact of air pollution on public health is only increasing as of the recent decade. This is heavily felt in countries where life expectancy is already short, to begin with.
According to the report, air pollution ranks 5th among the top causes of death globally, with around 5 million premature deaths attributable to it.
Reducing air pollution demands strong policy. This is only possible if there is a full understanding of air pollution, its sources, and primary contributors. This way, the best methods to control it can be implemented.
Aside from understanding air pollution, having a deep understanding of how the population structure and economic conditions of a country contribute to increasing the impact of air pollution is also needed.
With all these laid down, we can see the multidimensionality of the crisis that is air pollution. It demands quick and effective action from multiple key actors. In the middle of all these actors are our world leaders and decision-makers. They must recognize the urgency of this matter and start leading the way in suppressing the impact of this growing burden.
---
For enquiries, product placements, sponsorships, and collaborations, connect with us at

[email protected]

. We'd love to hear from you!
---
Our humans need coffee too! Your support is highly appreciated, thank you!