Are you the Thanksgiving dinner host this year? Wondering how much will your Thanksgiving grocery amount to? Here is a list of some commonly used food items in a Thanksgiving dinner and their corresponding prices: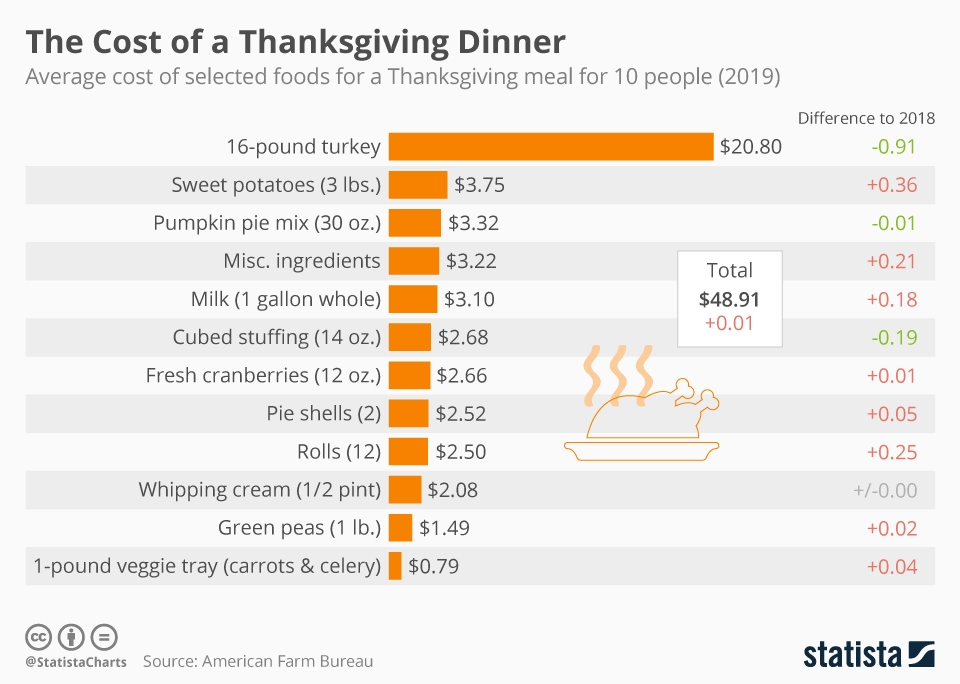 This is according to the American Farm Bureau Federation's (AFBF) 34th annual survey of classic food items found on the Thanksgiving dinner table.
Each year, they compute for the average prices of food items enough for 10 people. In order to come up with their averages, they have 250 volunteers who check the prices of the food items across 38 states.
Highlights
The most expensive Thanksgiving item is the turkey, costing an average of US $20.80 this year. While this remains to be the most expensive item, AFBF found that retail prices of turkey are the lowest since 2010.
The study also revealed that 95% of consumers have turkey as a staple in their Thanksgiving dinner.
Meanwhile, green peas ($ 1.49) and veggie trays ($ 0.79) are the least expensive among the items included in the study. It turns out, going healthy for Thanksgiving is also quite cost-friendly.
In 2019, a Thanksgiving feast for 10 will cost an average of $48.91 — just around $5 for each guest.
Last year's average was $48.90, so this year's average only increased by a cent. According to AFBF Chief Economist Dr John Newton, the cost of a Thanksgiving dinner has stayed pretty much the same since 2015.
While some choose to just go out for Thanksgiving dinner, the AFBF survey shows that 92% of Americans still celebrate Thanksgiving in their own home or at the home of a family member. There really is something different about being at home and enjoying the company of our family that isn't replaceable by a dinner out for most of us.
Disturbing truth
AFBF said that Americans enjoy the most affordable food supplies in the world. However, the share of farmers in the food dollar is disturbingly minuscule. AFBF noted that for every dollar spent, only 8 cents go to the farmers.
"The Thanksgiving price survey opens the door to a deeper dialogue about how food is produced and how prices remain so stable despite volatility in the farm economy this year and severe weather hampering planting and harvest," Dr Newton said in an interview.
Thanksgiving is the time to look back on a wonderful year we had. However, it can also be a reminder for us to be aware of how the items we buy reach the grocery shelves and eventually, our plates.
The AFBF survey shows that three out of four Americans are interested in learning more about how the food on their plates are produced. This is a great opportunity for our leaders to educate.
More than just making the state of food production known to Americans, concrete measures to protect those in the food industry must also be implemented to safeguard them from the instabilities both in the economy and the environment that are plaguing our world right now.
---
For enquiries, product placements, sponsorships, and collaborations, connect with us at

[email protected]

. We'd love to hear from you!
---
Our humans need coffee too! Your support is highly appreciated, thank you!