Upcoming Magento 1 End-of-Life has shattered the minds of many merchants. Some have already overcome the first stress and transitioned successfully with their store. For those who are still mulling over the idea of migration, we've prepared the post. Don't infuse yourself with the false hope that things won't change after the Magento 1 EOL. We'll show you why any Magento 1 business will come to decay. However, fret not! We'll also share insights on how to prevent those unfavorable situations.

Migrating from Magento 1 to Magento 2
From the end 0f June, all the sites based on Magento 1 lose the official support of the Magento team. With no support from the Magento team, you have no one to turn to in case of any issues, not to speak of waiting for any possible functionality upgrade.
Your store is left unprotected without those security patches. Search engines give a wide berth to your site once they learn it's unsafe for visitors to browse. In its turn, unsafe sites go extremely low in search results, which prevents you from growing your business for good. The loss of payment providers' support is another setback that you can't overcome without custom development solutions.
The whole picture seems rather dark, isn't it? To avoid the situation happening to your business you must act quickly. Migration to another ecommerce platform is your only choice if you want to save money on paying for outsourcing site maintenance services.
You should start the migrations with the most important step. Select your new platform out of multiple options out there. If you're afraid to get lost in the process, we have some recommendations for you.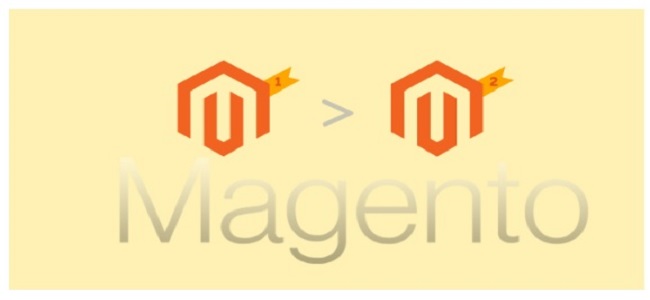 Magento 2 is one of the most popular ecommerce systems in the world and the very successor of Magento 1 legacy. Thanks to the loyal community and unlimited Adobe resources, the platform is in the process of constant growth and prosperity. Transferring to Magento 2, you get access to the most innovative technologies that will enhance your experience with sales on all the levels.
The sole effort you have to make to migrate to Magento 2 successfully is to hire a professional to bring your project to life. Finding a reliable solution provider among the diverse Magento community is not a tedious task. And one of the names of the agencies you should definitely turn to we reveal today.
FireBear migration services
FireBear is a well-known agency that delivers high-quality services on Magento 1 to Magento 2 migration, ERP/CRM/PIM integrations, custom development, business consulting, etc.
The team performs Magento 1 to Magento 2 migrations using the logic of Improved Import and Export — the self-developed data transfer software that currently dominates the market. With the software, any database transfers become a routine procedure regardless of the data size and specifics.
FireBear Magento 1 to Magento 2 migration services include:
Full-cycle data migration from Magento 1 to Magento 2.
Assisted migration of customizations, themes, and third-party extensions.
Fixed cost with no extra payments required.
With FireBear, you get high-quality migration services. To learn more about the team policy and accomplishments visit the FireBear site.
Improved Import and Export as a migration enabler
Migrations from Magento 1 to Magento 2 with Improved Import and Export require so little in terms of resources that the whole process takes up to a single day (depending on a particular situation).
The idea behind the extension's functionality is to solve multiple management cases with advanced data transfers. Focused on flexibility in a transfer routine, the extension allows for multiple data synchronization cases, cross-platform integrations, migrations, dropshipping, omnichannel, etc. within a single store.
Improved Import and Export ensures error-free Magento 1 to Magento 2 migrations with great attention to data details and specifics. Check out the extension features to see how deep you can go with personalizing your project with the software:
Full or partial data transfers.
Manual and automatic (cron-based) data import and export.
Full Magento 2 entity support.
REST and SOAP API, Google Drive, Google Sheets, FTP/SFTP, URL, Dropbox, files as import and export sources.
Support of CSV, XML, Excel XLSX, ODS, and Json (plus, ZIP and TAR) formats.
Attribute and category mapping functionality.
Also, you can try FireBear free Magento 2 migration tool to check the quality of the FireBear migration services. You can find the software at the FireBear site.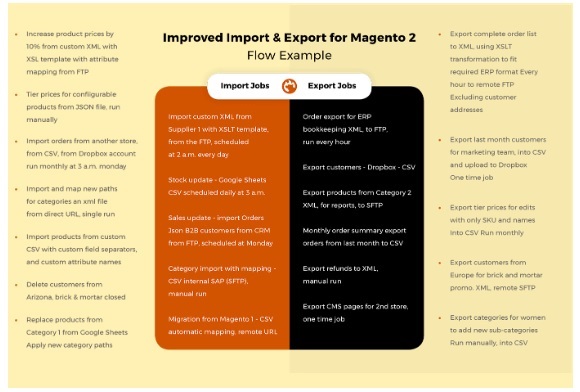 Magento 2 and SAP integration add-on
SAP products are widely known for their professional approach to resource management. Thanks to the flexible nature of Improved Import and Export, it's become possible to bring those tools to assist in Magento 2 store running.
With the SAP and Magento 2 integration add-on, you are able to establish a seamless connection between your store and SAP advanced functionalities to automate routine and stimulate your business growth.
You can find what the software offers in the list below:
End-to-end synchronization of SAP ERPs and Magento 2 by means of API.
Full support of Magento 2 entities.
CSV, XML, XLSX, ODS, Json, ZIP, and TAR file formats available for import and export.
Data mapping.
The details on the software and other performance boosters developed by FireBear visit the FireBear site.
---
Our humans need coffee too! Your support is highly appreciated, thank you!