These ten states have recorded the highest number of approved applications for the DACA program.
Since its introduction in 2012, around 800,000 people have applied and received approval for the Deferred Action for Childhood Arrivals (DACA) program, according to the data from the U.S. Citizenship and Immigration Services.
Highlights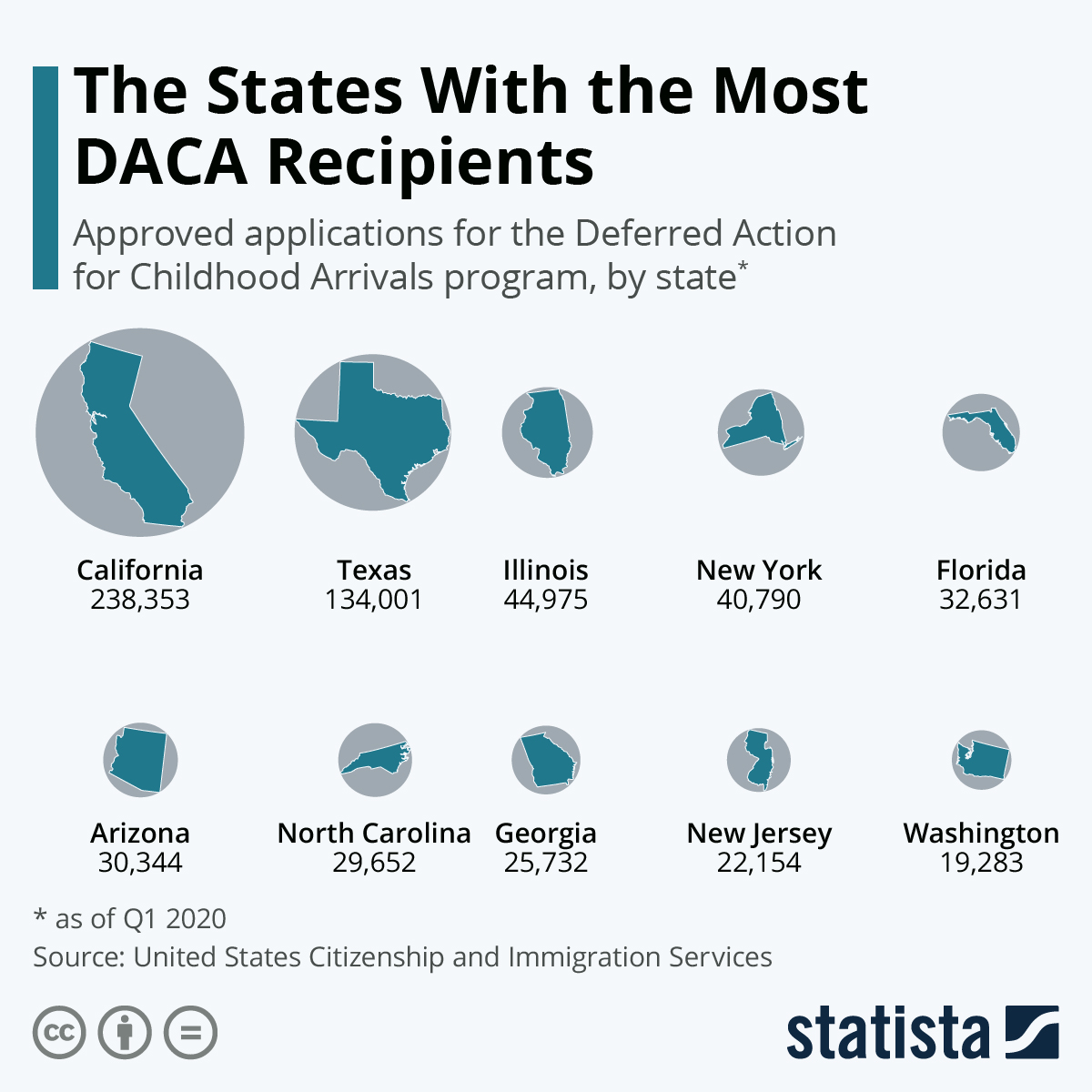 California has the highest number of DACA recipients as of the first quarter of 2020, recording a figure of 238,353. It is followed by Texas (134,001) and Illinois (44,975).
These three states collectively account for roughly half of all the approved DACA applications.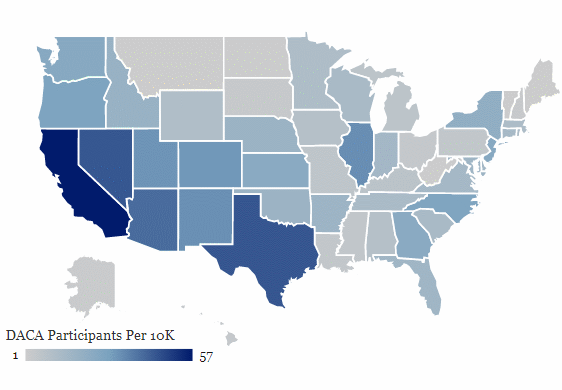 The visualisation above by Governing shows the distribution of DACA recipients as of March 2017, with darker colors indicative of a higher number of recipients.
It can be observed that the recipients are concentrated along the U.S.-Mexico border, where the two states which recorded the highest number of recipients — California and Texas — are also located.
This can be explained by the fact that Mexico is the top country of origin of the DACA enrollees with roughly 80% originating from the country, according to Pew Research Centre.
Pew Research also noted that Mexico along with Latin and Central America account for around 94% of all the DACA participants.
Other states with significantly high numbers of DACA recipients are New York (40,790), Florida (32,631), Arizona (30,344), North Carolina (29,652), Georgia (25, 732), New Jersey (22,154), and Washington (19,283).
What is the DACA program?
The DACA program is an alteration of the Development, Relief and Education of Alien Minors (DREAM) Act proposed in 2001.
The provisions of the Dream Act would have laid down a pathway to citizenship for undocumented immigrants brought to the United States illegally by their parents when they were still children. After several attempts to introduce the Act, it never gained approval.
Fast forward to 2012, the DACA program was signed by President Barack Obama. Unlike the Dream Act, no pathway to citizenship is provided by DACA.
However, the DACA program allows them to remain in the U.S. and protects them from being deported. This protection is not permanent —it must be renewed every two years.
Apart from the protection from deportation, DACA participants receive other benefits. Participants are also allowed to obtain work permits and health insurance from their employers, if available. For some states, they can also qualify for state-funded educational grants and loans as well as state-subsidized health insurance.
In 2017, the Trump administration announced his plan to end DACA, preventing the acceptance of new applications in the program. It is one of the steps that the administration had taken related to immigration policy — a signature issue during his 2016 campaign.
Last week, however, the U.S. The Supreme Court blocked this attempt to terminate the program, citing that the procedural requirements necessary to end DACA hadn't been followed. This decision allows the program to remain in place.