We would like to thank our generous sponsors for making this article possible.
In this article, Mike Wilson, Chief Automation Officer at the Manufacturing Technology Centre (MTC) in Coventry, shares his view on the transformational potential robotics hold for manufacturers.
With insights taken from his experience, Mike considers the latest developments in manufacturing from robotics.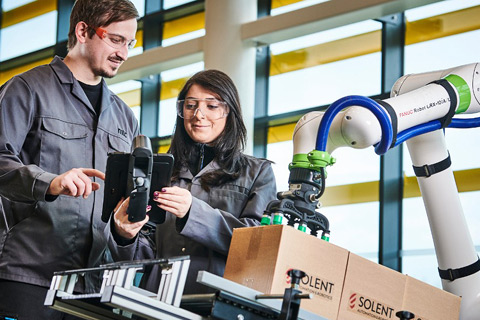 The advantages of robotics and automation
It's now well understood that robotics offers huge advantages to manufacturers working to address issues around productivity, quality control and yield.
Taking productivity first, it is a longstanding challenge many manufacturers grapple with and an area where robotics can bring marked improvements. Consider, for example, machine tools that need to be loaded and unloaded manually. These machines will be operating significantly below 100% efficiency, as they may not be attended when they need that human intervention, creating inconsistencies in reloading schedules. Automating this process can improve the effectiveness of these machines so you can get more out of the equipment. This can also avoid having staff in positions that are mundane, dirty or even potentially dangerous.
Another benefit is consistency. Once they are set up right, robots and automated processes deliver consistently high-quality outputs for firms. What's more, this can minimise damage and breakages, meaning less waste and less rework, all of which can help to improve yields.
Addressing the skills gap
Many manufacturers are facing skills shortages and hiring new talent can be difficult. Robotics can offer a surprising solution to this.
Introducing robotics to do more manual and repetitive tasks enables manufacturers to redeploy staff to other parts of the business, which is often to tasks that utilise their skills more effectively.
Ultimately, this does two things; it gives people the opportunity to add value to production and processes, and it creates more rewarding jobs.
While robotics offers a solution to one part of the skills gap, some argue it opens another. Manufacturers need to have people that can operate robots and integrate automated systems into existing processes.
A key element of the apprenticeship programme at the MTC Training is introducing robotics, automotive and other technologies to provide insights into how these work in manufacturing. These skills courses are available at any stage in a colleague's career and are focused on building a UK manufacturing sector fit for the future. It's clear that manufacturers need to develop the right technology skills in parallel with the growth of automation.
Collaboration
Even more manufacturing businesses are now starting to look at how they can use robot technology to address labour shortages.
One of the things they're spending a lot of time looking at is collaborative robots, which can work alongside people.
These can be easier to install and use than more industrial robots with greater flexibility, including the ability to relocate to other operations within a manufacturing facility.
And collaboration also extends to others in the sector. Sharing best practice, learnings and first-hand experiences of the application of automation and robotics can help others springboard their journey towards the adoption of new technologies.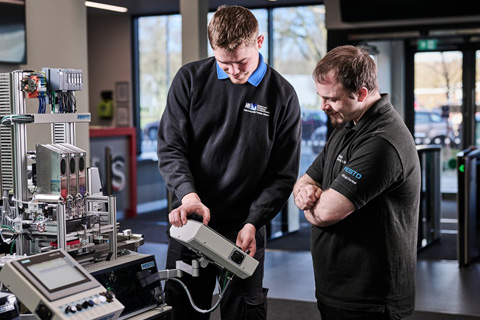 Finding where automation can work for you
The MTC was founded in 2010 and works to help manufacturing businesses address practical, technical and strategic challenges, from implementing new technologies to accessing the skills they need.
Since 2015, Lloyds Bank has worked in partnership with the Manufacturing Technology Centre (MTC), to develop the skills, research and technological innovations the sector has needed to compete on a global scale. The partnership has recently been extended through to the end of 2029, committing £15 million in total sponsorship.
It's totally independent, so can help manufacturers navigate the supply chain around automation, robotics and more.
The MTC's experts can help manufacturers to identify where automation can be applied. They offer in-person line walks at the manufacturer's premises that spot opportunities to generate improvements in efficiency, quality, sustainability and energy use.
The MTC can also help train teams to get new systems up and running.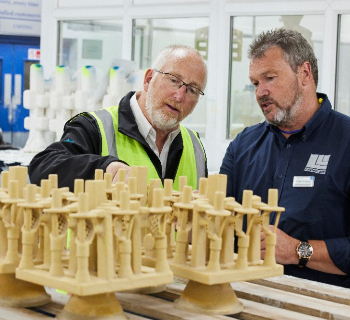 Important legal information
Lloyds Bank is a trading name of Lloyds Bank plc, Bank of Scotland plc, Lloyds Bank Corporate Markets plc and Lloyds Bank Corporate Markets Wertpapierhandelsbank GmbH.
Lloyds Bank plc. Registered Office: 25 Gresham Street, London EC2V 7HN. Registered in England and Wales no. 2065. Bank of Scotland plc. Registered Office: The Mound, Edinburgh EH1 1YZ. Registered in Scotland no. SC327000. Lloyds Bank Corporate Markets plc. Registered office 25 Gresham Street, London EC2V 7HN. Registered in England and Wales no. 10399850. Authorised by the Prudential Regulation Authority and regulated by the Financial Conduct Authority and the Prudential Regulation Authority under registration number 119278, 169628 and 763256 respectively.
Lloyds Bank Corporate Markets Wertpapierhandelsbank GmbH is a wholly-owned subsidiary of Lloyds Bank Corporate Markets plc. Lloyds Bank Corporate Markets Wertpapierhandelsbank GmbH has its registered office at Thurn-und-Taxis Platz 6, 60313 Frankfurt, Germany. The company is registered with the Amtsgericht Frankfurt am Main, HRB 111650. Lloyds Bank Corporate Markets Wertpapierhandelsbank GmbH is supervised by the Bundesanstalt für Finanzdienstleistungsaufsicht.
Eligible deposits with us are protected by the Financial Services Compensation Scheme (FSCS). We are covered by the Financial Ombudsman Service (FOS). Please note that due to FSCS and FOS eligibility criteria not all business customers will be covered.
While all reasonable care has been taken to ensure that the information provided is correct, no liability is accepted by Lloyds Bank for any loss or damage caused to any person relying on any statement or omission. This is for information only and should not be relied upon as offering advice for any set of circumstances. Specific advice should always be sought in each instance.
Originally published at: Lloyds Bank
---
For enquiries, product placements, sponsorships, and collaborations, connect with us at

[email protected]

. We'd love to hear from you!
---
Our humans need coffee too! Your support is highly appreciated, thank you!