Henley & Partners has released their updated 2019 rankings of passport rankings for countries in the world. This 2019, Singapore is once again back on top alongside Japan with a visa-free/visa-on-arrival score of 189.
The Henley Passport Index is the original ranking of all the world's passports according to the number of destinations their holders can access without a prior visa. This latest ranking of passport power and global mobility – which is based on exclusive data from the International Air Transport Association (IATA) – marks the culmination of an 18-month long winning streak for both countries, after they unseated Germany from its long-held 1st position at the beginning of 2018.
Falling from the 1st place spot it shared with Japan and Singapore last quarter, South Korea now sits in 2nd place on the index along with Finland and Germany, with citizens of all three countries able to access 187 destinations around the world without a prior visa. Finland's ascent from 3rd to 2nd place is due to recent changes to Pakistan's formerly highly restrictive visa policy. In the hope of attracting tourists and boosting its struggling economy, Pakistan now offers an ETA (Electronic Travel Authority) to citizens of 50 countries, including Finland, Japan, Malta, Spain, Switzerland, and the United Arab Emirates. This concession, strikingly, does not extend to either the UK or the US. With a visa-free/visa-on-arrival score of 183, the UK and the US now share 6th place – the lowest position either country has held since 2010, and a significant drop from their 1st place spot in 2014.
Denmark, Italy, and Luxembourg sit jointly in 3rd place on the index, each with a visa-free/visa-on-arrival score of 186, while France, Spain, and Sweden are in joint 4th place, each with a score of 185. In significant shifts elsewhere in the rankings, the United Arab Emirates has entered the index's top 20 for the first time in the index's 14-year history, with a visa-free/visa-on-arrival score of 165. Over the past five years, the UAE has more than doubled the number of destinations its citizens are able to travel to without a prior visa. Afghanistan remains at the bottom of the global mobility spectrum, with its citizens able to access only 25 destinations worldwide without a prior visa.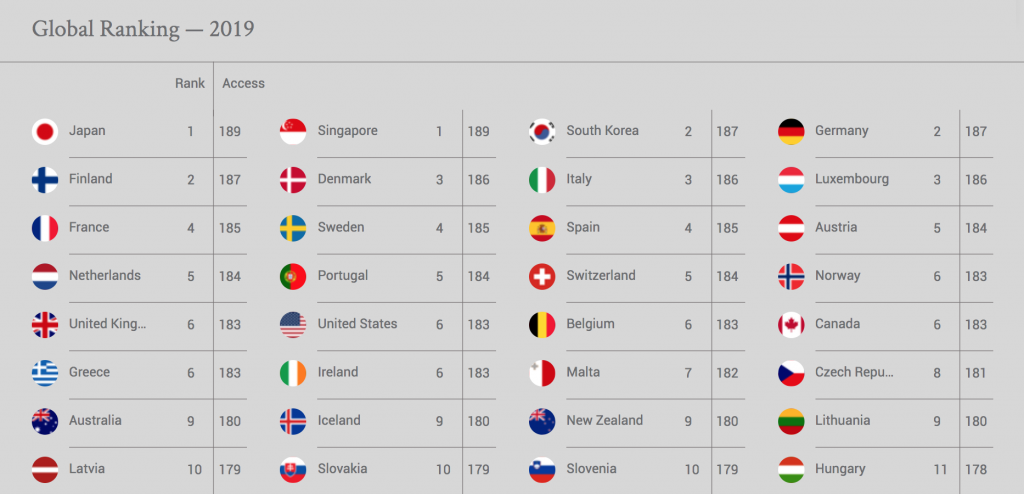 The best passports to hold midway through 2019 are:
1. Japan, Singapore (189 destinations)
2. Finland, Germany, South Korea (187)
3. Denmark, Italy, Luxembourg (186)
4. France, Spain, Sweden (185)
5. Austria, Netherlands, Portugal, Switzerland (184)
6. Belgium, Canada, Greece, Ireland, Norway, United Kingdom, United States (183)
7. Malta (182)
8. Czech Republic (181)
9. Australia, Iceland, Lithuania, New Zealand (180)
10. Latvia, Slovakia, Slovenia (179)
The worst passports to hold
Several countries around the world have visa-free or visa-on-arrival access to fewer than 40 countries. These include:
101. Bangladesh, Eritrea, Iran, Lebanon, North Korea (39 destinations)
102. Nepal (38)
103. Libya, Palestinian Territory, Sudan (37)
104. Yemen (33)
105. Somalia (31)
106. Pakistan (30)
107. Syria (29)
108. Iraq (27)
109. Afghanistan (25)
---
For enquiries, product placements, sponsorships, and collaborations, connect with us at

[email protected]

. We'd love to hear from you!
---
Our humans need coffee too! Your support is highly appreciated, thank you!