There are brands that are really good that we almost always use them every day and then there are brands that are so good that we can't imagine our lives without them. These are America's most intimate brands according to MBLM's Brand Intimacy Study 2019.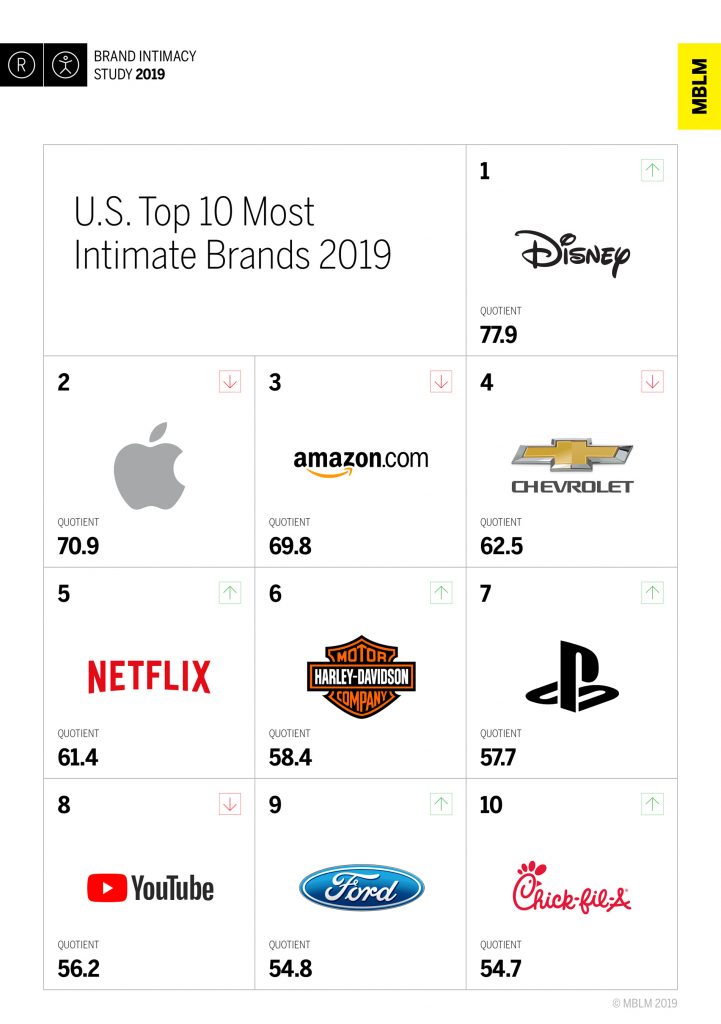 Gaining brand intimacy is one of the most powerful marketing strategies a brand can employ. When a brand creates an emotional link, customers are willing to pay more. With brand intimacy established, people are less willing to live without the brand around.
How did these brands do it? Let's look at the top three in this list.
Disney
Disney dethroned the constantly-on-top Apple in the 2019 rankings. Disney's bonds with customers are deeply rooted in the sense of nostalgia it brings. Disney delivered some of the most memorable TV shows and movies that adults fondly look back to.
Even now, the brand has strongly established its ground with the younger generation. Capitalizing on the "magic" and the feeling of a temporary escape from everything happening in the world right now is what allowed Disney to triumph over the test of time. Being a highly emotional brand since its inception, we expect Disney to stay on top in the succeeding years.
Apple
While Apple was pulled down to second place for this year's overall rankings, it remains the top-ranked smartphone brand.  For years, Apple has established itself as the forerunner when it comes to smartphone innovations, having practically sparked a revolution with the iPhone. It has also successfully created a "walled garden" with its ecosystem of devices — encouraging loyalty amongst customers.
However, we see smartphone companies catching up in innovations. Each year, we see smartphones reaching new heights, some that even the famed iPhone has yet to reach. Last year, Huawei came up with the triple-camera set-up of P20 Pro and the crazier quad-camera set-up in this year's P30 Pro. Brands like Samsung and Vivo have started using in-display fingerprint scanners. There is also news of in-display cameras in the works of brands like Oppo.
How will Apple measure up? Can it retain its supremacy? We'll have to wait for the next product releases and see their response to these crazy innovations.
Amazon
When it comes to brand intimacy, Amazon is the undisputed retail royalty. Its rise to the top is unconventional — we would agree that it isn't the most emotional brand. What it excels in is giving the customers a sense of fulfilment. Given its reliability in delivering products to our doorsteps and its expanding array of product offerings, it has become essential to a lot of consumers.
The thing is, when it comes to communicating its brand, Amazon's efforts are not that aggressive. Rather than putting itself out there, it lets its service do the talking. With this developed sense of trust, its bonds with customers are tightly-knit.
Different Ways to the Top
We see in these three brands that there isn't a single formula to appeal to the customers. Brands should capitalize on their identity to create a unique sort of connection that other brands cannot replicate.
The road to establishing brand intimacy is complex. At the core, though, it is a fairly simple matter of brands excelling on what they can give to the customers and tapping on the strengths of their identity.
---
For enquiries, product placements, sponsorships, and collaborations, connect with us at

[email protected]

. We'd love to hear from you!
---
Our humans need coffee too! Your support is highly appreciated, thank you!