Looking for a home for your family is a massive endeavor — it's a process that will define your life in a very profound way for the next several years to several decades. If you have kids, or you're planning kids, your choice will affect their entire childhood.
Because of that, you might want to go the extra mile when choosing the home for you and your loved ones. More specifically, you might want to consider a custom-built home. Here's why.
You Can Truly Call It Your Own 
Becoming a homeowner is becoming a privilege these days. Even getting the chance to purchase a prebuilt home is enough to give a person a sense of success. However, can you truly call that home yours? 
That house you've just bought is a result of someone else's vision. There's a good chance that you can take the same money and build a house of your own — one that is a picture-perfect representation of your dream home, just like you've always imagined. In fact, it's worth taking a hit on square footage if it means that you'll have a chance to build something that you can truly call your own.
Location
If you've met a single real-estate broker, you've probably heard that age-old adage "location, location, location". As cliché as it sounds in 2021, this saying still rings true. Location is everything. When you're building your own house, you also get to choose the perfect location for your new home.
You can find a piece of land in an area that you love — one that fits all of your needs, both aesthetic ones and logistical ones. Then, when you find the area you want to live in, you get to build your perfect house right on top of it. There is rarely a better feeling than knowing that your perfect interior layout is soon about to be built on top of your picture-perfect piece of land.
Choose Your Style 
When you're building your own house, you're in full control. Aside from the usual building codes and other ordinances that govern construction in your area, you're pretty much free to design a house however you like it. Some people are into luxury custom homes, while others appreciate a more utilitarian design. Whatever the case may be for you, the important thing is that you have a choice. You can build your vision exactly how you like it. 
That being said, you can also select the style of the house. There are those who appreciate the more modern appearance where chrome and synthetic materials dominate the scenery. Others appreciate a more traditional style of interior and exterior design. You can learn whichever way you wish to.
Built-In Upgrade Paths 
When you initially move into a new house, it usually feels great for the first few years. However, as you spend more time in it, you'll start to notice things that bother you. We're talking about things that might lead you to look for another property that is more aligned with your new wants and needs.
If you're building your own house, you have the luxury of anticipating what those future needs and wants could be. Sure, no one can predict the future, but you can predict that you could possibly want more square footage, a larger garage, or potentially an in-ground swimming pool. Knowing that your appetites could change in the future is enough to leave room for upgrades.
Then, in case you decide to build a detached office instead of a pool, you'll have enough room for that as well.
Smart Home Designs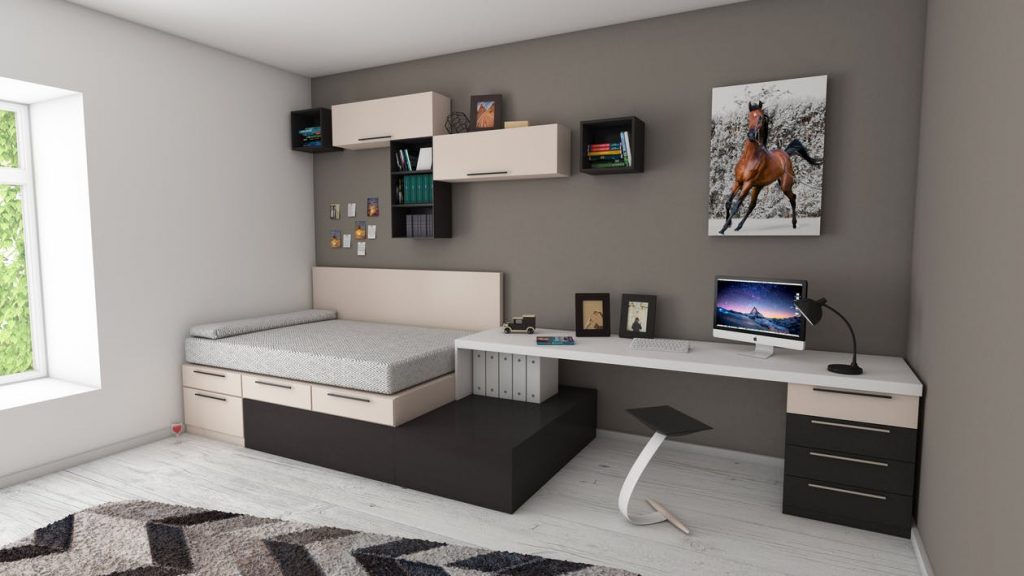 The world is constantly reaching new levels of technological advance. Digital tech is permeating every aspect of our lives, including our homes. Modern smart houses use advanced computer systems to automate many of the built-in functions, thus allowing the homeowner, you, to relax and let a basic AI set your temperature, turn lights off and on, heat up the house before you get there, or before you wake up, etc. 
The issue with modern smart homes is that you rarely get to customize an already built system. It's complicated, expensive, and often leads to a slew of bugs that you'll spend months trying to fix.
A much better solution is to build your own home and implement any smart solutions you like as you go. You can build a system that caters to your needs and includes only as much tech as you need, or are willing to maintain. Of course, you can also go with fully custom smart home systems that utilize advanced home alarms and other similar technologies. Once again, it's all up to you. 
Better Energy Efficiency
Second-hand homes are often full of surprises. All you need to do is look beyond the sheetrock to find issues that could potentially cost you a lot of money in the long run. The presence, quality, and age of insulation used to outfit your house will determine how much you'll spend on heating the house up in the winter, and cooling it down during the summer. Some homes are simply not worth dealing with solely based on their shoddy insulation.
The ability to use the most modern materials and define how well your house will be insulated is one of the best reasons to go for a custom house. You're in control of temperate control and energy consumption. Once you build your house, you can rest easy knowing that you won't have any major investments for at least a few decades. That peace of mind is worth the extra investment.
Benefits Are Numerous 
The only real con to building a custom house is the fact that it takes much more time and effort than simply purchasing an existing property. That being said, you'll most likely agree that the pros greatly outweigh the cons in this case.
Building a home is always a preferable option, especially if your lifestyle calls for solutions that aren't often found in regular homes. All you have to do is find the right construction crew, and you'll be set.
---
For enquiries, product placements, sponsorships, and collaborations, connect with us at

[email protected]

. We'd love to hear from you!
---
Our humans need coffee too! Your support is highly appreciated, thank you!