Rent is one of the major expenses that we have to spend each month. It would be a huge help in managing our finances if we can rent places that are not that expensive. Admittedly, finding such a place is quite difficult at present. This is especially true if you are in a city.
Which cities offer the most affordable places to rent in the US? According to ApartmentGuide.com, the top ten cheapest cities in terms of rent are the following: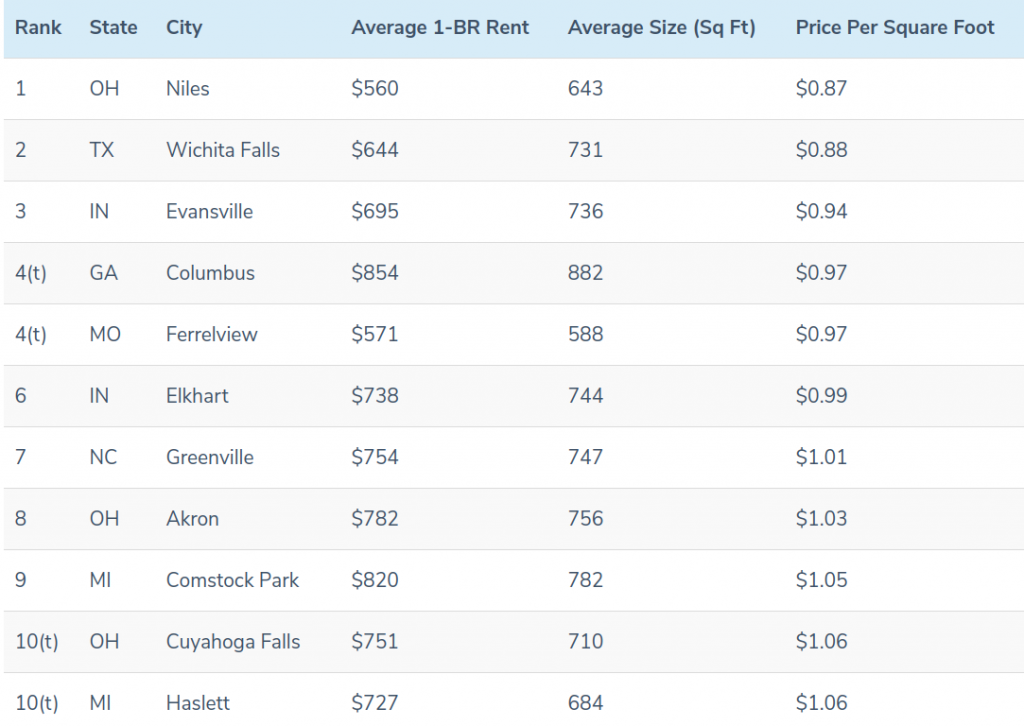 Methodology
The ranking is based on the computed average rent per square foot for a one-bedroom apartment in the city.
According to the ApartmentGuide, they used their October 2019 rent data in order to come up with their average values. They then computed the average size of the apartments in the city.
Using these two values, they computed for the average price per square for each city in order to make them comparable.
Highlights
Topping the list is Niles in Ohio, with a one-bedroom apartment costing an average of US $0.87/sq. ft. ApartmentGuide also noted that Niles has the overall cheapest average rent at $560 per month.
Niles  is followed by Wichita Falls, TX ($ 0.88/ sq. ft.), Evansville, IN ($ 0.94/ sq. ft.), Columbus, GA  and Ferrelview, MO (tied at $0.97 / sq. ft. ), and Elkhart, IN ($0.99 / sq. ft.)
ApartmentGuide also cited the following states as having one-bedroom apartments which you can rent for the cheapest prices across the country:
North Carolina
Georgia
Ohio
Michigan
Indiana
Minnesota
A difficult decision
According to ApartmentGuide, one-bedroom apartments are the most common choice when it comes to housing. This is because they typically come at affordable prices. They also usually provide ample space.
Of course, choosing an apartment is more than just getting the cheapest in terms of the dollars you pay per square foot. There are a lot more factors which need to be taken into account.
Some are more than willing to pay higher if they can be closer to their workplace or university or if they could live in a place which suits their particular aesthetic or lifestyle. Nonetheless, knowing these prices are good starting points in finding your perfect home.
---
For enquiries, product placements, sponsorships, and collaborations, connect with us at

[email protected]

. We'd love to hear from you!
---
Our humans need coffee too! Your support is highly appreciated, thank you!