Public transport plays a vital role in cities around the world, connecting people to their jobs, schools and communities. The best systems are fast, clean, comfortable and efficient, reliably moving millions of people from home to work and back again every day.
But in many developing regions, inadequate public transport depends heavily on ageing fleets of diesel buses and other outmoded technologies. The cities that rely on these technologies are handicapping themselves in several ways. Their patchwork bus and van routes lack the capacity to serve all of the people who could benefit from public transport, often at relatively high fares. Their older buses spew particulate pollution that damages public health and generate carbon emissions that contribute directly to climate change.
Cities with inadequate public transport are also limiting people's economic opportunities by making it harder for them to travel from their homes to wherever the best jobs are available. The burden of those lost economic opportunities falls particularly heavily on the poor, who may not be able to afford private alternatives or to move to neighborhoods where more jobs are available.
Fortunately, new technological solutions are making clean and efficient mass transportation available in more and more cities around the world. In developing and developed economies alike, these solutions are improving people's quality of life, saving them money and expanding their career opportunities – even as they reduce pollution and contribute to the fight against global warming.
In Jakarta, a sleek new light rail network, the Jabodobek LRT, is now taking shape and will soon link many of the far-flung corners of the dense Indonesian capital city to its bustling centre. When the first phase is completed in 2021, two new lines will cover more than 43km. In the second phase, a third line will be added, and the system will span 83km and 41 stations. I know this project well because my company, ABB, will provide the highly efficient traction motors used to drive the state-of-the-art driverless trains, which are expected to relieve traffic congestion and vehicle emissions in one of the world's largest cities. The city is making a bold investment in developing technologies that are marked by a high level of energy efficiency and lower carbon output.
The remarkable new transport network in La Paz, Bolivia, represents a more novel approach to urban mass transport. The capital city is in a spectacular mountain valley in the Andes, more than 3,000 meters above sea level. To address the challenges of smog, overburdened roadways and steep ascents, the city has built the world's largest urban cable car network. Since 2014, high-speed electric gondolas have begun to connect parts of the capital city that were once virtually isolated from each other. A system of 10 cable car lines and more than 30 stations now connects the city center to major suburbs like El Alto, opening up new job options to tens of thousands of low-income residents. The system builds on many of the cable car technologies first pioneered by ABB's predecessor company in Switzerland more than a century ago. We still provide many of the motors, drives and power converters used in some of the newest and most advanced gondola and funicular systems in the world.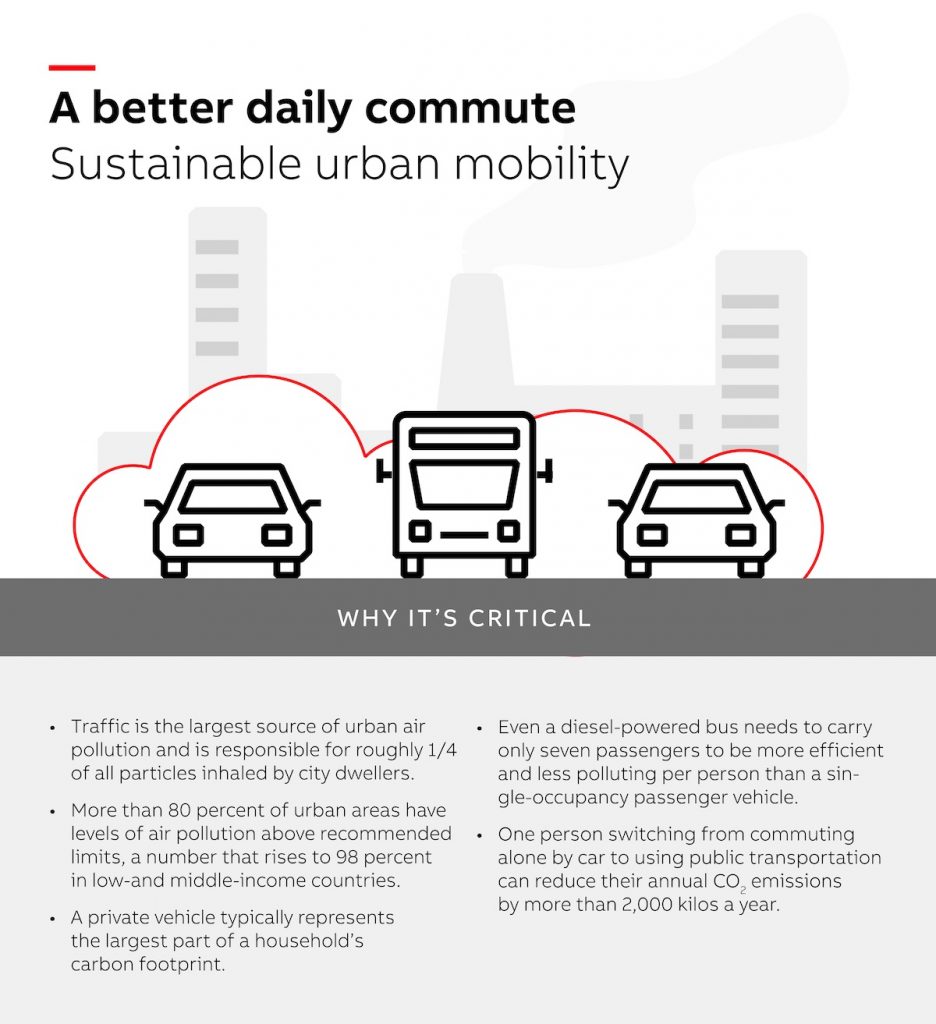 Delhi provides another impressive example of how modern transit networks can revolutionize the daily routines of the billions of people who live and work in the world's largest cities. The Delhi Metro, which opened the first, short section of its network in 2002, takes the long-established approach to urban transport, using electric trains in tunnels and on elevated tracks to connect densely populated urban corridors. The system, now the 12th-largest in the world, is distinguished by its use of the very latest equipment and adoption of best practices from other cities. For example, the metro incorporates automatic train control, in which sensors and centralized automated controls are used to prevent conflicts between trains operating on the system. While the cost has been significant, it has revolutionized the way people get around in India's capital. Delhi's metro system is now regularly ranked among the world's best for reliability and customer satisfaction.
More than half of the world's population now lives in towns and cities, and the United Nations predicts that the global urban population will increase to about 5 billion by 2030. Urbanization is expected to give rise to continuing economic growth and new opportunities for personal development and cultural innovation. But without clean and efficient transport networks, these potential gains could be undermined by increases in air and noise pollution, congestion, time wasted in traffic, and negative impacts on public health, wellbeing and economic opportunity.
As the leaders of the world work together to develop solutions to the challenge of global warming, it is more urgent than ever to invest in transport technologies that can save our planet as well as our urban environment. These technologies are available today, and the time has come to put them to use – not just in a fortunate handful of cities, but in all of the world's great metropolises.
Morten Wierod, President, Motion Business, ABB
This article is republished from the World Economic Forum.
---
For enquiries, product placements, sponsorships, and collaborations, connect with us at

[email protected]

. We'd love to hear from you!
---
Our humans need coffee too! Your support is highly appreciated, thank you!